4 min read 
A sigh of relief is sweeping over the cryptosphere as the market begins to show signs of a recovery. After shedding as much as $40 billion in total market capitalization, cryptocurrencies seem within reach of climbing back towards a $400 billion market cap.
One of the coins leading market recovery is Tron (TRX), which is up approximately 14.73% in the past 24 hours. Shooting up on bullish momentum from market trading in Asia, TRX is now trading at $0.082 from yesterday's price of $0.072. These gains have pushed Tron forward in the top 10 rankings by market cap, allowing TRX to displace IOTA and claim 9th place.
Tron has two major events around the corner, the first of which is only days away. On May 25, Tron will be issuing a virtual machine, TronVM. Its virtual machine will allow full compatibility with Ethereum's virtual machine, meaning that decentralized applications (DApps) built on Ethereum's blockchain will have the ability to migrate over to Tron's network.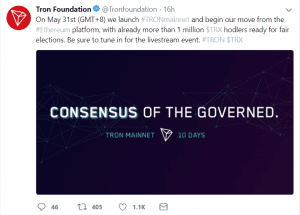 The second highly-anticipated event is the launch of Tron's main net, which will break it away from Ethereum's network and move Tron onto its own blockchain. According to a blog post published on May 9, Tron's main net, Odyssey 2.0, will come with faster transactions, high stability, and no fees for usage of its decentralized network. Tron's man net launch is set for May 31, only 10 days from now. Given the excitement surrounding these upcoming events, it is possible that more bullish momentum is in store for TRX in the days to come.
Markets prepare to make a comeback
Although the markets are showing mixed performance at the moment, all have demonstrated gains in the past 24 hours. After briefly dipping below $8,000 last week, Bitcoin is now trading at $8,520, up 2.45%. EOS also saw slight boost over the weekend, climbing up to $13.91 from $13.50. Ethereum is the among the lowest gainers. With a positive 0.8% price change over the past day, ETH finds itself at $718.

Fundstrat Global Advisers co-founder Tom Lee, who predicted that last week's Consensus conference would boost cryptocurrency prices, called the recent market dip "very disappointing."
On Friday, Lee admitted that his prediction of a Consensus Bitcoin rally was incorrect, saying that the crypto market continues to come up against "significant resistance and hurdles within traditional financial institutions." Nonetheless, he believes some good did come out of the conference, as it brought together many blockchain and crypto figures and helped strengthen the community's convictions on crypto. That being said, the market seems to be positioning itself for a positive week ahead.
Trade now