A report in Business Insider citing unnamed sources sent the cryptocurrency market plunging on Wednesday afternoon. Losses in the range of 15% to 25% were reported virtually across the board and took many of the major tokens to new long-term lows. The news, the Goldman Sachs was scrapping plans for a cryptocurrency trading desk, turned out to be fake and have provided a new opportunity for BTC bulls. The sell-off was a knee jerk reaction and a mistake you can take advantage of.
Goldman Sachs CFO Martin Chang, speaking at the TechCrunch Disrupt Conference in San Francisco, said not only was the news fake, the company is currently working on a derivative product for their clients. Goldman has already been clearing futures contracts listed by the CME and CBOE and providing liquidity to their clients, the new derivative would help meet growing demand for some form of OTC access to the cryptocurrency market.
The current plan is to create a non-deliverable forward, a contract much like a CFD, that would be cash-settled. The reason is simply saying Chang, "clients want it". The question now is when the product will be available, Chang says there is no time-line for it or plans to open a trading desk, and there is also the SEC and CFTC to consider.
The price of BTC/USD began to stabilize with the release of Chang's comments, but negative pressure remains. The cryptocurrency market is nervous and jittery after a year of regulatory uncertainty and may take some time to recover its poise. The good news is that BTC has found support above the recently broken downtrend line, near the $6,400 level, and showing early signs of rebound. If the toke were to fall below the $6,400 level additional support is near the long-term low just below $6,000. Longer-term BTC is still expected to rally into the end of the year and may retest its all-time highs within the next 12 months.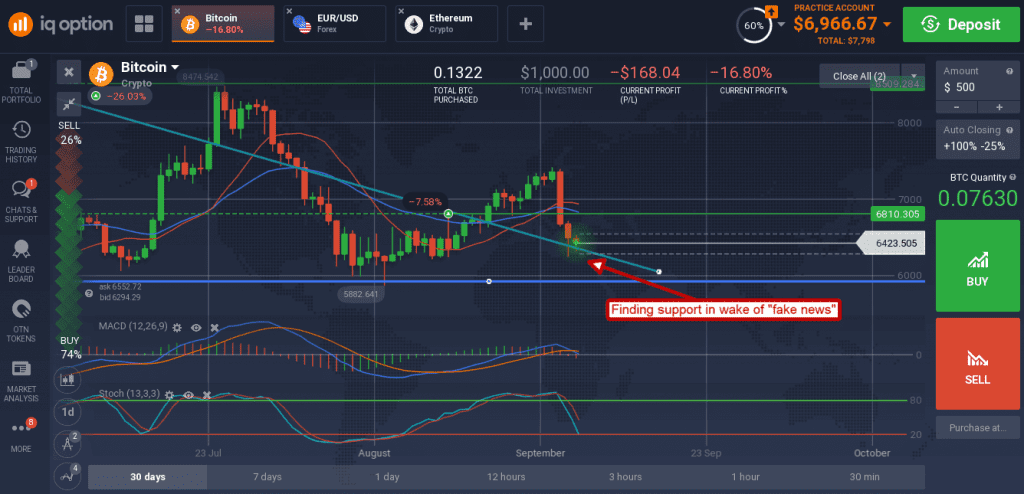 Ethereum was hardest hit, falling about 30% in a matter of hours, but it too is showing signs of support at current levels. The caveat is that the Wednesday selloff has confirmed a downward triangle and may lead the token lower before it moves higher. Based on standard technical projections it is possible ETH will fall another $70 to $150 before hitting its true bottom.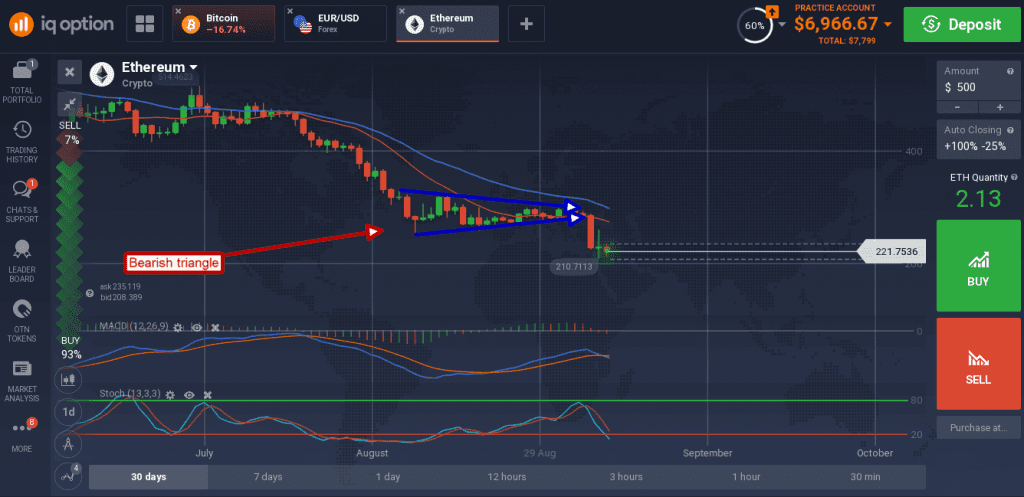 This move is due in part to the Goldman Sachs news but more to the fact ETH is facing a few upgrades next month and this fall. If Ethereum survives the upgrades ETH will rocket higher, if not we may see ETH fall much further.
[cta_en link="https://iqoption.com/traderoom?type=crypto?aff=88&afftrack=crypto0709″ name="Trade now"][/cta_en]