The ECB issued their April monetary policy statement Thursday morning leaving rates unchanged, as expected. Outlook issued within the statement was largely unchanged as well, but lent strength to the euro.
Trading Range Confirmed: Time To Buy The Euro
The governing council says interest rates will remain low for an extended period of time, long past the end of asset purchases. Asset purchases will continue at the rate of 30 billion euros monthly until the end of September, or for as long as the council deems necessary. Regardless of the termination of new purchases, the bank will continue to reinvest maturing assets long past the end of purchases in order to maintain liquidity and favorable market conditions.
Interest rates will remain low until the bank sees a sustained adjustment in the path of inflation. They expect to see inflation remain below their 2% target but come close to it in the medium term (over the next 12-24 months). Regarding the EU economy, the council says economic expansion is broad based and expected to remain solid although there has been some moderation in the first quarter of 2018.
Consumption and business spending are both improving. Consumption is driven by labor market improvement and growing household wealth, business spending by favorable credit conditions, profitability and demand.
EUR/USD
The euro strengthened on expectation for improving economic conditions within the EU and outlook for inflation. The EUR/USD moved up from a 3 month low on the news, confirming support at the bottom of a short term trading range. The move is not decisive, a sudden rally to the top of the range is not expected, although the indicators are consistent with reversal. MACD momentum is bearish but weak and forming a peak while stochastic has entered overbought territory and formed a weak bullish crossover. This set up is consistent with support within a trading range with a target near 1.2295.

EUR/JPY
The euro moved against the yen but found resistance resulting in a medium sized doji candle early in the Thursday session. Regardless, the candle and recent price action looks very bullish and could quickly break out to the upside. The indicators are both bullish with stochastic confirming higher prices with a strong bullish crossover. Resistance is near 133.50, a break beyond that would be bullish with targets near 136.00 and 138.00.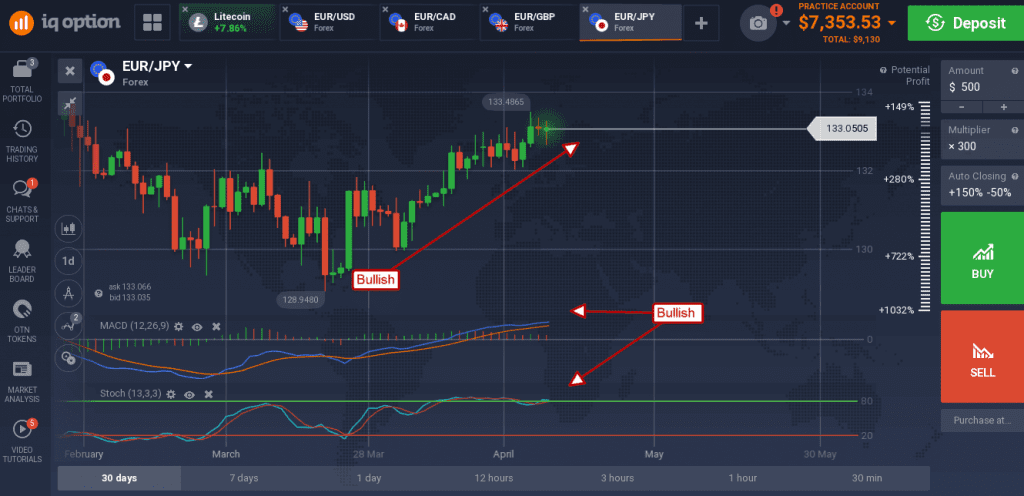 EUR/GBP
The euro did not perform so well versus the pound in Thursday action. The ECB statement, while favorable, did little to outshine expectation for a BoE rate hike at their meeting in 3 weeks. The EUR/GBP fell hard on the news in a volatile session that confirmed resistance at the short term moving average. The pair appears to be moving back to retest a recent low near 0.8600. The indicators are bit mixed, momentum remains bullish, although both are consistent with resistance at the moving average.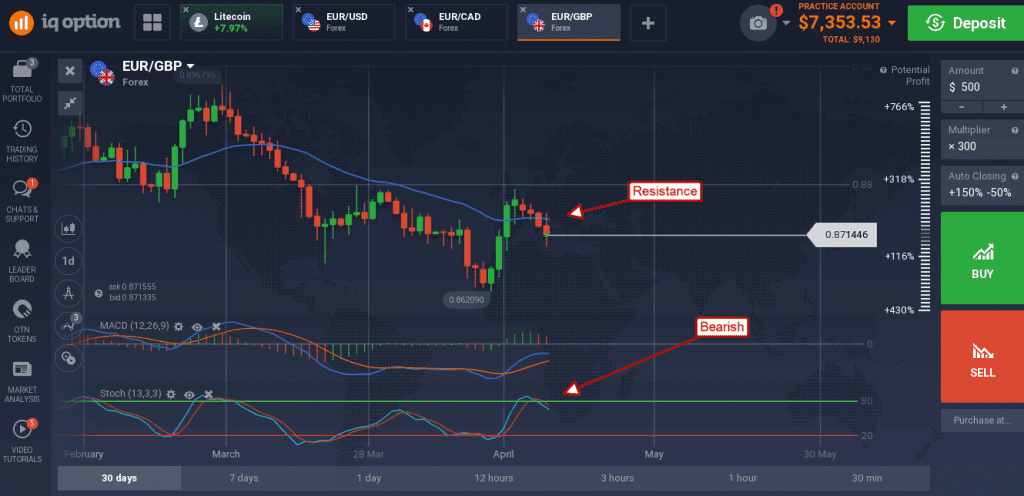 Look for support at today's low, near 0.8700, a break below which would be bearish.
[cta_en link="http://bit.ly/2w6LBL6″ name="Trade now"][/cta_en]