4 min read 
Litecoin futures will now be listed on a UK exchange. The dollar-denominated service will be launched by Crypto Facilities and goes live Friday, June 22nd. Contracts will be listed with weekly, monthly and quarterly maturities tied to the price of Litecoin as traded on their platform. The exchange also lists futures contracts for Ethereum, Bitcoin and Ripple and is applauded by Litecoin founder Charlie Lee.
"Litecoin futures will open up LTC trading to more institutional investors. This will add to the liquidity of Litecoin and make it easier for people to get in and out of Litecoin."
Crypto Facilities reports that Ethereum contract volume is expected to reach $150 million in the second quarter and expected to grow over time. This move comes in the wake of a landmark declaration from the SEC that Ethereum and Bitcoin are not securities. That announcement has paved the way for the listing of Ethereum futures contracts in the US and may also include Litecoin because its business model closely mimics that of Bitcoin.
Litecoin prices tried to move higher on the news but could not break the $99 price barrier. The hourly chart shows the coin trending sideways within a narrow range with $99 as upper resistance. The indicators are reaching oversold levels so a move up within the range is likely to occur. The caveat is that a strong move up is not indicated on this chart so prices may continue to range to the side over the next few days.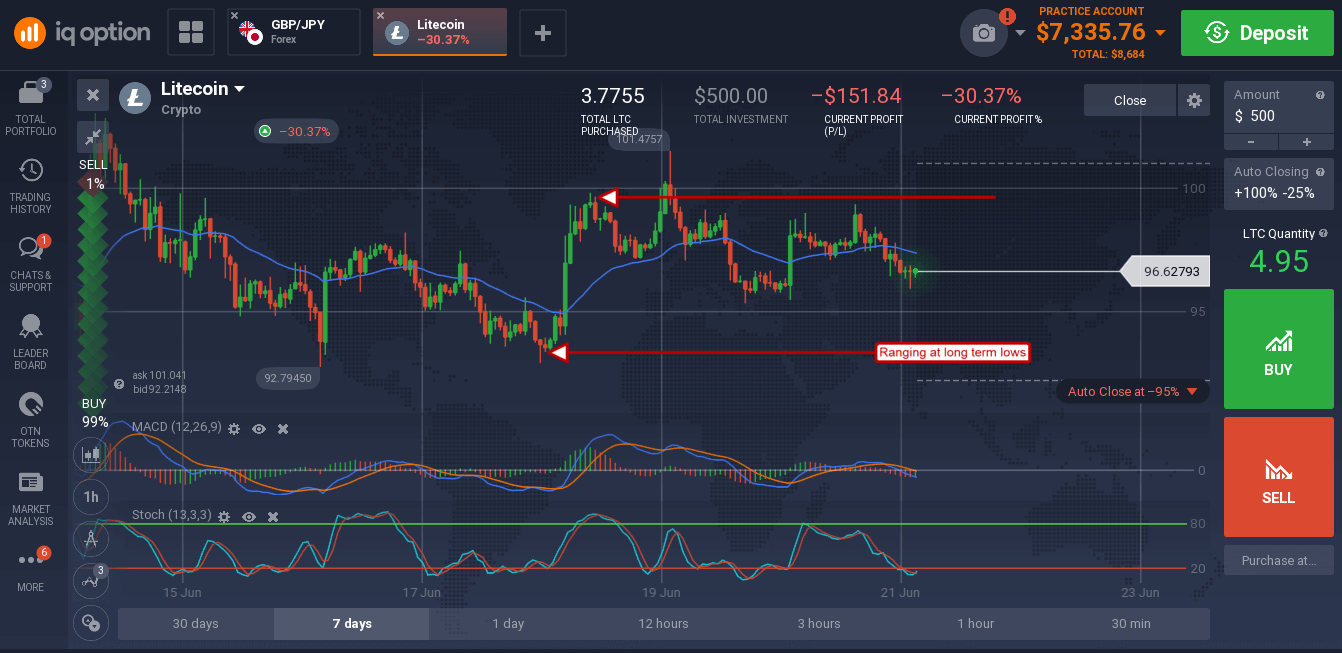 The daily chart is little better. The token is trending to the side and at long term lows, forming what could easily become a bearish flag-pattern. A break to new lows would confirm such a pattern and could take the token down to its mid-2017 level of $50.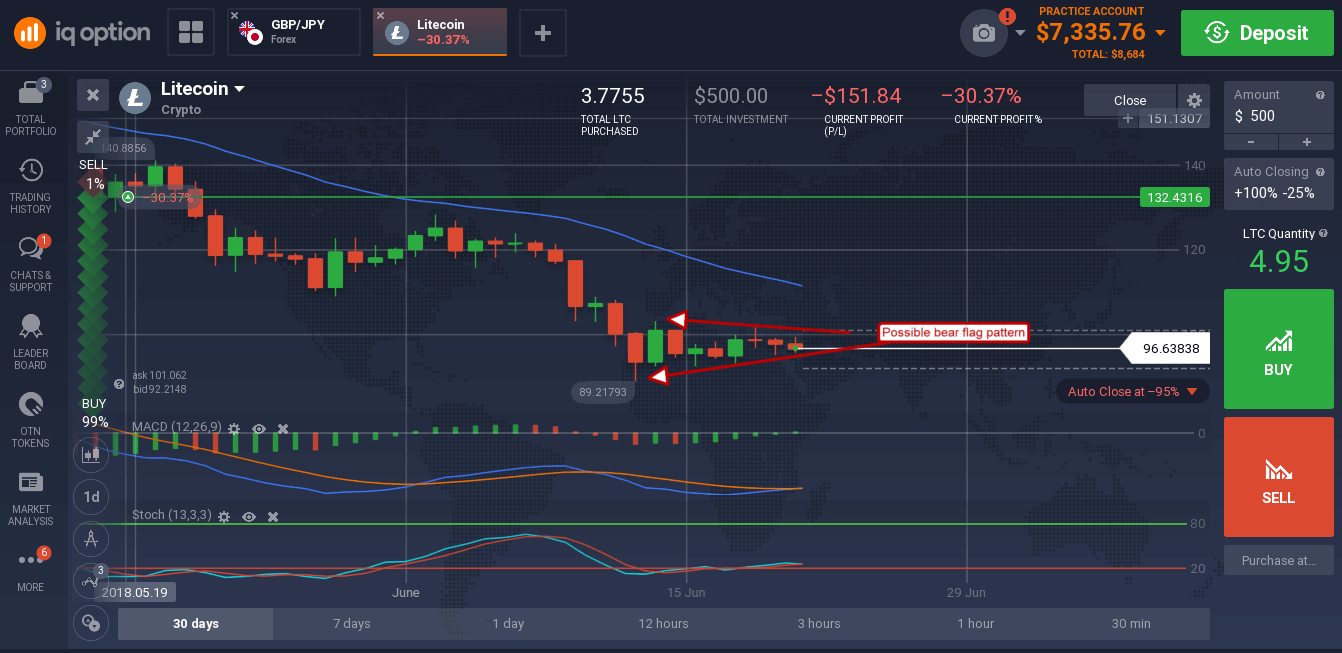 Ethereum responded in similar fashion, falling about -1% in the wake of the announcement. The move shows that there is some resistance at the short term moving average although it is not overly strong at this time.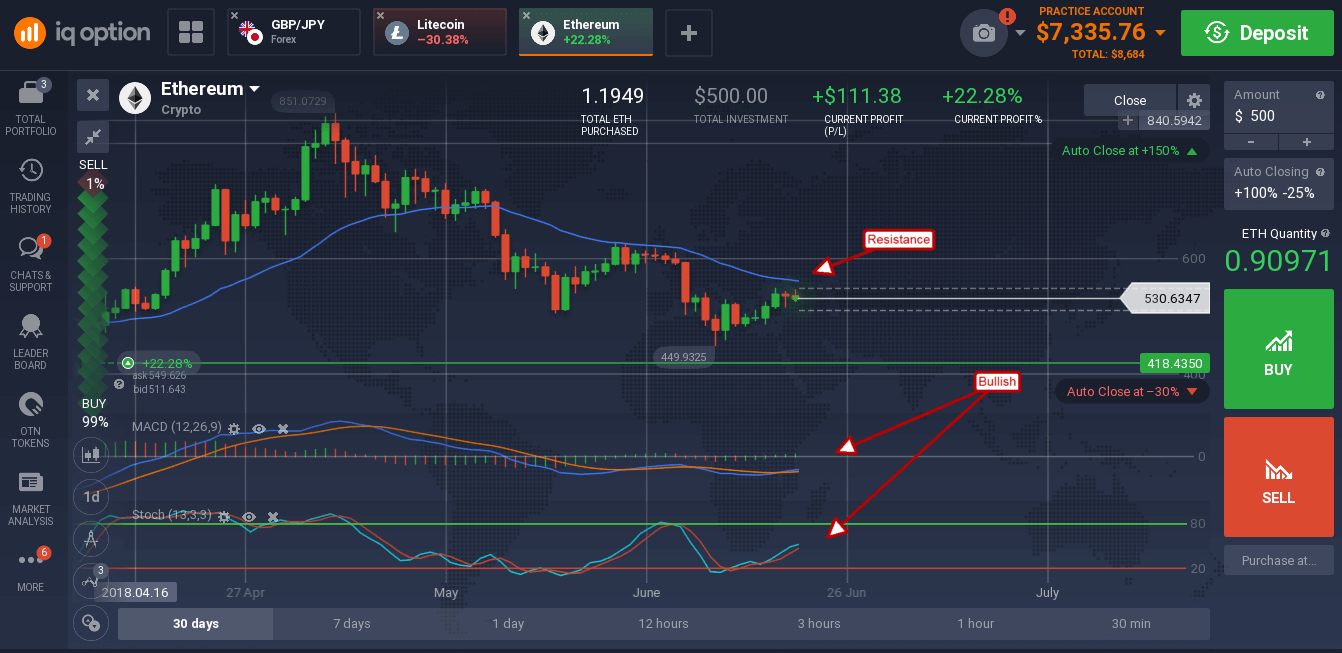 A move above the moving average would be bullish for Ethereum and could take it up to retest highs set last year. Looking forward there are a number of catalysts for it and the cryptomarket in general so any move lower is a likely entry point for new long term positions.
Trade crypto now