10 min read 
U.S. stock futures and Asian shares dipped after North Korea fired another missile over Japan into the Pacific Ocean on Friday, demonstrating Pyongyang's defiance in the face of intensifying sanctions.
Japan said the North Korean missile fell into sea about 2,000 km east of Hokkaido. The launch came just days after the U.N. Security Council approved new sanctions against Pyongyang for its Sept. 3 nuclear test, but markets are growing accustomed to North Korea's sabre-rattling. "There have been reports suggesting North Korea is preparing a missile launch, so this was by no means a surprise," said an expert. "Also, in the past, markets have stabilised within a few days after a North Korean missile launch. So in a way this seems like something markets have already experienced before, thus producing a limited reaction," he added.
Before North Korea's missile launch, U.S. bond yields had risen while Wall Street shares were mixed after U.S. consumer inflation data rekindled expectations that the Federal Reserve will raise interest rates in December. Expect higher volatility and gold prices!
Top China BTC exchange to stop trading
One of China's biggest Bitcoin exchanges has said it will stop trading, after a government warning over virtual currencies.
BTC said it would stop buying and selling on 30 September in response to tightening regulation. It comes after authorities banned initial coin offerings on 5 September.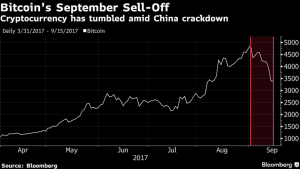 The country has seen an explosion of digital currency trading, sparking fears about the financial risks and speculative investing. The price of Bitcoin tumbled sharply following the BTCC announcement late on Thursday but has since regained some ground. Chinese authorities expressed concern over the investment risks involved in crypto-currencies and ordered a ban on initial coin offerings, or ICOs, earlier this month.
A growing number of tech companies are opting to sell digital "tokens" to raise funds because they are quick, easy and unregulated. Then on Wednesday this week, the state-backed National Internet Finance Association issued a warning that virtual currencies are increasingly being used as a tool for illegal fundraising and money laundering.
BTCC, one of the world's biggest Bitcoin platforms, said in a tweet Thursday after "carefully considering" the directive from regulators, trading on its platform would cease and it would stop registering new users from Thursday. TCC also runs an international exchange from Hong Kong. More intervention is expected. The BTCC shutdown comes ahead of speculation that the Chinese government plans to completely ban exchanges.
China's ICO ban, and wider fears of more regulation, has prompted a sell-off that has wiped billions of the value of crypto-currencies since they hit record highs at the start of the month. Time to short BTC?
Nestle Is Said to Pay $425 Million to Buy Blue Bottle Coffee
Nestle agreed to acquire a majority stake in coffee brand Blue Bottle Coffee as the Nespresso owner seeks to bolster its U.S. presence amid increasing demand for upscale blends. Nestle will pay about $425 million for a 68 percent stake in the Oakland, California-based company, according to a person familiar with the matter who asked not to be identified because the details haven't been made public.
Blue Bottle sells coffee directly to customers online and operates 40 shops in the U.S. and Japan. This number is expected to grow to 55 by the end of 2017, up from 29 a year earlier, Nestle said Thursday. Nestle's No. 1 position in the global packaged coffee market has been challenged by JAB Holding, the investment company of Europe's billionaire Reimann family, which has spent more than $30 billion expanding its coffee empire with acquisitions.
Coffee: Massive Growth Market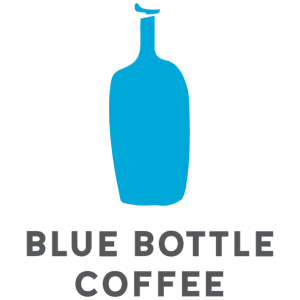 Nestle CEO Mark Schneider has singled out java as one of the Swiss company's biggest growth opportunities, with a focus on expanding sales in the U.S., which is the world's largest coffee market.  "This move underlines Nestle's focus on investing in high-growth categories and acting on consumer trends," the CEO said. The food and beverage giant is also eager to expand its presence in U.S. retail stores. Blue Bottle produces a ready-to-drink cold brew product that is sold in some Whole Foods stores and is working to get its packaged coffee into the upscale organic grocery chain, which was recently acquired by Amazon.
The company is working to maintain its freshness standards as it seeks to expand its retail presence and could be available nationwide at Whole Foods stores next year, according to an expert. "They invested because they think we're onto something,". In addition, the deal means that Blue Bottle is insulated from the pressure that surrounds prominent venture-backed startups with lofty valuations — not to mention public companies. "The public markets are a distraction," he said. "I don't want to be part of that conversation — companies like Blue Bottle should never go public."
Portland probe finds Uber used software to evade 16 government officials
A sweeping investigation by the city of Portland, Oregon, found that Uber used a software tool to intentionally evade 16 government officials whose job it was to regulate the ride-services company, city officials said on Thursday.
When Uber began operating in Portland in December 2014, it did not have any permits, so it used a software tool it had created called Greyball to block regulators from booking rides. Uber stopped using the software after it received approval to operate its service in Portland in April 2015. The city imposed no fines or other penalties but transportation officials have recommended that the city ramp up enforcement efforts.
"We have ensured that no attempts to evade regulators or deny service to riders" will be allowed in the future, Portland City Commissioner Dan Saltzman said in a statement. Portland launched its investigation after the New York Times reported in March that Uber used Greyball to evade government officials in areas where its service had not yet been approved, such as Portland, Boston, Paris and Las Vegas, and in countries such as Australia, China, Italy and South Korea.
Greyball allowed Uber to ignore or cancel ride requests from locations near enforcement agencies and from accounts with credit cards believed to belong to government workers. The tool also allowed Uber to show that no cars were available.
Events today:
1.30 pm – US retail sales (August): forecast to rise 0.3% from 0.6%. Markets to watch: US indices, USD crosses
3 pm – Univ. of Michigan consumer confidence (September): expected to rise to 96.9 from 96.8. Markets to watch: US indices, USD crosses
Trade now
NOTE: This article is not an investment advice. Any references to historical price movements or levels is informational and based on external analysis and we do not warranty that any such movements or levels are likely to reoccur in the future.
In accordance with European Securities and Markets Authority's (ESMA) requirements, binary and digital options trading is only available to clients categorized as professional clients.
GENERAL RISK WARNING
CFDs are complex instruments and come with a high risk of losing money rapidly due to leverage.
77% of retail investor accounts lose money when trading CFDs with this provider.
You should consider whether you understand how CFDs work and whether you can afford to take the high risk of losing your money.