2 min read 
Tesla CEO Elon Musk shocked investors yesterday with the announcement that he is considering taking the company private. Early in the afternoon, Musk tweeted a blog post revealing Tesla  might make the switch from public to private at a price of $420 per share. While an official decision has not been made, the news sent Tesla stock soaring over 10%, bringing its stock to $380 — dollars away from its all-time high of $389.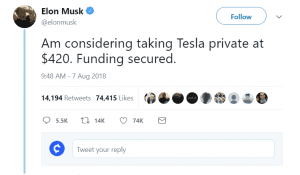 Musk proceeded to reveal more details about the potential change in a series of tweets, calling the proposal the "best path forward" for the company. According to Musk, the move would reduce some of the pressure faced by Tesla, as the company is under the constant scrutiny of Wall Street. With its current market value at $61 billion, at a price of $420 would propel the company to a worth of $71.3 billion. The final say will depend on a shareholder vote to be held at a future date.
Tesla shares didn't jump on Musk's announcement alone. Hours before, shares were already on the rise following news that Saudi Arabia's sovereign wealth fund had bought a significant stake in the company. The stake is estimated between $1.9 billion and $3.2 billion.
As Tesla developments continue to unfold, investors and traders alike are sure to keep a close eye on stock price fluctuations in the days to come.
Trade now