5 min read 
IQ Option, in their quest to become the best platform for forex, CFD and cryptocurrency trading, have unveiled the addition of Heiken Ashi charts. For those of you who've never heard of Heiken Ashi let me explain. Heiken Ashi is an advanced form of candlestick charting that helps traders spot trends and predict future price movements.
The basis candles look the same, but the calculation of those candles is much different. Where a traditional candlestick is based on the same open-high-low-close as a bar chart the Heiken Ashi uses average values and the mid-point of the previous candle to set parameters. This is what the formula looks like:
The Close = (open+high+low+close)/4, this is equal to the average price for the current bar or candle.
The Open = (open of previous candle + close of previous candle)/2, this is equal to the mid-point of the previous candle.
The High = the open, close or high of the current candle, whichever is greater.
The Low = The open, close or low of the current candle, whichever is least.
Here's an example of how Heiken Ashi looks compared to the same chart using standard candlesticks. On the Heiken Ashi chart up days are filled in blue and down days are fill in red.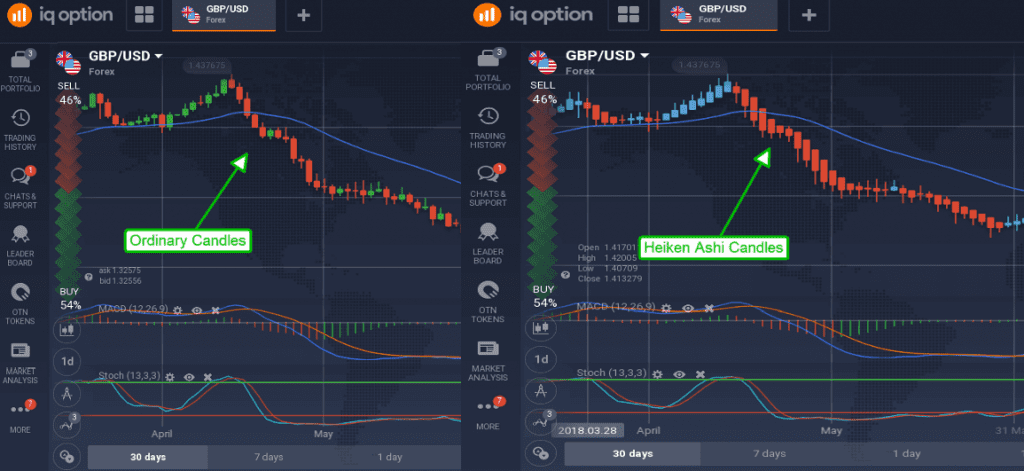 There are a few benefits to the Heiken Ashi chart that can be seen immediately. The first is smoothness, the Heiken Ashi chart creates a much smoother flow of price movement without the gaps and jerky movement typical price action can make. The second is coloration, where a candlestick chart may produce a red or green candle on any given day the Heiken Ashi candles tend to stay red in a downtrend and blue in an uptrend. The third is price scale, because Heiken Ashi uses an average price for the close of the candle (typical candles use current price as the close) there may some discrepancy between the assets "current" price and the price indicated as the close of the candle.
There are five primary indications given by the Heiken Ashi that traders can use. The first is blue candles with no lower shadows. These signify a strong trend; traders should enter new trades or let open trades run for maximum profit. The second is a series of blue candles. These signify uptrend; traders should add to open long positions and close short positions. The third is small red or blue candles with visible upper and lower shadows. These signify a trend change is about to happen; traders should take profits on open positions and look to reverse their stance for new positions.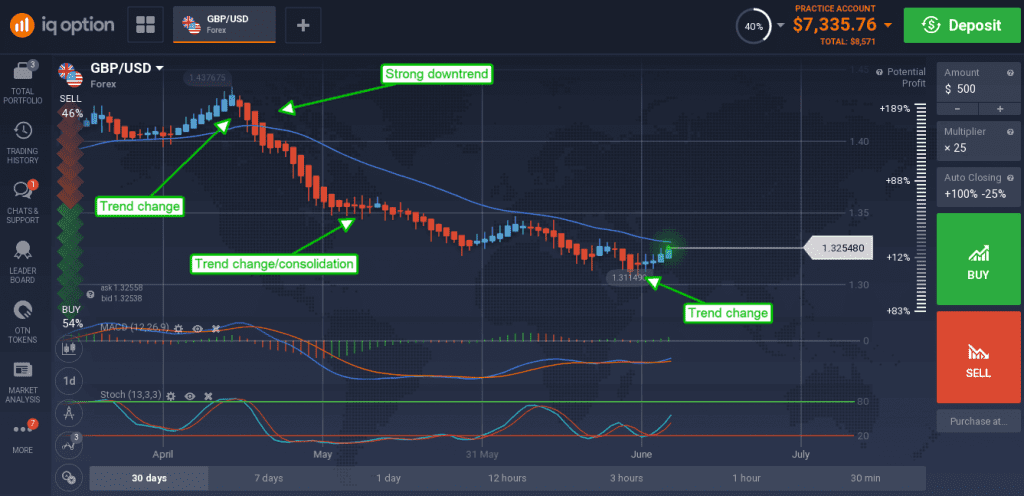 The fourth is a series of red candles. These signify a downtrend; traders should add to open short positions and close open long positions. The fifth is a candle with no upper shadow. This signifies a strong downtrend in which traders should open new short positions or add to existing ones.
Trade now
NOTE: This article is not an investment advice. Any references to historical price movements or levels is informational and based on external analysis and we do not warranty that any such movements or levels are likely to reoccur in the future.
In accordance with European Securities and Markets Authority's (ESMA) requirements, binary and digital options trading is only available to clients categorized as professional clients.
GENERAL RISK WARNING
CFDs are complex instruments and come with a high risk of losing money rapidly due to leverage.
73% of retail investor accounts lose money when trading CFDs with this provider.
You should consider whether you understand how CFDs work and whether you can afford to take the high risk of losing your money.