7 min read 
A group of hackers posted fresh parts of stolen HBO files online Monday, and demanded a multimillion-dollar ransom in Bitcoin from the network to prevent the release of entire television series and other sensitive proprietary files. HBO, which had previously acknowledged the theft of "proprietary information," said it's continuing to investigate and is working with police and cybersecurity experts. In a swaggering five-minute video from "Mr. Smith" to HBO CEO Richard Plepler included in the dump, the hackers used white text scrolling on a black background to deliver an ultimatum.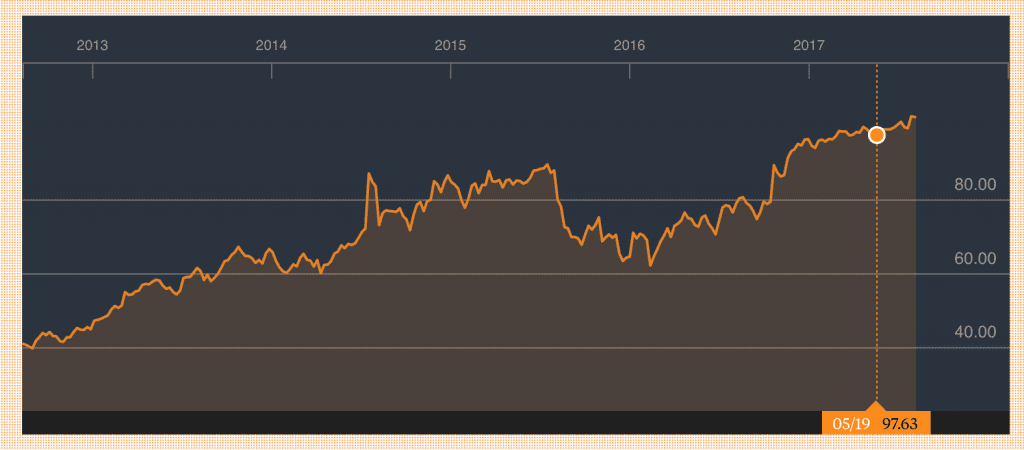 In short: Pay up within three days or see the group, which claims to have stolen 1.5 terabytes of HBO shows and confidential corporate data, upload entire series and sensitive proprietary files. Specifically, the hackers demanded "our 6-month salary in bitcoin," and claimed they earn $12 million to $15 million a year from blackmailing organizations whose networks they have penetrated. They said they would only deal directly with "Richard" and only send one "letter" detailing how to pay. What this means for Time Warner (which owns HBO)? Probably not a rising stock price.
Heavy upside trading for gold among North Korea threat
Gold held flat against the Dollar as the US currency reversed some of last week's bounce amid fresh threats of nuclear conflict from North Korean's government. After falling to a 10-day low of $1254 late Friday – and seeing its first weekly decline in four on stronger-than-expected US job data – gold today traded in a narrow $3 range around last week's close of $1258.


The US Dollar meantime cut into Friday's bounce from 15-month lows of 0.8% – the greenback's biggest 1-day rise so far this year – after July's official estimate of non-farm payrolls came in much stronger than analysts forecast. "The jobs data was very good, gold is pressured," said a fund manager at China's biggest securitized gold investment vehicle. Ahead of last week's US jobs data, hedge funds and other 'Managed Money' traders in gold futures and options grew their bullish betting by 63% net of the same group's bearish bets, taking it back up to the level of mid-June, according to the latest data from US regulator the Commodities Futures Trading Commission.
Crisis Ahead? U.S. Credit-Card Debt Surpasses Record Set at Lehman Collapse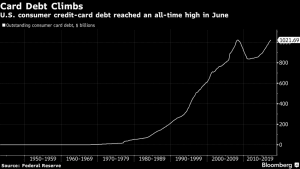 U.S. consumer credit-card debt just passed an ominous milestone, beating a record set just before the global financial system almost collapsed in 2008. Outstanding card loans reached $1.02 trillion in June, data from the Federal Reserve show, as lenders compete to sign up cardholders who may carry balances — a relatively lucrative business in a prolonged period of low interest rates.
The bet is that this time it won't end so badly. In 2008, a drop in home prices spiraled into a global financial meltdown, and after the jobless rate surged toward 10 percent, banks wrote off more than $100 billion in credit-card loans over the next two years. Investors have been skittish over the potential for defaults to rise ever since card balances eclipsed $1 trillion in February. Credit-card issuers said write-off rates ticked up in the second quarter from the previous three months.
Softbank CEO hasn't decided whether to back Uber or Lyft
SoftBank, a strong investor in global technology startups, reported a sharp rise in quarterly profits and said it would be interested in parking funds in ride-hailing firms Uber or Lyft in the future. This is the first time Softbank has publicly indicated an interest in Uber, after having so far put funds into its rival Grab in Southeast Asia and China's Didi. Last month, a media report said Uber shareholders and its board were mulling a stock sale to SoftBank and other investors. "We are interested in discussing with Uber, we are also interested in discussing with Lyft, we have not decided which way," SoftBank's CEO and founder Masayoshi Son said.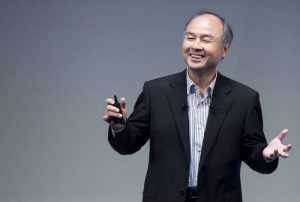 "Whether we decide to partner and invest into Uber or Lyft, I don't know what will be the end result," he told reporters at SoftBank's first-quarter earnings briefing on Monday. SoftBank said its quarterly operating profit rose 50 percent from a year ago to 479 billion yen ($4.32 billion) after it included Vision Fund, the world's largest private equity fund, as a new reportable segment and booked a 105 billion yen gain on its stake in graphics chip maker Nvidia.
Economic events today:
2.30 am – Australia NAB business confidence (July): index expected to fall to 7 from 9. Market to watch: AUD crosses
3 am – China trade balance (July): after strong growth last month, investors will be hoping that the recovery in exports continues. Markets to watch: China indices, CNY crosses
7 am – German trade balance (June): previous figure was surplus of €22 billion. Market to watch: EUR crosses
Trade now