7 min read 
Forex market or simply FX (short from "foreign exchange") is the world's largest and most liquid financial market that lets traders buy one currency with the means of another. When buying a certain currency, you assume that its price against other currencies will grow and you'd be able to sell it back at a higher price. This kind of speculation is the basic principle behind trading on the Forex market.
Volume and Liquidity
The New York Stock Exchange is the largest stock market in the world. It trades a daily volume of $22.4 billion. The FX market can boast $5.3 trillion of a daily trading volume. Forex, however, is not only 200 times bigger than the world's largest stock exchange, it is also extremely volatile. Exchange rates constantly fluctuate, creating numerous speculative opportunities. High liquidity means it is easy to buy and sell currencies.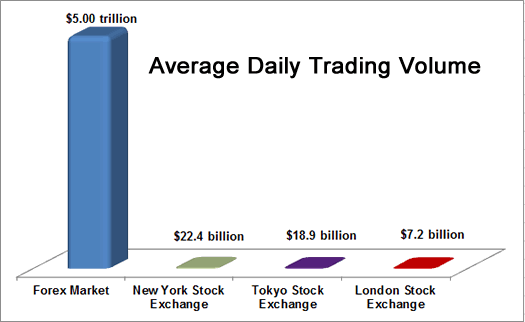 What Is Traded on the FX Market?
The answer to this question is "money", or more precisely — national currencies of different countries. In the currency market, all products are organized in pairs. By placing a deal on the Forex market, we buy one country's currency and at the same time sell another country's currency.
The most popular currencies on the FX market are the U.S. dollar (USD), the Canadian dollar (CAD), the Euro (EUR), the British pound (GBP), the Swiss franc (CHF), the New Zealand dollar (NZD), the Australian dollar (AUD) and the Japanese yen (JPY). Currency pairs without the USD are called cross-currency pairs.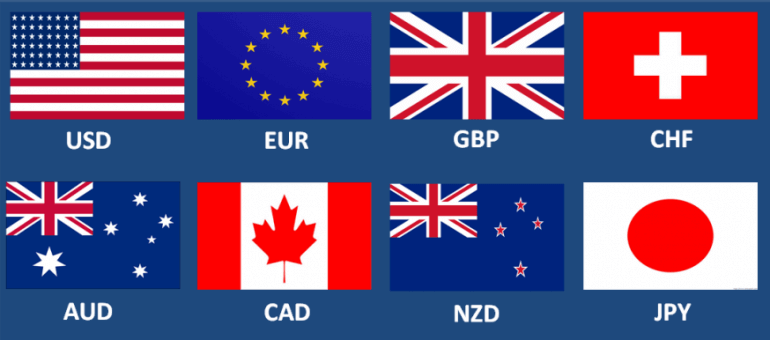 The FX market operates 24/7 during weekdays from 0:00 GMT Monday till 21:00 GMT Friday.
Currency Quotes
A quote is the most recent market price that the buyer and the seller have agreed on. It consists of two prices: Ask, at which the asset is being bought, and the Bid, at which it is sold to other traders. The difference between the two is known as Spread.
Bid = Sell price
Ask = Buy price
Spread = The difference between the ask and the bid prices, commission charged by the broker to carry out an order.
Using multiplier
Daily fluctuations of currency prices rarely exceed 1%. It means, that if you're trading small volumes of the underlying asset, the output will be proportionally humble. One of the possible ways to make Forex trading more economically sound is to apply a multiplier to your investment amount. Multiplier is a brokerage tool that allows you to receive proportionally greater profit or loss.
By utilizing a multiplier of x25 you, as a trader, can invest ten times more than the amount of money at your disposal. In this case, any profit you make (or the losses you incur) will also be multiplied by 25.
Stop Loss and Take Profit
Major currency pairs fluctuate enough to offer sound earnings opportunities to professional traders. However, dedicating a lot of time to passively observing open positions and waiting for an opportunity to close them is neither time effective, nor physically viable, at least sometimes. IQ Option platform offers an opportunity to close profitable or loss-making positions automatically when a certain price level is reached.
All you need to do is set the desired level of profit/loss that will close the position.
What Makes Currencies Fluctuate?
Currencies fluctuate based on supply and demand. Increase in demand for the US dollar, all other things being equal, will push the price of the USD up. Increased supply will, in turn, bring the exchange rate down.
What are the major factors that affect demand and supply for different currencies? Possible reasons include but are not limited to monetary policy, carried out by the central bank of the respective country, inflation and political/economic conditions. Regularly posted economic reports such as employment data, GDP changes and interest rate decisions can have a tremendous effect on currency prices. Irregular macroeconomic events, such as Brexit, have a chance of affecting the foreign exchange market, as well.
Conclusion
The largest and most liquid market in the world opens up a world of possibilities for individual traders. However, it's important to remember that Forex trading carries a high degree of risk and should only be practiced by individuals who are prepared to put in the time and effort into studying the intricacies of currency trading.
Trade now
NOTE: This article is not an investment advice. Any references to historical price movements or levels is informational and based on external analysis and we do not warranty that any such movements or levels are likely to reoccur in the future.
In accordance with European Securities and Markets Authority's (ESMA) requirements, binary and digital options trading is only available to clients categorized as professional clients.
GENERAL RISK WARNING
CFDs are complex instruments and come with a high risk of losing money rapidly due to leverage.
77% of retail investor accounts lose money when trading CFDs with this provider.
You should consider whether you understand how CFDs work and whether you can afford to take the high risk of losing your money.