5 min read 
The last trading session of the week today is full of very important economic data, such as the BoJ Interest Rate Decision, the Balance of Trade for Germany and UK, the Unemployment Rate in Canada and the Non-farm Payrolls and Unemployment Rate in the US. Moderate to high volatility is expected for the US Dollar, and the Japanese Yen, and especially for the USD/CAD currency pair. The US Dollar after the recent statements about imported tariffs on steel and aluminum from the US government and the trade war scenarios is looking for a fundamental catalyst, and the Non-farm Payrolls may be the one to form a new established trend.
These are the main economic events for today to focus on:
European Session
Germany Industrial Production and Balance of Trade, France Industrial Production, UK Manufacturing Production, Industrial Production, Balance of Trade , Consumer Inflation Expectations
Time: 07:00 GMT, 07:45 GMT, 09:30 GMT
Higher than expect4d or rising figures for the Industrial Production, Manufacturing Production, and Balance of Trade will be both positive and supportive for the Euro and the British Pound reflecting strong economic and business activity and capital inflows, increased demand for goods and services denominated in Euros and British Pounds. As seen from the chart, the Balance of Trade in Germany is having a trade surplus and is rising as of 2009.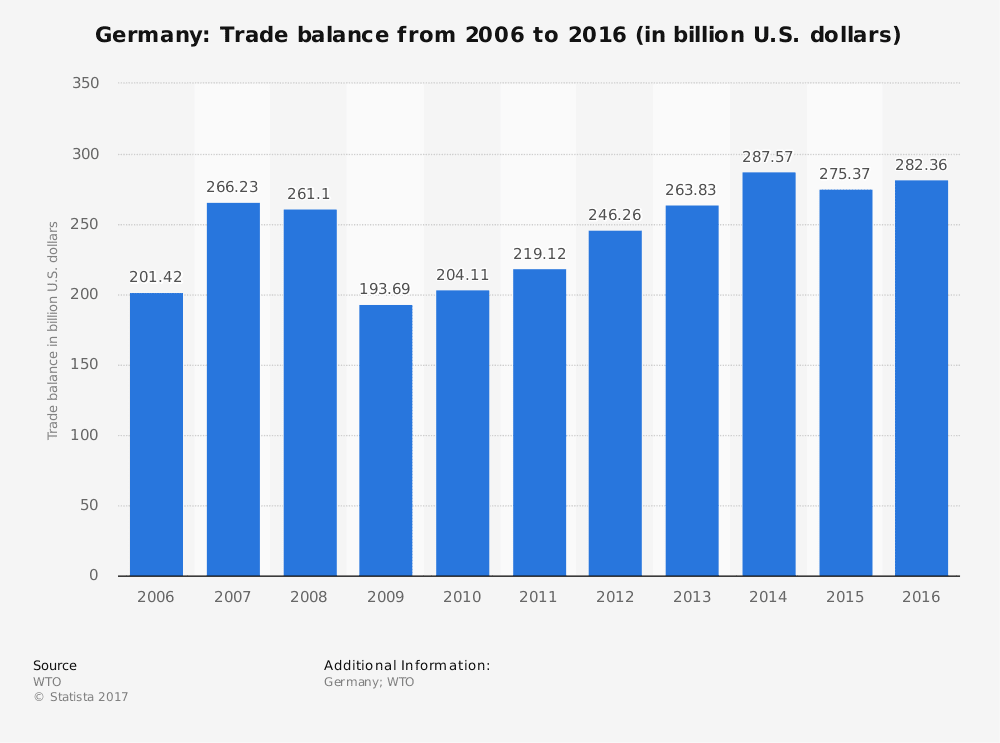 The statistic shows Germany's trade balance from 2006 to 2016. Trade balance is the value of exported goods minus the value of imported goods. A positive trade balance signifies a trade surplus, while a negative value signifies a trade deficit. In 2016, Germany's trade surplus amounted to around 282.36 billion U.S. dollars.
The forecasts are for an increase of the Industrial Production in Germany and in UK on a monthly basis, but a decline for the Industrial Production in France, and on a yearly basis an increase for the Manufacturing Production but a decrease of the Construction Output in UK. A mixed economic data for the British Pound overall.
American Session
Canada Unemployment Rate and Employment Change, US Unemployment Rate, Non-farm Payrolls, Average Hourly Earnings, Wholesale Inventories, Fed Evans Speech
Time: 13:30 GMT, 15:00 GMT, 17:45 GMT
Lower than expected or declining figures for the Unemployment Rate in Canada and in the US will be positive for the Canadian Dollar and the Us Dollar reflecting robust economies with strong labor markets. Increased number of people employed translates in higher consumer spending and higher economic growth. The forecasts are for an unchanged figure of 5.90% Unemployment Rate in Canada and also an unchanged figure of 4.1% in the US. Lower than expected readings for the US Wholesale Inventories will also be positive for the US Dollar, as also higher Average Hourly Earnings reflecting higher consumer spending and possibly future inflationary pressures in the economy. As seen from the chart the key driver for the US Dollar may be the release of Non-farm Payrolls.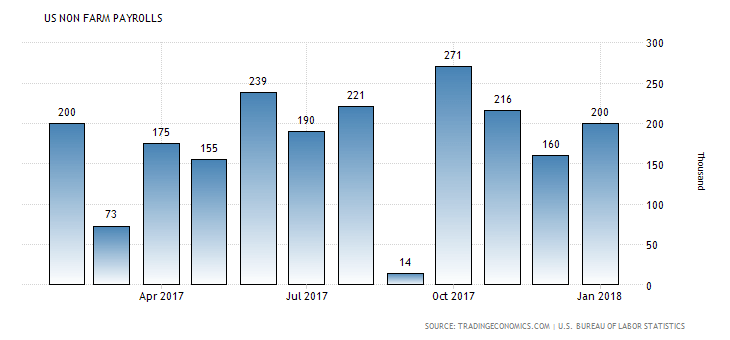 Non-farm payrolls in the United States increased by 200 thousand in January of 2018, and any positive economic surprise may prove to be supportive for the US Dollar adding additional volatility and price action.
Asian Session
BoJ Interest Rate Decision
Time: 03:00 GMT
The expectation is for an unchanged key interest rate at -0.1%. The Monetary Policy Statement Decision many move significantly the Japanese Yen based on the probabilities of future monetary policy shift, the statements of economic conditions such as inflation and GDP Growth, as Japan's economy is likely to continue its moderate expansion in 2018.
Trade now
NOTE: This article is not an investment advice. Any references to historical price movements or levels is informational and based on external analysis and we do not warranty that any such movements or levels are likely to reoccur in the future.
In accordance with European Securities and Markets Authority's (ESMA) requirements, binary and digital options trading is only available to clients categorized as professional clients.
GENERAL RISK WARNING
CFDs are complex instruments and come with a high risk of losing money rapidly due to leverage.
73% of retail investor accounts lose money when trading CFDs with this provider.
You should consider whether you understand how CFDs work and whether you can afford to take the high risk of losing your money.