11 min read 
FED does as expected | Tesla's Backward Integration | Facebook in Trouble
The FED maintained interest rates unchanged on Wednesday but signalled it still expects one more increase by the end of the year despite a recent bout of low inflation. The Fed, as expected, also said it would begin in October to reduce its approximately $4.2 trillion in holdings of U.S. Treasury bonds and mortgage-backed securities acquired in the years after the 2008 financial crisis.
New economic projections released after the Fed's two-day policy meeting showed 11 of 16 officials see the "appropriate" level for the federal funds rate, the central bank's benchmark interest rate, to be in a range between 1.25 percent and 1.50 percent by the end of 2017, or 0.25 percentage points above the current level. U.S. bond yields rose, pushing up the U.S. dollar after the Fed's decision, but U.S. benchmark stock indexes were little changed. U.S. benchmark 10-year Treasury note yields rose as far as 2.29 percent, the highest since Aug. 8., a move which helped push bank stock prices higher also. "The Fed took another step on its path of beautiful normalization, announcing that the gradual balance sheet reduction will start next month and limiting revisions to both projections and policy guidance," said an Expert.
In its policy statement, the Fed cited low unemployment, growth in business investment, and an economic expansion that has been moderate but durable this year as justifying it's decision. It added that the near-term risks to the economic outlook remained "roughly balanced" but said it was "closely" watching inflation. Fed Chair Janet Yellen said in a press conference after the end of the meeting that the fall in inflation this year remained a mystery, adding that the central bank was ready to change the interest rate outlook if needed. "What we need to figure out is whether the factors that have lowered inflation are likely to prove persistent," she said. If they do, "it would require an alteration of monetary policy," Yellen said. Expect rising stock markets and lowering volatility!
Tesla Is Working with AMD to Develop Its Own A.I. Chip for Self-Driving Cars, Says Source
Tesla is getting closer to having its own chip for handling autonomous driving tasks in its cars. The carmaker has received back samples of the first implementation of its processor and is now running tests on it, said a source familiar with the matter. The effort to build its own chip is in line with Tesla's push to be vertically integrated and decrease reliance on other companies. But Tesla isn't completely going it alone in chip development, according to the source, and will build on top of AMD intellectual property. AMD shares spiked after CNBC reported that the company is working with Tesla. Shares of the stock ended the day nearly 5 percent higher and continued to climb after hours.
On Wednesday Sanjay Jha, CEO of AMD spin-off and chip fabricator GlobalFoundries, said at the company's technology conference in Santa Clara, California, mentioned Tesla as an example of companies that were working with fabricators. GlobalFoundries, which fabricates chips, has a wafer supply agreement in place with AMD through 2020.A more power-efficient purpose-built chip could help Tesla get closer to delivering totally autonomous driving. Tesla CEO Elon Musk promised this year that capability will be available to consumers in 2019.
Facebook Makes Changes, After 'Fail' Over Ads Targeting Racists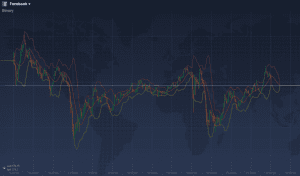 Facebook will work to prevent advertisers from reaching customers based on offensive and derogatory terms, chief operating officer Sheryl Sandberg wrote in a post on her Facebook page Wednesday. The company will stop any advertiser from targeting customers using topics that go against its company standards, Sandberg wrote. Non-approved targeting categories include anything that attacks people based on race, ethnicity, national origin, religious affiliation, sexual orientation, sex, gender or gender identity, or disabilities or diseases. It was always against the rules, but Facebook will be employing more checks to stop offenders, she wrote. Facebook found itself embroiled in a scandal when ProPublica discovered last week companies could place their ads in front of users who were most likely to identify as "Jew haters" and be interested in "how to burn Jews" based on their Facebook behavior. The categories were created by Facebook's automated system, according to the publication.
In addition, Facebook will be adding more human reviewers to oversee its automated advertising processes. The company temporarily blocked all ad-targeting terms after the story but will re-add 5,000 approved categories, such as nurse or teacher. It also is working on a way for users to report any misuses of ads that go against Facebook's standards. "Seeing those words made me disgusted and disappointed — disgusted by these sentiments and disappointed that our systems allowed this," Sandberg wrote. "Hate has no place on Facebook — and as a Jew, as a mother, and as a human being, I know the damage that can come from hate. The fact that hateful terms were even offered as options was totally inappropriate and a fail on our part."
SEC Says Hackers May Have Traded Using Stolen Insider Information
US regulator said on Wednesday that hackers accessed its corporate disclosure database and may have illegally profited by trading on the insider information stolen. The SEC said the hack occurred in 2016 but that it had only discovered last month that the cyber criminals may have used the information to make illicit trades. The hackers exploited a software glitch in the test filing component of the system to gain access to non-public information, the agency said. The SEC hosts large volumes of sensitive and confidential information that could be used for insider-trading or manipulating U.S. equity markets. Its EDGAR database houses millions of filings on corporate disclosures ranging from quarterly earnings to statements on mergers and acquisitions.
Cyber criminals have targeted financial information hubs before – the Hong Kong stock exchange and the Nasdaq stock exchange in New York were targeted by hackers in 2011. But the breach at the SEC is particularly egregious because its new boss, Jay Clayton, has made tackling cybercrime one of the top enforcement issues during his tenure.
Important Events Today
4am – BoJ rate decision: no change in policy expected, watch for any commentary regarding further easing. Markets to watch: Nikkei, JPY crosses
1.30pm – US initial jobless claims (w/e 16 Sept): expected to fall to 236K from 284K as the impact of hurricane-related disruption recedes. Markets to watch: US indices, USD crosses
3pm – eurozone consumer confidence (September, flash): expected to fall to -1.7 from -1.5. Markets to watch: eurozone indices, EUR crosses
Trade here