8 min read 
Bitcoin isn't the only cryptocurrency that has been surprising traders lately: last week, GDAX, the digital currency exchange run by Coinbase, experienced a flash crash in its USD – Ethereum market.
Within seconds the price of ETH dropped  from ~$320 to as low as $0.10. While the price recovered quickly, the rapid price movement caused many traders to experience margin calls or stop loss orders, resulting in potentially severe losses.
So what is Ethereum about and what causes its growth?
Ether is the name of the cryptocurrency which runs on the ethereum blockchain – the technology that underpins the digital coin. But ethereum is often used as shorthand for the digital currency as well.
Ethereum was launched in the middle of 2015 by a 21-year-old college dropout, Vitalik Buterin. The Ether he holds has made him a millionaire many times over. Mr. Buterin was inspired by Bitcoin, and the software he built shares some of the same basic qualities.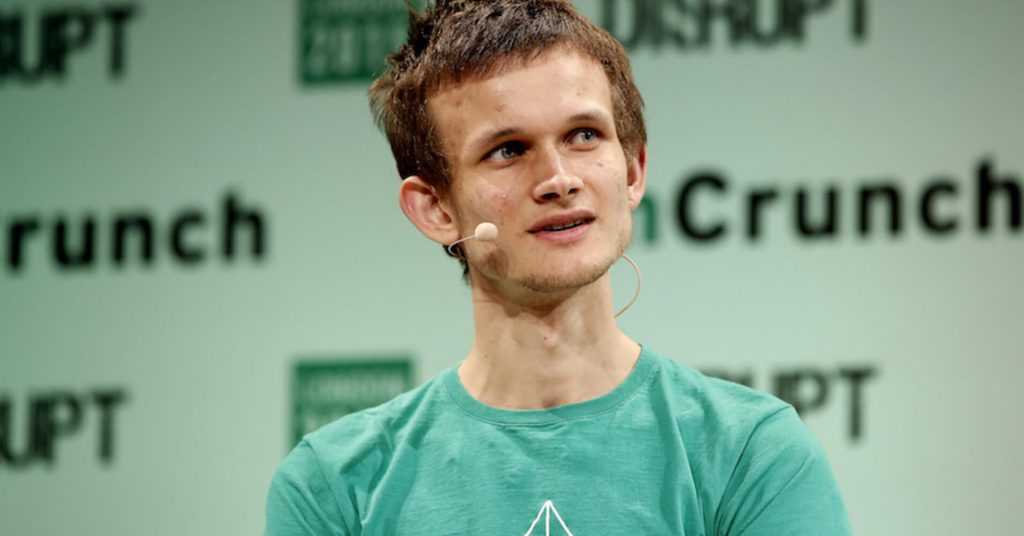 Ethereum has been designed to support so-called smart contract applications. A smart contract is a computer program that can automatically execute the terms of a contract when certain conditions are met. This use has excited many investors.
Ether is the second-largest cryptocurrency by market capitalization, worth around $36 billion, according to Coinmarketcap, below bitcoin's $48.91 billion valuation.
Here are 5 things  you may want to learn about Ether's evolvement:
1) It's not an overnight success
Since early 2016, ether has been the second-largest market cap of any cryptocurrency, leaving in the dust such more tenured alternative asset protocols such as litecoin and ripple, according to CoinMarketCap data.
This sharp growth has taken place as the broader cryptocurrency space has attracted significant capital inflows, jumping almost $7bn in value in Q1 2017. During this time frame, the price of ether returned more than 500%.
When examined over a broader time frame, cryptocurrency's price gains have been even more impressive, as ether has appreciated more than 2,800% since it 2015.
2) It's volume has varied greatly
Ether's trading volume has been up and down during its history.
Trading activity for this digital asset was very modest at times, with 24-hour trading volume falling below $100,000 in some cases. At other times, this activity surged, with 24-hour volume nearing $600m in March.
Overall, however, the market has seen a gradual bullish trending, with volume picking up in March and April.
3) Search interest is at its highs
What does search interest have to do with price? As CoinDesk contributor Willy Woo has put forward – quite a bit given that most traders and buyers Google the price first. Ether's search interest has risen sharply in the last several years, although its upward movement coincided with some significant pullbacks, according to Google Trends.

The cryptocurrency's search interest peaked in mid-June, as the term "ethereum" attained its highest point of popularity between 11th and 17th June.
When broken down by geographic region, the search interest for this term has been quite varied, according to additional data from Google Trends. Sloveina, Netherlands and Singapore have been the most popular areas for these searches over the last five years.
4) Bitcoin exchanges offer trading it
Several major exchanges have started offering ether trading to customers over the last several years. Poloniex, the single largest exchange in terms of ETH/BTC volume began offering the currency pair in August 2015.
Kraken, Bitfinex, Coinbase and Gemini followed shortly after, with some offering US dollar trading. Other companies provide their clients with over-the-counter (OTC) trading of this cryptocurrency.
5) Ethereum has its own tokens
Due to the design of the ethereum platform, developers are able to issue their own assets on top of the blockchain network.
What gives Ethereum tokens their value? There are mainly two factors:  supply & demand and  trust. The more the demand and lesser the supply, the larger will be the price of the product.
With trust things are clear as well – there are certain risks involved in trading cryptocurrencies  and as with the shares of large companies, the cryptocurrency needs to earn its share of trust by a stable growth and less shake-ups.
Just weeks ago, the cryptocurrency that powers the ethereum blockchain looked poised to become the world's largest by market capitalisation, making ethereum the most valuable public blockchain. But as we get closer to July, that trend appears to be becoming less of a certainty.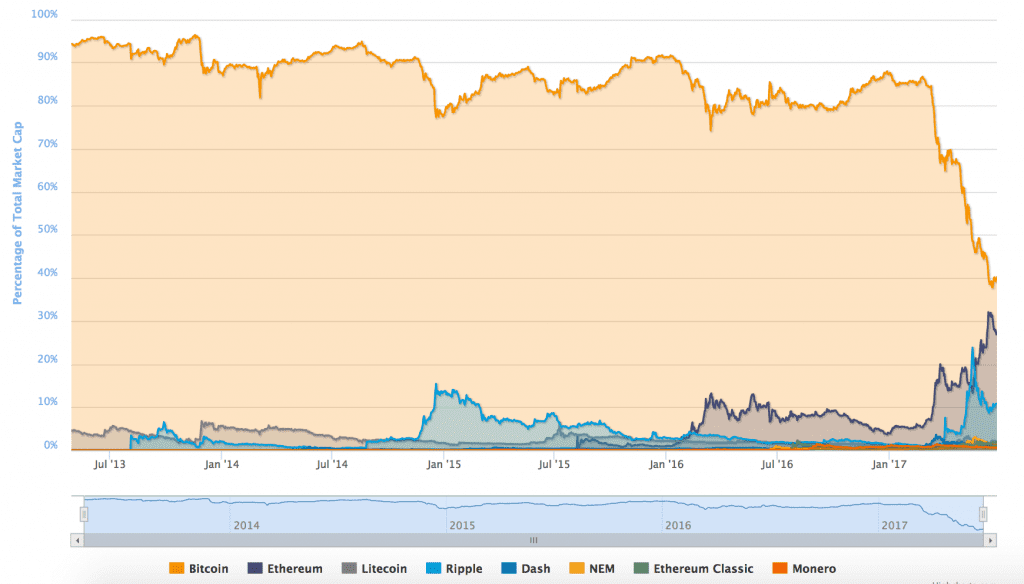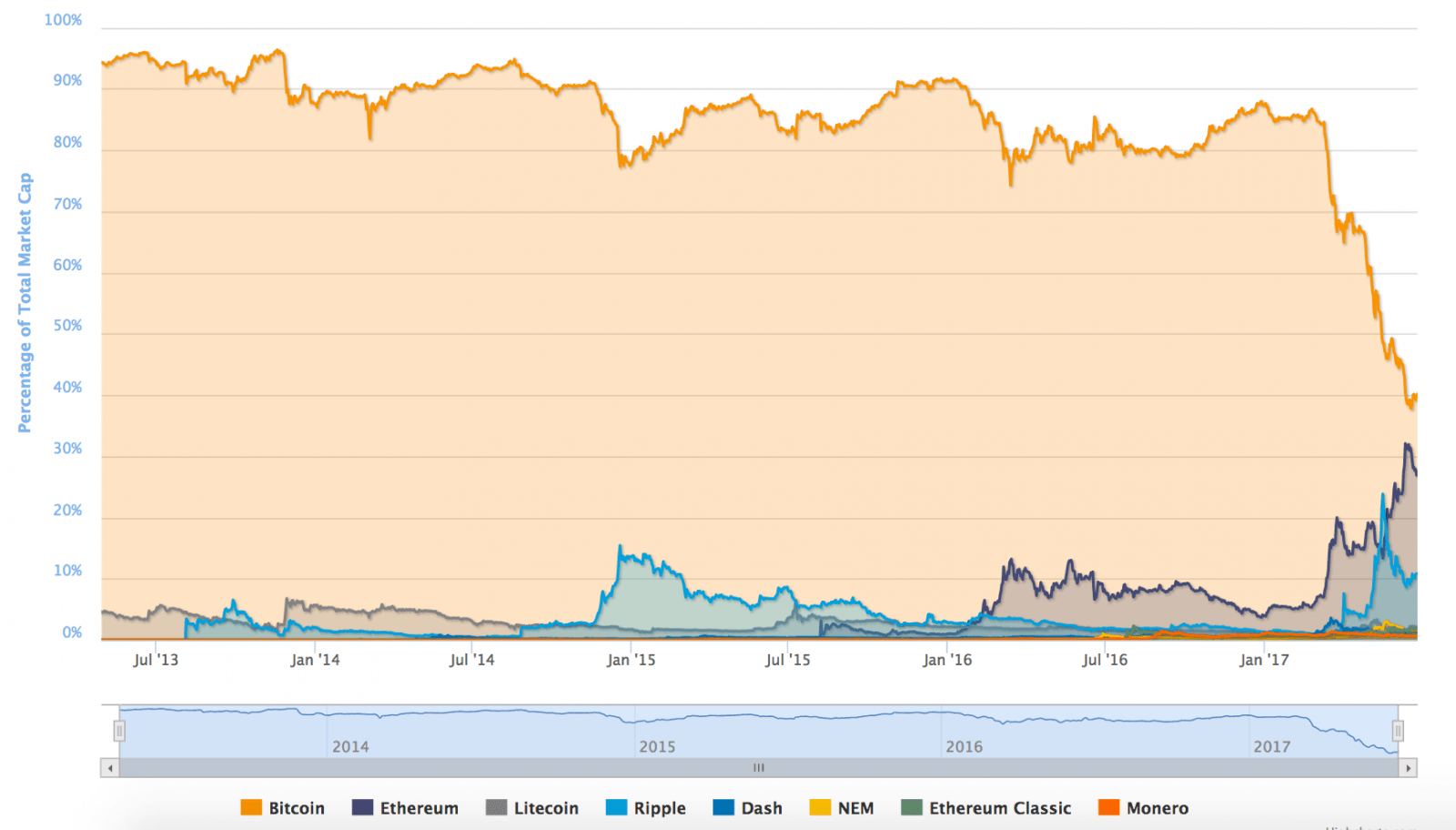 After peaking at nearly $415 in mid-June, ether's price declined to roughly $300 yesterday, an approximately 27% drop from its all-time high. Further, with this decline, ethereum's market cap fell to less than 70% of bitcoin's, down from more than 82% mid-month.
Ethereum has already been named a "Bitcoin killer", do you think it will eventually top the mightiest cryptocurrency? Respond in the comments.
Trade here
Sources:
cnbc
techcrunch
businessinsider
coindesk