3 min read 
Bitcoin Cash celebrated its first birthday yesterday, August 1, marking one year since Bitcoin's most infamous and controversial hard fork. While the past year has been filled with plenty of ups and downs, Bitcoin Cash has managed to make major strides, and it shows no signs of slowing down. Just recently, Roger Ver hinted that the Bitcoin Cash community is working on adoption in Cyprus, with potentially 4,000 merchants set to accept BCH.
BCH to be integrated by November
Ver revealed details about the initiative in a video podcast earlier this week, stating he met with the president of Cyprus to discuss merchant adoption across the mediterranean island. Together with attorney Daniel Kelman, Ver has been busy speaking with local authorities about the benefits of using Bitcoin Cash. Local BCH supporter, Dimetrios Neocleous, also took part in sharing the news, elaborating:
"By November, we're going to have four thousand merchant stores supporting Bitcoin Cash payments, because they understand that Bitcoin Cash is the real Bitcoin."
To put that number into perspective, those merchants account for about 70% of all shops in Cyprus.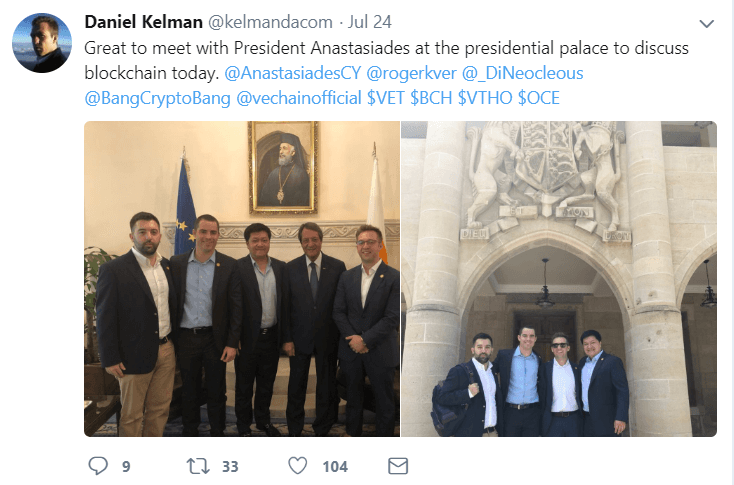 Why Cyprus? Bitcoin Cash already has an embassy opened in Limassol, the country's second largest city. Perhaps Cyprus is poising itself to become the latest crypto-friendly island, joining the ranks of Malta, Bermuda, and Gibraltar. It seems more and more countries are racing to make themselves appealing to crypto exchanges and blockchain startups, which could turn out to be the boost crypto currently needs.
No gains for BCH
Presently, Bitcoin Cash is trading in the $750 range, down from a high of around $773 earlier today. Cryptocurrencies across the board have been struggling to hold on to modest gains from last week.

At a time when cryptocurrencies are in the red, news of mass adoption is especially welcome. If adoption continues spreading at this pace, it could bode well for the future of all cryptocurrencies, not just Bitcoin Cash.
Trade here