3 min read 
Today is a truly glorious day for the global cryptocurrency community (HODLers especially). For the first time since May 22 Bitcoin has hit $8 000. In a price rally that has lasted for several weeks the world's most popular crypto managed to break out of a negative cycle — or did it?
On June 24, exactly one month ago, BTC was traded at around $5 900. Since then it has added more than $2 000 to its value, growing 33% in a matter of 30 days. At the same time, it cannot be said that the cryptocurrency market as a whole is back to growth. Four cryptocurrencies in the top-10 list have lost a portion of their value (up to 10%) over the course of the last 7 days.

During the same period of time, the market capitalization of the cryptocurrency industry has gone from $270 billion to $294 billion. The growth is mostly attributed to the price increase of Bitcoin, which is still the world's #1 cryptocurrency with over 46% share of the global market.
What should you, as a trader, expect from Bitcoin and the rest of the cryptocurrencies in the upcoming days? The long-term trend is hard to predict. The majority of 'industry experts' have not yet agreed on the future performance of Bitcoin and its younger peers. Some believe it is destined to grow at one point or another. BitMEX co-founder Arthur Hayes goes as far as saying Bitcoin would be worth $50 000 by the end of the year. But not all opinion leaders feel the same way.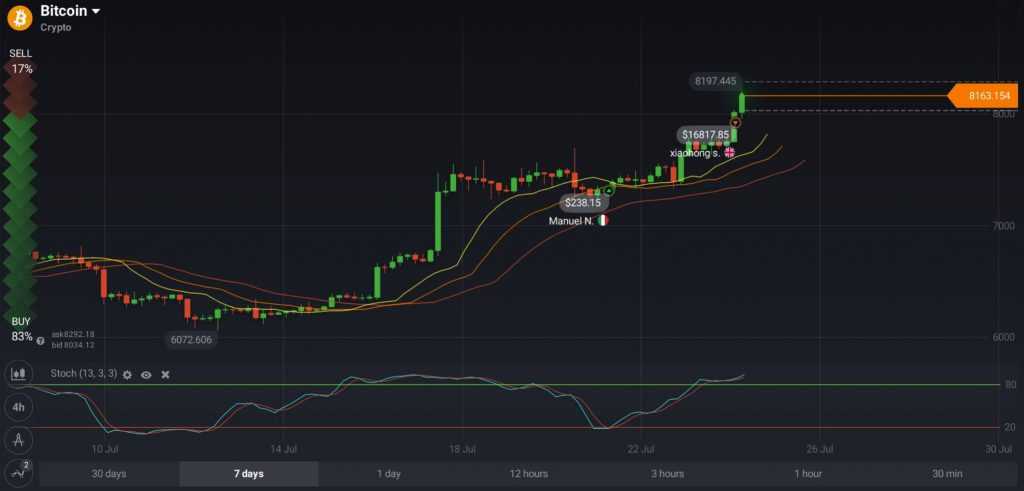 When it comes to short-term price patterns, technical analysis indicators can be of great help. According to both the Alligator and the Stochastic Oscillator, a strong positive trend can be currently observed on the BTC market. It is worth noting, though, that the cryptocurrency market is highly volatile and can change its direction should a major negative news hit the market.
Trade BTC now