3 min read 
What once seemed impossible is turning into a reality: Wall Street is warming up to cryptocurrencies. Intercontinental Exchange (ICE), the parent company of the New York Stock Exchange (NYSE), is reportedly considering letting customers buy and hold Bitcoin. The news comes almost a week after Goldman Sachs announced it will begin using its money to trade Bitcoin futures.
As reported by The New York Times, ICE has been developing an online platform for large investors to buy cryptocurrency. ICE is in talks with other financial institutions to set up a specific operation known as "swap contracts," which would result in investors owning Bitcoin the next day. Swap contacts fall under the jurisdiction of the U.S. Commodity Futures Trading Commision (CFTC), meaning the purchases would be completely legal.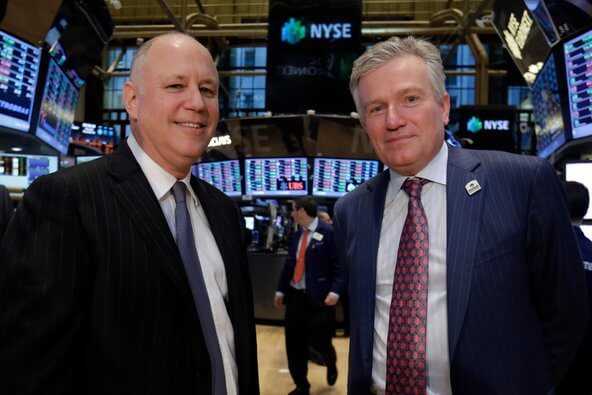 This is not ICE's first venture into crypto. Back in March, the company debuted a cryptocurrency data feed offering extensive coverage of prices and trading volume for leading cryptocurrencies. Last month, ICE chief executive officer Jeffrey Sprecher told Bloomberg he would not "rule out" cryptocurrency based futures contracts, calling them "a trend here we can't ignore." He also emphasized the idea that "people put more faith in a guy named Satoshi Nakamoto that no one has ever met than they do in the U.S. Fed."
Wall Street players are getting into crypto
Last month, Nasdaq entered into a partnership with major cryptocurrency exchange Gemini and spoke about plans to launch a futures market for crypto. ICE's major competitors, Cboe Global Markets and CME group, have been trading Bitcoin futures for several months. Goldman Sachs is in the process of looking at regulation and the risks associated with holding cryptocurrencies before taking the leap into buying and selling Bitcoin itself.
If the reports are true, ICE would be the latest Wall Street giant to get on board with cryptocurrencies, and could potentially lend credibility to Bitcoin trading by bringing regulation into the market. There is no set date for ICE's platform launch, but it will be interesting to see how the company's plans play out in the coming months — especially what it will mean for crypto.
Trade here