The global cryptocurrency market continues to bleed while Bitcoin reestablishes its dominance. Most of the major tokens have fallen to new one-year lows (or lower) while Bitcoin has been able to hold above key support targets near $6,000. Bitcoins strength has resulted in an increase of its market share which now stands at 57.9%. This is the highest level of market share for the worlds reserve cryptocurrency and is supported by trading volume.



The most recent plunge in cryptocurrency is due to regulatory actions from the US. The US SEC has levied the first actions against cryptocurrency firms ever and is setting important precedent in the process. The first is against Crypto Asset Management CP, a California based business, who is accused of operating as an unregistered investment company, false advertising and lying to investors. The firm was marketing an un-listed cryptocurrency as the first ever regulated fund in the US and the SEC says those claims are not true.
"By engaging in an unregistered non-exempt public offering and investing more than 40% of the fund's assets in digital asset securities, CAM caused the fund to operate as an unregistered investment company."
The company "ceased its public offering and offered buybacks to affect investors… CAM and Enneking agreed to the SEC's cease and desist order and censure without admitting or denying the findings against them and agreed to pay a penalty of $200,000."
The second action, taken against the ICO Superstore, is the first to be taken against an unregistered broker/dealer. The ICO Superstore and its operators are charged with selling digital tokens with the proper licensing and not compliant with SEC regulations. A federal judge ruled that the ICO Superstore was a scam and subject to US securities laws. This ruling is an important precedent as it will help establish that some ICOs and digital currencies are indeed securities.
Bitcoin remains resilient in the face of renewed selling and is still above key support. The token is now trading near $6,250 where it is hammering out a bottom above the recently broken-down trend line.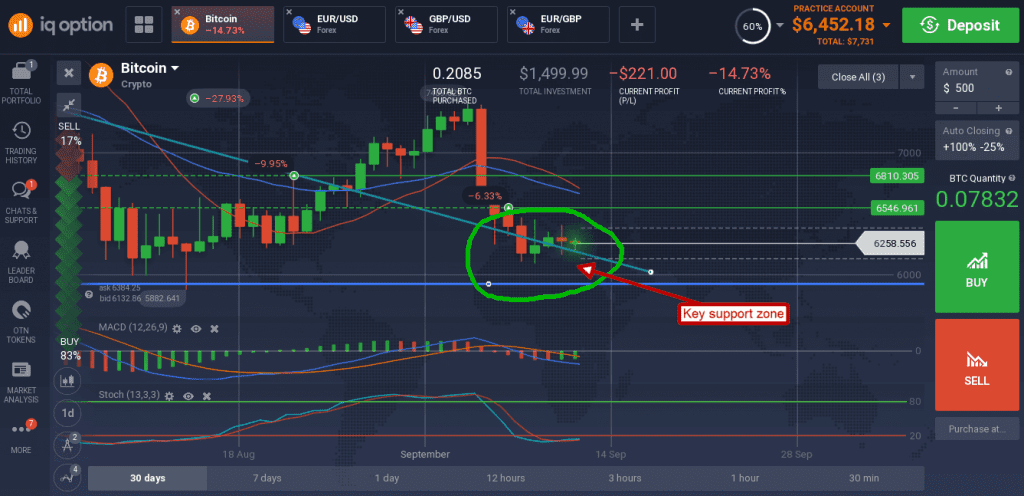 The indicators are rolling into a bullish crossover that is consistent with support at this level so upward movement of prices is possible. A move up may find resistance at the short-term moving average, a move above that would be bullish. If price falls below $6,250 a move down to retest the long-term low near $5,800 is likely.
[cta_en link="https://iqoption.com/traderoom?type=crypto?aff=88&afftrack=btc1209″ name="Trade now"][/cta_en]