5 min read 
The Boeing Company (BA:NYSE) Stock is an aerospace company that has since its incorporation in 1934 expanded their reach into numerous segments –Defense, Space & Security(BDS), Boeing Military Aircraft (BMA), Network & Space Systems (N&SS), Global Services & Support (GS&S), and Boeing Capital (BCC).
1. How have they been performing?
The shares of Boeing Co are included in the DJIA (Dow Jones Industrial Average) and have rocketed 47% higher over the past year – and 16% since the start of 2017.*
The positive share price momentum indicates a strong trend following trade opportunity – compounded by the aggressive acquisition and expansion ventures the company has in the pipeline (mentioned below).*
Boeing's net income has fallen -5.43% from 5.18USD billion to 4.90billion over the past calendar year, * partly due to an increase in the selling, general and administrative costs as a percentage of sales which has risen from 3.67% to 3.82%.* Meanwhile, revenues have remained relatively flat YoY.*
2. Earnings
Boeing earnings per share have exceeded expectations consecutively over the past three quarters.*
In addition dividends and earnings per share (excl. extraordinary items) grew 22.77% and 2.27%, respectively YoY. * This makes the company a leader in the Aerospace & Defense industry – with many peers failing to pay any dividend at all last year.  
Further to this, over a five year annualized basis, Boeings dividend/share growth exceeds the industry average while growth in earnings/share has maintained pace with the industry average.*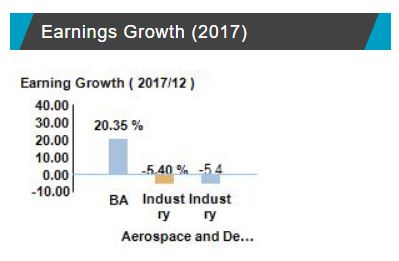 For the next five years forecasts are for growth in earnings at an average annual rate of 13%. ** For 2017, Wall Street analysts are forecasting an earnings improvement of 20.35% YoY as well as 11.25% YoY earnings growth for 2018.**
3. European Presence
Boeing has announced planned investment of 24.98USD million in its first factory on European soil. The new Sheffield based factory will exceed 25 000 square feet in size and will produce specialist aircraft components for Boeing's 737, 737 MAX and 777 jet models as well as jobs for 30 people.
4. Innovation through Acquisition
In addition Boeing acquired Liquid Robotics in December 2016 – a maker of a wave and solar-powered autonomous robotic technology – further adding diversification to the Boeing business range within a fast growing market segment.  
5. Climbing with the 737 range
Boeing recently achieved a sizeable milestone as the first 737 MAX 9 made its debut – the second member of Boeing's industry leading 737 MAX family, with a maximum capacity of 220 passengers and a range of 3,515 nautical miles.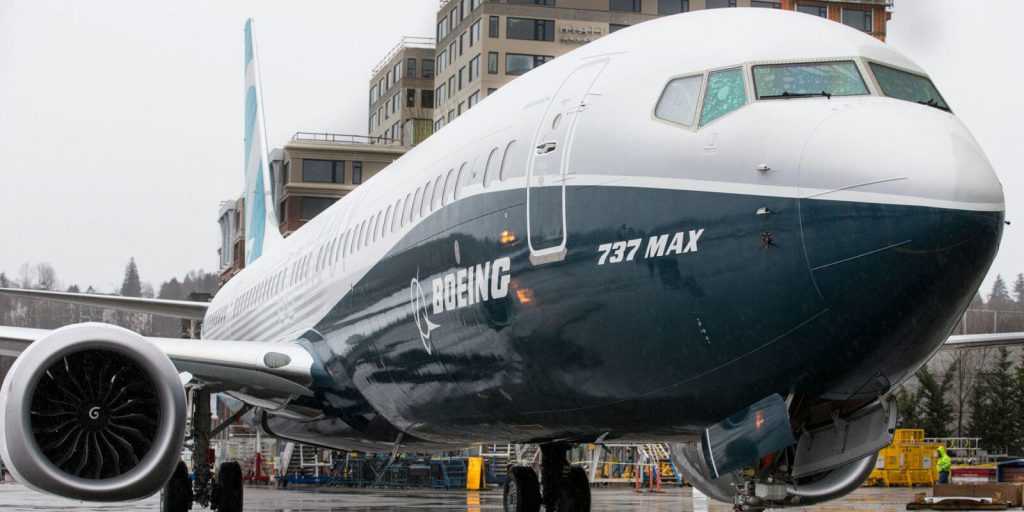 The 737 MAX 9 is scheduled to enter service in 2018. In 2019 the smaller MAX 7 and higher capacity MAX 200 are planned for market. Meanwhile, the company has intentions to research avenues of expanding the range even further and the 737 MAX 8 is planned for delivery in Q2 2017.
Source: Nasdaq
* Past performance is not a reliable indicator of future performance.
** Forecasts are not reliable indicator of future performance.
Trade here
NOTE: This article is not an investment advice. Any references to historical price movements or levels is informational and based on external analysis and we do not warranty that any such movements or levels are likely to reoccur in the future.
In accordance with European Securities and Markets Authority's (ESMA) requirements, binary and digital options trading is only available to clients categorized as professional clients.
GENERAL RISK WARNING
CFDs are complex instruments and come with a high risk of losing money rapidly due to leverage.
77% of retail investor accounts lose money when trading CFDs with this provider.
You should consider whether you understand how CFDs work and whether you can afford to take the high risk of losing your money.