3 min read 
It is the first anniversary of Zcash on the exchange, and in one year the coin returned an excellent value to its investors. With an increase in the trading value in May, the market capitalization of this coin exploded and reached over $700 million by September. But then a long bearish streak took the market cap down, and it is now above $588 million.
Key Highlights:
ZEC gained 7% in the last 24 hours and is trading at $235 against USD
Support at $198 and $207 checked any further price drop and the resistance encountered at $226 was finally breached resulting a bullish trend
ZEC/BTC gained 8% in the last 24 hours and 17.6% week-on-week, and the current trading value is at 0.040 BTC

Zcash had a good week overall with its up-down rallies. In the last 24 hours, it gained 7% and is currently has a trading value of $235.
First considering the 7-day chart, a bullish rally followed a bearish streak with multiple up and downs in between. Support levels at $198 and $207 acted as a pivot point and held the bullish trend. Though a resistance at $226 checked the price to go any higher, due to high demand and rage among buyers this resistance level was breached.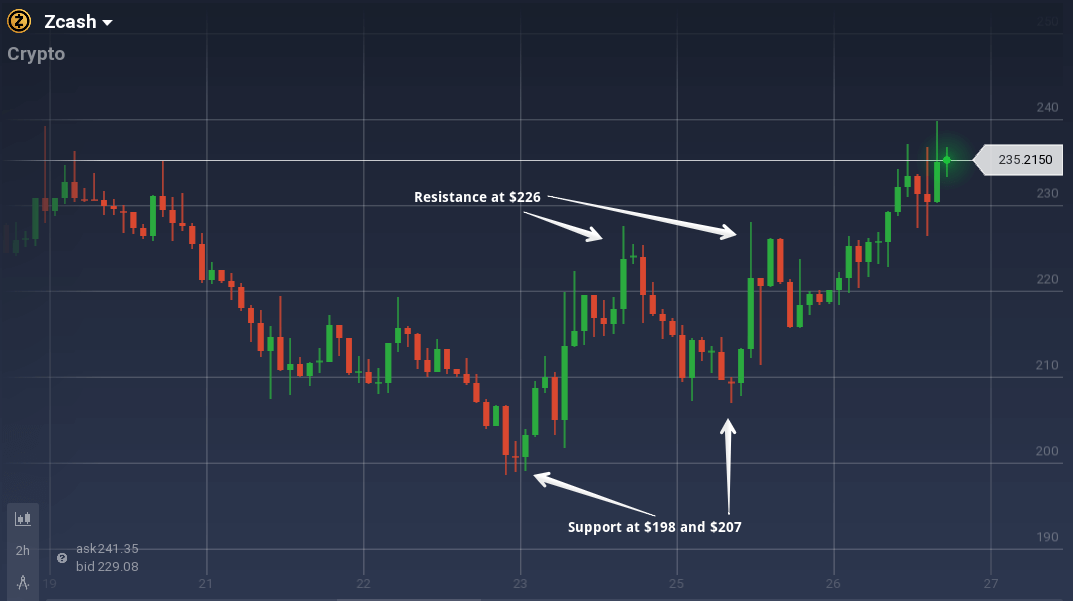 The daily chart is showing a strong bullish trend with high activity among the buyers. Due to this demand, the price jumped from $218 to $235.
Now considering the statistical tools, MACD curves are showing a strong bullish trend and so does the Stoch. But Stoch is lingering around the overbuying zone, and signaling a short-term fall in the price. The RSI is fluctuating around the 70% overbuying mark and is currently at 75%.

Against Bitcoin, Zcash gained 17.6% in its value in the entire week and 8% in the last 24 hours. Currently, ZEC/BTC is trading at 0.040BTC.
On its anniversary week on the exchange Zcash performed well. So let's see if the anonymous coin can really attract the traders and have a new high in the coming months.
Trade on ZEC
NOTE: This article is not an investment advice. Any references to historical price movements or levels is informational and based on external analysis and we do not warranty that any such movements or levels are likely to reoccur in the future.
In accordance with European Securities and Markets Authority's (ESMA) requirements, binary and digital options trading is only available to clients categorized as professional clients.
GENERAL RISK WARNING
CFDs are complex instruments and come with a high risk of losing money rapidly due to leverage.
76% of retail investor accounts lose money when trading CFDs with this provider.
You should consider whether you understand how CFDs work and whether you can afford to take the high risk of losing your money.