3 min read 
In the soaring crypto market, Zach was one of the stable coins. Though the coin was gaining it was on a gradual rise. But this week all of it all changed. The token's market cap crossed $1 billion and reached above $1.3 billion.
Key Highlights
ZEC/USD broke all records this week and crossed $500 to touch an all-new high
With the week-long bullish run, the pair appreciated 60 percent week-on-week
ZEC/BTC gained 11 percent over the week and is now trading around 0.0207 BTC

At the start of the week, the coin gradually rose from $294 to $337 only to face resistance there. The resistance pushed the price down and it dropped until it found support around $284. The support also acted as a pivot and initiated a bullish run. With a steep bull since midweek, ZEC/USD pair broke all records and crossed $500 for the first time. Though the peak resistance pushed the pair down, it quickly found support around $439 which also acted as a pivot.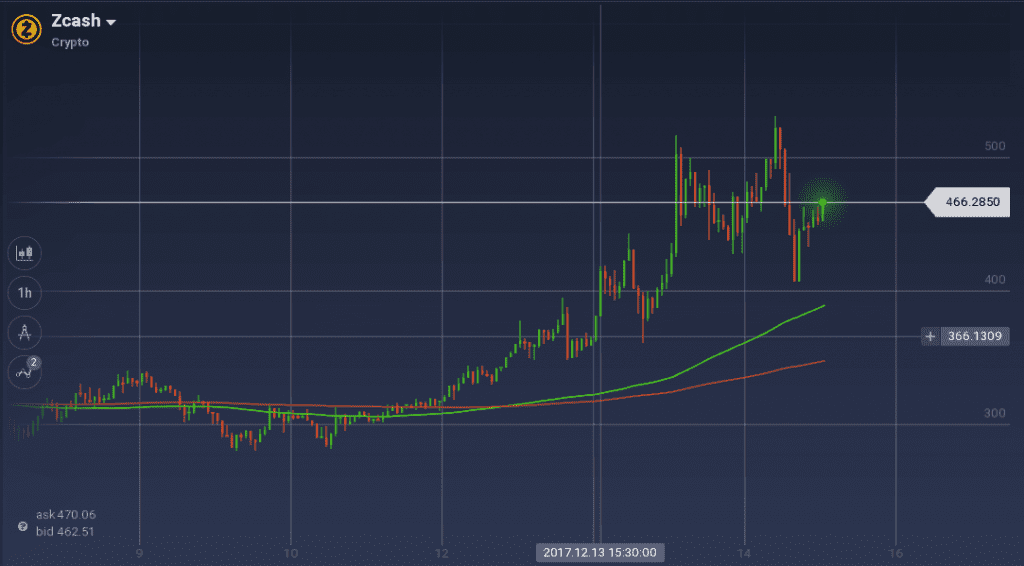 In the daily chart, the coin again climbed to test the peak resistance and this time touched an all-time high at $523. But as usual, the peak resistance pushed the value down again and now the pair is again trying to climb with a current value around $465.
All the indicators are indicating recovery after the fall form the peak. Stoch is going upward after touching the overselling line and is around 40 percent. RSI is also moving upward with the current value at 52 percent. 100 SMA is still above 200 SMA due to the bullish run. Fibonacci retracement is at 23.6 percent.

Due to the bullish run against USD, ZEC/BTC pair also performed well on the exchanges. With a week-long bullish run, the pair went up from 0.0186 BTC to 0.0207 BTC. This is an appreciation of around 11 percent.
Trade on ZEC/USD