2 min read 
Developed to overcome the privacy issues of Bitcoin, Zach was adopted widely in the crypto economy. The coin's priority was to provide the customer's anonymity, and it was successful in doing so. The coin saw a tremendous growth after the launch and is currently holding market cap of above $872 million.
Key Highlights
Throughout the week the token faced resistance at multiple levels between $340 and $330
The support at $315 checked any dip for most of the week but was ultimately breached
ZEC/BTC depreciated 36 percent week-on-week and currently holding around 0.0199 BTC

For ZEC/USD, the week started with a jump in its value from $315 to $337. But the peak resistance pushed it down. After falling to $316, the value climbed again to test the resistance at $337 but failed. The support at $316 was strong and did not allow any dip in the midweek. The coin was also testing the new resistance level formed around $326. Finally, with a sudden rage, the coin breached the resistance and touched $338 only to find another stiff resistance again. This resistance level pushed the price down and initiated a bearish run.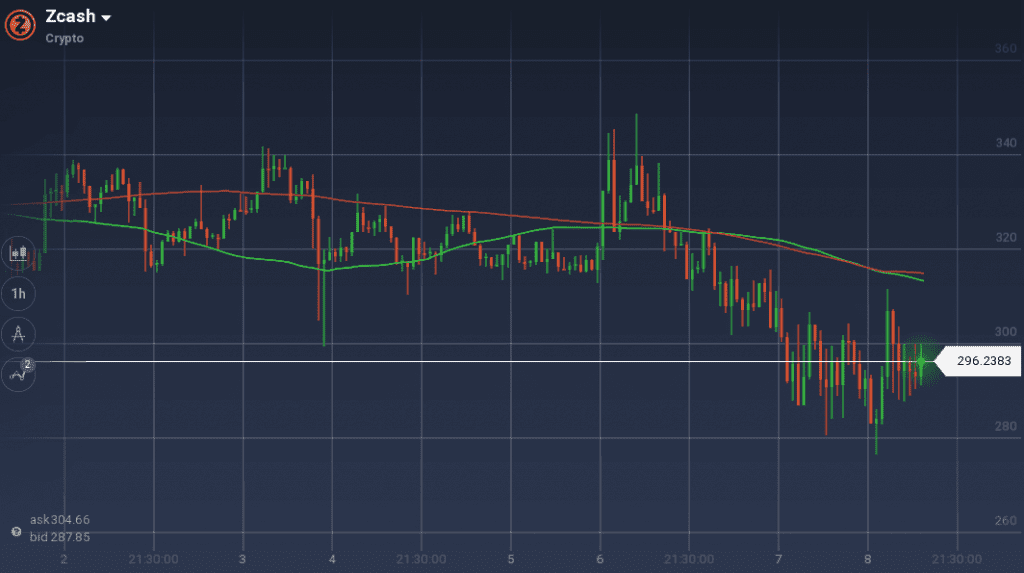 The token finally found some support between $283 to $290 and was trading above this level in the last 24 hours. The pair is now trading around $294.
With the current support, the oscillators are also recovering. MACD is finally moving up after the long bearish run. Stoch is also taking a U-turn at around 49 percent. RSI is at 50 percent. With the ups and downs, and the bearish run, the 200 SMA went over 100 SMA.

Against the soaring Bitcoin, Zcash could not hold well. The coin depreciated 36 percent weekly as it went down from 0.030 BTC to 0.019 BTC.
Trade on ZEC