3 min read 
Developed to overcome the privacy issues of Bitcoin, Zach was adopted widely in the crypto economy. The coin's priority was to provide the customer's anonymity, and it was successful in doing so. In December alone, the coin gained 133 percent as it touched its lifetime high above $700. The current market cap of the coin is $1.4 billion USD.
Key Highlights
After the pullback from the peak, strong resistance formed at $550 which did not allow any further recovery in the prices
ZEC/USD pair also had strong support around $450 which checked further dip
ZEC/BTC depreciated around 24 percent around the week and is currently trading at 0.032 BTC

Technical Analysis
Considering the weekly chart first, the coin pulled back from its record high levels and plunged to as low as $321. But it soon recovered to $570 where the newly formed resistance pushed it back. A pivot at $20 again helped the coin to gain some upward momentum. A stiff resistance also level formed above $550. ZEC/USD pair tested this resistance level multiple times, but could not breach it. Finally, a downward movement took over.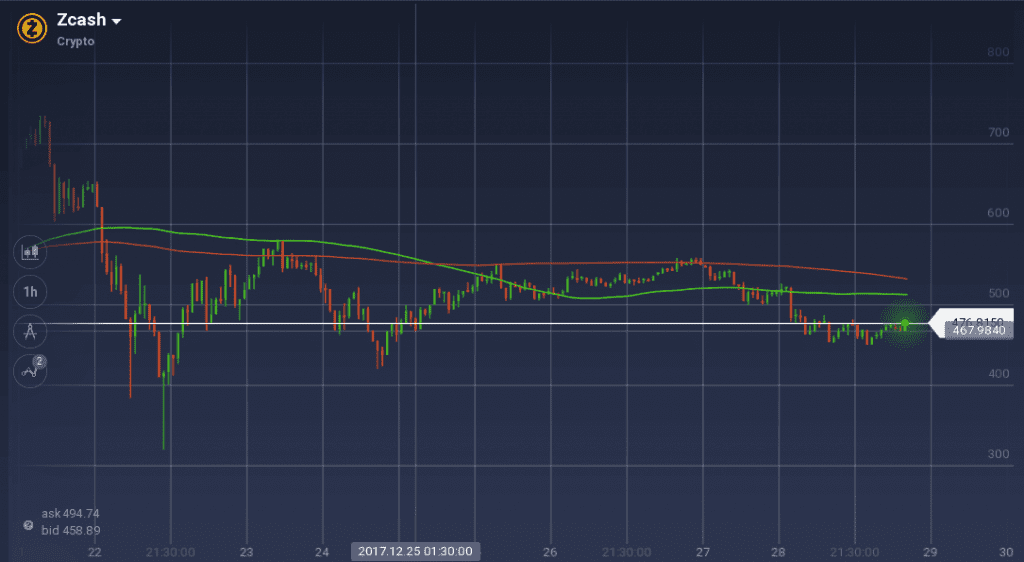 In the 24-hour chart, the coin found support at $450 whereas in the 12-hour chart, it is trying to recover and is pushing up at $475.
With the recent recovery, the technical indicators are also indicating positive movement. Stoch and RSI, both are going up after their long movement in the overselling zone. RSI is currently at 60 percent.
But with the drop from the peak, the 200 SMA went above 100 SMA showing a dominant downward movement. The current Fibonacci retracement level is at 38.2 percent.

ZEC/BTC pair took a substantial hit this week as the pair lost around 24 percent. The value went down from 0.042 BTC to 0.032 BTC and is still dominated by a downward momentum.
Trade on ZEC/USD