4 min read 
The opinions of the world of finance related to Bitcoin and more generally to the whole market of cryptocurrencies ​​are still not well defined. After Jamie Dimon's statements, who is convinced that Bitcoin is a fraud, other statements of opposing opinions have begun to appear. Lloyd Blankfein, CEO of Goldman Sachs, for example, made some statements that might suggest an intention by the financial colossus to consider investments in Bitcoin.
The impact of such decisions can have a great impact on the market, not only because trading volumes on Bitcoin would increase exponentially, but also because Goldman Sachs would not be alone in this process. In fact, there are many other financial institutions that are ready to consider entering this market. Fidelity Investment, for example, has been working on Bitcoin-related projects for some time now, and Morgan Stanley's CEO said last week that Bitcoin is far more than a mere fad.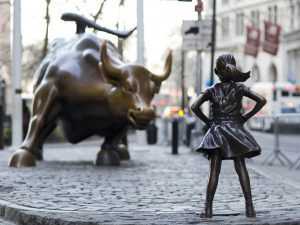 It therefore seems that Wall Street begins to seriously consider the market of cryptocurrencies and in particular Bitcoin. Moreover its growth could have not go unnoticed.
So let's see what happened in the market in the last days:
Bitcoin (BTC) seems to have resumed its unstoppable run. The currency is now above $ 4800, and many elements suggest that it could soon reach the $ 5000 target expected by many investors. Among the various news related to the cryptocurrency, including an hard fork that will happen soon, the trading margins are excellent, with a positive performance exceeding 4% in the last 24 hours and more than 10% in the last 7 days.
Ethereum (ETH) is also growing. In fact, the currency is just under $ 300, with a growth of 1.34% in the last 7 days. There has been some criticism around the platform, mainly because of the lack of regulation around the ICOs practices, for which Ethereum has become famous. But this did not prevent the currency from continuing its run toward its full potential.
Ripple (XRP) is another of the currencies that in recent days has seen a more than positive trend. The growth of the last 7 days is in fact more than 25%, with a value today above $ 0.25. It's not yet close to the record of $ 0.39 registered in May this year, but all the elements of recovery seem to point out that this powerful new technology could truly replace SWIFT, an infrastructure that today connects more than 11,000 banks all over the world. And if that's the case, it's possible that we'll continue to see it growing.
Dash (DASH) today is around $ 287, with a negative rate in the last 7 days of over 4%. However, it seems to be just a settlement phase for a currency that was at the beginning of 2017 was just at $ 11. So let's what will happen in the future for this currency that is famous for its privacy protection properties.
Trade now