Santiment was introduced as the financial information provider of all the cryptocurrencies. In other words, it is the Bloomberg of the crypto-space.
Key Highlights
SAN could not hold strong above $0.30.
SAN/USD dropped dipped 7.50% in the last 24 hours.
The week ended with a downward trend similar to last week.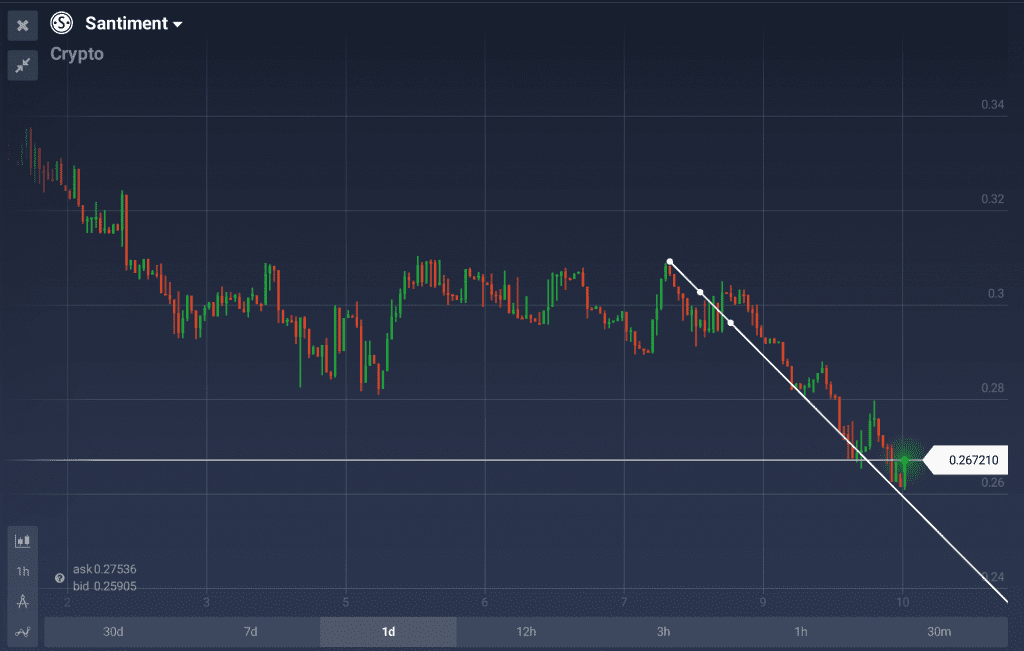 But the last week's trading didn't not go well for the buyers. The previous week, we have seen a significant fall in the SAN/USD value and this week, it further dipped down.
After the downward rally of SAN last week, this week it started with a little upward movement, but soon the value again dipped. Luckily we have seen some resistance around $0.284.
In the middle of the week, the buyers had a little hold on the market and the value jumped up to $0.301. But again we have seen strong resistance on the $0.3 mark and the value started to drop again.
Since the last 48 hours, a similar downward trend to last week can be observed. The SAN/USD value dipped 7.50% in the last 24 hours.


Against BTH, the value of SAN dropped even farther. Value SAN/BTH dipped 20% on the past 7 days and in the past 24 hours more than 11%. Apparently, BTH had a good week and gained more than 4% in the past 24 hours.
Overall, the trendline does not show a good near future value of SAN and the traders has to be a little cautious.
[cta_en link="http://bit.ly/2vAd71Y" name="Trade now"][/cta_en]