To the longtime Ripple 'HODLers', the coin returned an excellent value this week. Overall, XRP gained 69 percent weekly against USD. With the recent gain, the market cap of the coin reached above $29 billion and ripple reclaimed its position to be the 4th largest coin in the market.
Key Highlights
Ripple gained 69 percent this week against USD and touched a new high above $0.87
Against Bitcoin, XRP gained 110 percent and currently trading around 0.000042 BTC

Technical Analysis
In the early week, with a huge leap, Ripple reached $0.87 to touch a record high. After a drop from the peak, the coin found support around $0.73. Though the token was trying to regain the peak, the resistance at $0.79 was checking any further growth.
The support ultimately could not hold the value and it dropped to $0.68, which acted as a pivot to initiate an upward run. This time the coin breached the former resistance and reached $0.82. But with a pullback, the coin is currently taking a dive without any support in the vicinity.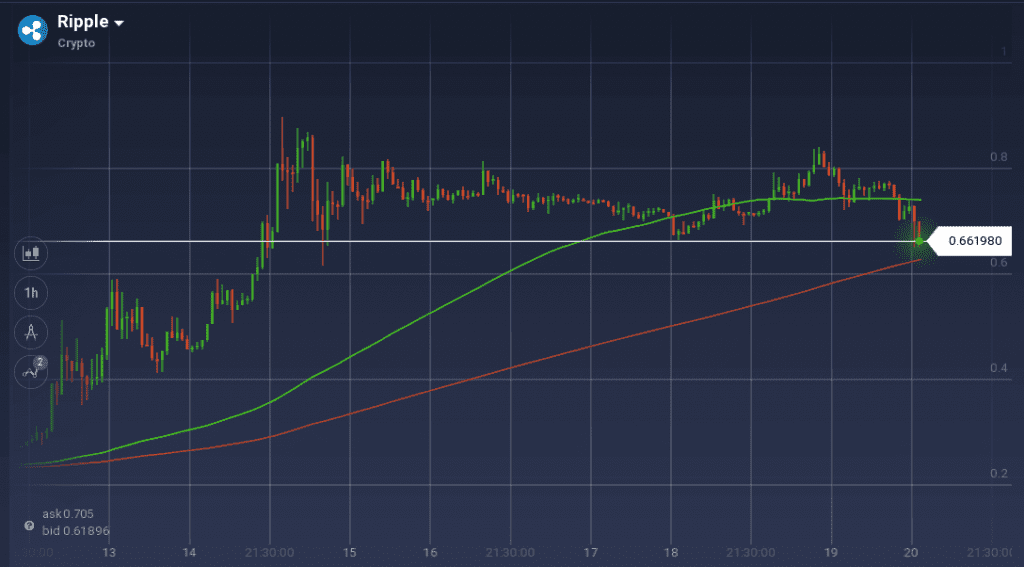 100 SMA is still above the 200 SMA indicating a least upward resistance. This shows that the token is likely to go up. Currently, the value is approaching the 50 percent Fibonacci retracement.



Oscillators are also going down because of the recent dive of the value. RSI and Stoch have reached the overselling zone which shows that the sellers are getting exhausted. This might stop the downward movement. RSI has reached as low as 23 percent.
Market Factors
This week, Ripple net, the issuing firm of the cryptocurrency Ripple, had a lot of advancement in the blockchain market. Banks in Japan and Korea had started the testing of the cross-border payment system based on Ripple's blockchain. This news fueled the price rise of Ripple in the early week.
Moreover, Bloomberg terminal added Ripple along with Ethereum and Litecoin on their terminal. This will likely attract the attention of forex and options traders towards the booming crypto market.
[cta_en link="http://bit.ly/2x1JhEY" name="Trade XRP/USD now"][/cta_en]