3 min read 
The Thailand based firm Omise's token Omise Go received a warm welcome when it hit the exchange in July this year. The ICO also went great as the firm raised $25 million by selling the Ethereum based token and the demand was huge. Currently, the non-minable token is 16th largest in the market with over $800 million in market cap falling behind Zcash by only $28 million.
Key Highlights:
Though OMG/USD pair gained 9.7 percent over the week, due to the multiple resistance levels and pitfalls the indicators are running bearish
OMG/USD gained 2 percent in the last 24 hours and currently trading above $7.9 mark
OMG/BTC pair depreciated 10 percent week-on-week and currently trading around 0.0009 BTC

Like most of the digital currencies, this token also had a good performance this week. In the weekly chart, there is a gain of 9.7 percent as it is currently trading above $7.9 compared to the initial weekly value at $7.2.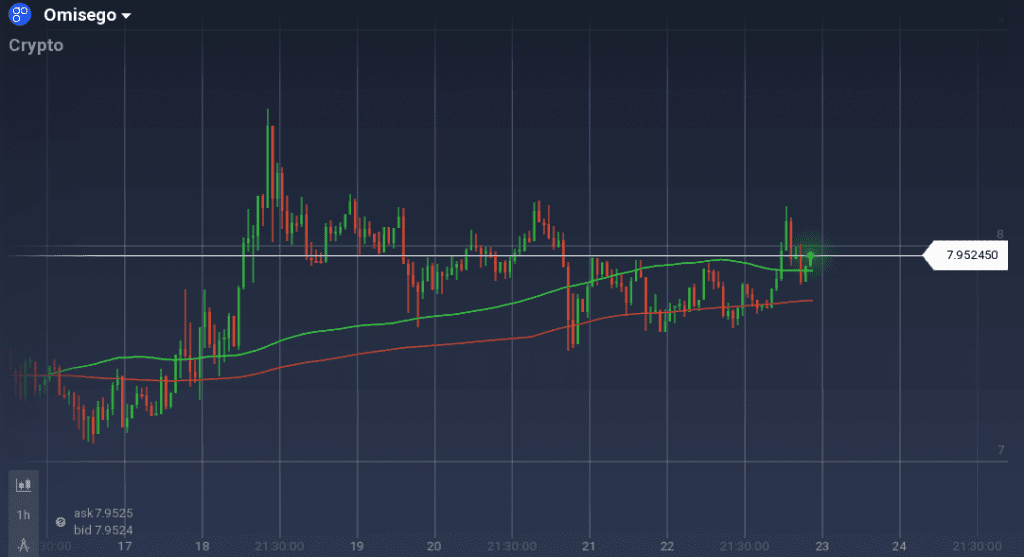 OMG/USD's value shoots up gradually in the early week and touched the weekly peak at $8.6. But the resistance at that mark pushed the price to $7.9 where it found a support level. This support was eventually breached, and the pair dropped to $7.6. An upward trend developed eventually, but resistance above $8.1 pushed the pair downward again.
In the daily chart, a new resistance level formed at $7.8 along with a new support level at $7.6. But the token recently breached this resistance and trading above $7.9.
With multiple resistance levels and dips, the technical indicators are indicating a bearish move. MACD is moving below the axis, and Stoch is also moving down. RSI level is set at 57 percent. Fibonacci retracement is at 50 percent.

Against Bitcoin, OMG depreciated 10 percent over the week. The pair's value went down from 0.001 BTC to 0.0009 BTC.
Trade on OMG