3 min read 
With the market cap almost touching $3 billion, Litecoin is the fifth largest cryptocurrency. The asset was recently selling for a record high price of ~$90, before dipping, and has still given investors a 10x return over the past 6 months.
Key Highlights:
The dominating bearish trend resulted in 9.8% price drop, and LTC/USD is currently trading at $55.1
Strong support levels at $52 and $54 helped a price recovery, but resistance at $59 and $55 had done otherwise
Against BTC, LTC lost 10% week-on-week, and the current price is lingering around 0.0096 BTC

Litecoin is a Bitcoin fork created by Charlie Lee in 2011. LTC differs from BTC in a few ways, namely: a shorter block time, increased supply, and a different Proof of Work hashing algorithm. Lee sees BTC as digital gold, and LTC as digital silver.
Technical Analysis
On the weekly chart, a week-long bearish trend is prominent. LTC lost 9.8% of its value as the price dropped from $61 to $55. A strong support level at $52, checked any further price drop.
Though we have seen a momentary bullish trend for 24 hours, the price again dropped because of the resistance at $58. A support level at $53 is again struggling to reverse the trend into bulls.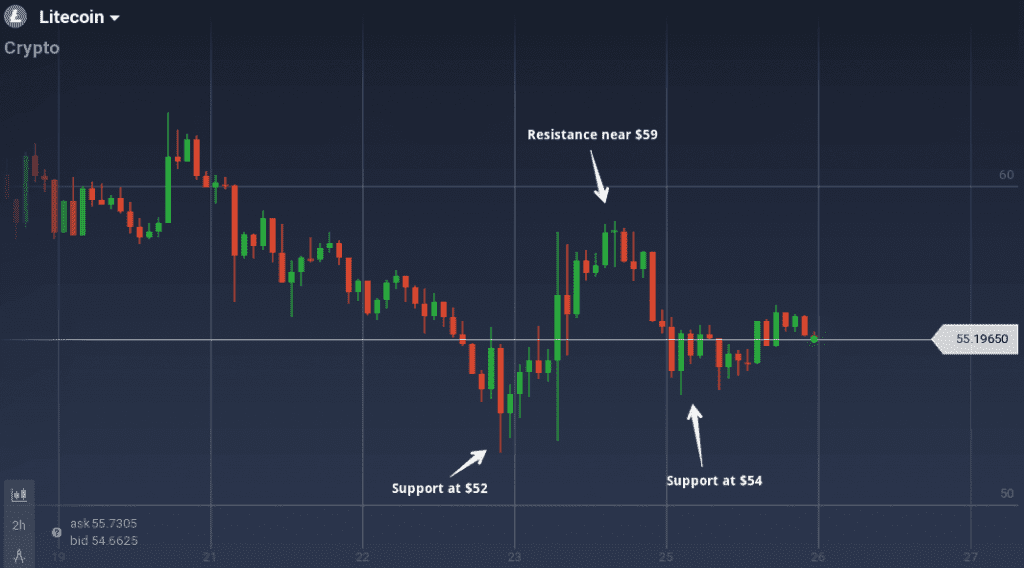 Moving to the daily chart, we can see a gradually bull market with resistance and support level at $54 and $56 respectively. Though the last four candles are indicating a selling mentality among the traders. LTC is currently trading at $55.1 against USD.
The statistical indicators are signaling a near price drop. Stoch is going down after almost touching the overbuying mark, and MACD curves are also at a point of intersection. RSI is at 44%.


Against Bitcoin, LTC lost 10% over the week. The bearish trend is dominating the weekly chart, but support at 0.0091BTC resulted in a sudden surge in buying which almost recovered the weekly starting price. But again the bearish trend took over, and LTC is now trading at 0.0096 BTC.
Overall, it was a bad week for the Litecoin traders. But if we take a look at the bigger picture, Litecoin is one of those coins which performed well with good ROI. So the traders cannot remain shy from this coin.
Trade on Litecoin