A priority problem exists inside the thus far continually volatile cryptocurrency market, and that problem is reliable, verifiable, trustworthy trading information within the blockchain network. As of July, 2017, Santiment has stepped in to attempt to professionally fill that void and provide a reliable trading information service via multiple data feeds (expert in-house, curated and crowdsourced) along with also offering its own trading opportunities via their SAN token.
How are they working to directly address this priority issue?
The Santiment team has attempted to create an online infrastructure and primarily mobile platform that provides investors and traders with real time cryptocurrency-related data feeds, exclusive curated content streams, and a regularly updated database of cryptocurrency projects for clear and convenient trading reference. If we were to explain this in the most basic layman terms; the Santiment vision is a cryptocurrency trading version of Wikipedia in which its own users provide reliable, verifiable and continually updated information that much more accurately conveys the volatility of the market and thus allows traders to make intelligent, real time decisions.
Their website currently provides a great many details as to their business goals, their app is currently up and running (more on that below) and their ICO raked in approximately $12M in investor backing to launch this ambitious and undoubtedly much needed project to serve the cryptocurrency community, as well as its own investors.
On the surface, Santiment appears to be responsibly filling a crypto gap that definitely needs filling, and they seem to be doing it all with good success up to this point. But in light of recent market swings and ongoing etherium mania, we felt it was time to take a closer look at some of the details. Here's what we found.
The Santiment Pros
It absolutely addresses a gap in service and informational technology. The idea behind this company's operational goal is rock solid and could undoubtedly be more than useful to any trader in need of reliable information inside a market that is filled with instability, largely due to wildfire runs of viral "investor sentiment" that drives prices in unpredictable directions. There is a huge crptocurrency hole, and Santiment is there to smartly and efficiently fill it.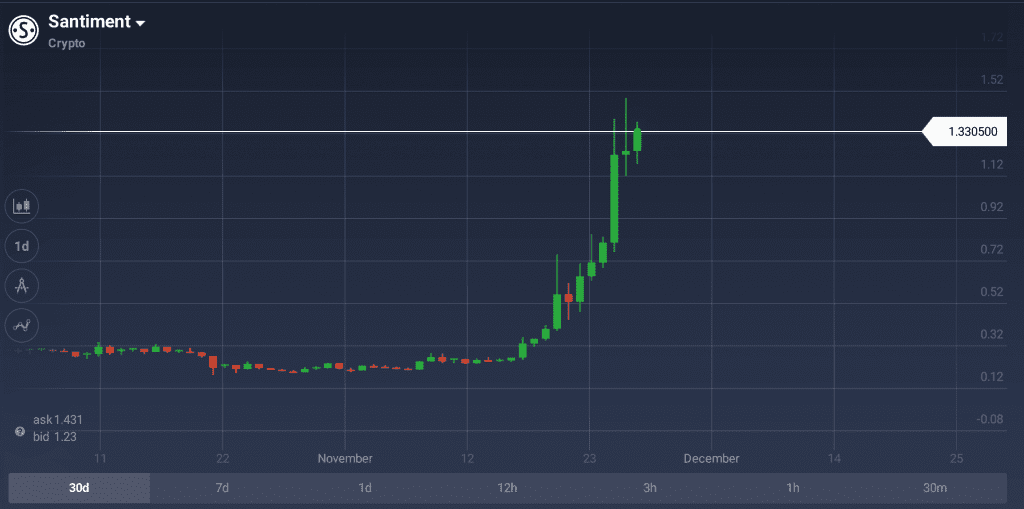 Promises to provide transparent information. The Santiment mission statement includes providing:
ICO Analysis;
Reliable market research;
Regulatory & Legal updates for its service.
These all fill a need that would support investor confidence and trading trust.
Current team of investors/contributors can provide solid support. Their investment team currently includes ICONOMI, The Blockchain Research Lab, Brave New Coin and Cofound.it, with additional investors coming on board. The backing of this team might in fact provide the type of financial and leadership support that Santiment desperately needs to keep moving forward positively.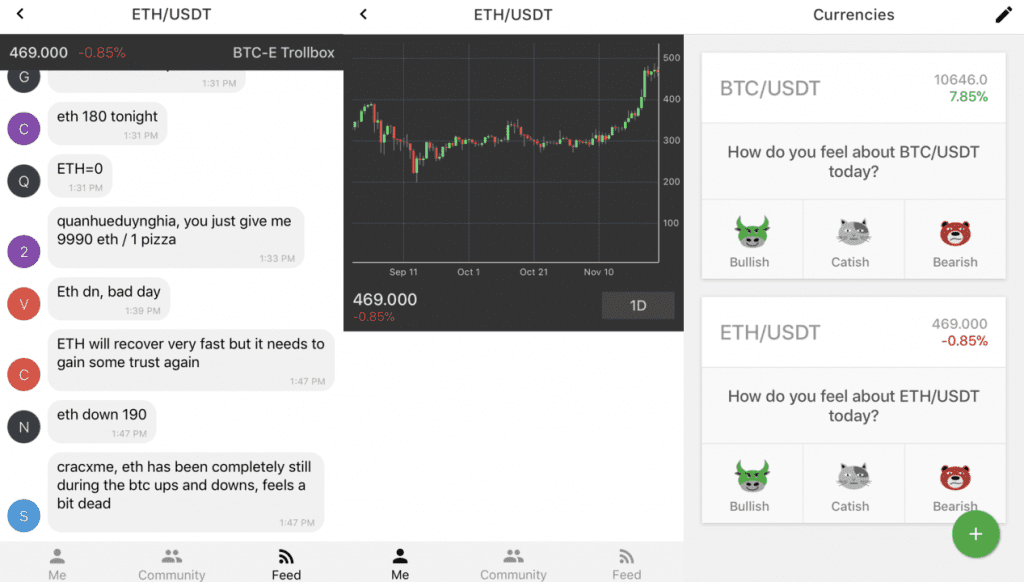 That is the good news. Now let's take a look at some of the less encouraging realities of the service to date.
The Santiment Cons
Their alpha version app is currently crashed. As of this writing, the Santiment app has crashed (in both Apple and Android versions) and only time will tell if it will burn next. For a company in which their stated main feature and target is a reliable mobile trading platform, this cannot inspire investor/trader confidence in their team, their tech, or their services. In addition, the exceptionally and almost universally negative reviews currently attached to their app are a major red flag.
The majority of Santiment news and information is self-generated. For every potential investor or trader, research is always the key element in every decision to move; reliable research information regarding Santiment's services up to this point is either extremely difficult to locate or exclusively generated by their own in-house team. While this is not necessarily a dangerous red flag, it is a serious consideration and should remain so to all investors until the Santiment team can deliver the transparency that they claim to provide in their mission statement.
The actual purpose of the SAN token remains unclear. The need that Santiment purports to address (reliable, verifiable information continuously available on a mobile platform) is absolutely evident and its inclusion of investment opportunities for backers of the service gives the unqualified appearance of legitimacy. The trading opportunities of the SAN token, on the other hand, remain unclear and its purpose seems to be entirely unnecessary for an exclusively, or even primarily, informational trading service. This is either a serious misstep or a major red flag, but either way, the true purpose of the SAN token remains murky at best.
This rather disturbing trend represents a shocking surge in SAN token value of over 500% inside a span of time that can in no way be considered a reliable investment.
This worrying trend would appear to us to represent exactly the type of wild and reckless "investor sentiment" that has caused widespread distrust in so many  cryptocurrencies, and has directly caused so many legitimate investors to eschew the risk of these types of market speculations. In addition to this frankly unbelievable 500% spike, Santiment's entire mission statement is to insure their service as a "reliable and verifiable" information service which can accurately debunk exactly this type of misguided information, as well as actively correct these types of untrustworthy numbers. Needless to say, all of our research as of this writing has been completely unable to "verify" the source or sources of this explosion.
The fact that SAN token value has spiked in such a remarkably unreliable manner is cause for every investor to reexamine Santiment's mission and to adopt a prudent "wait-and-see" attitude to this fledging cryptocurrency service.


The Current Verdict
While the need for this service is absolutely vital and evident, as of this writing Santiment simply has not provided either the reliability or the informational expertise that it promised at its successful ICO. For a company that hopes to capitalize on the urgent need for investors and traders for trustworthy cryptocurrency market information, this failure of reliability is a flaw that has to be considered near fatal at this point; and it has to be considered a deal breaker for potential investors considering backing this service in the future.
Until the Santiment team can consistently provide the reliability, transparency and verifiable informational service that its site promises, we must remain on the investment fence. We believe that the need they are attempting – but thus far failing – to address is clear and it's a fantastic opportunity if they can lock down a real and reliable infrastructure that future investors and traders can count on.
[cta_en link="http://bit.ly/2ybAE8Q" name="Trade on SAN"][/cta_en]