4 min read 
On Monday, October, 4, Facebook suffered its worst outage since 2008. The Facebook website, Instagram and WhatsApp were all unavailable to users for more than 6 hours. The apps shut down, leaving around 80 million individual users and businesses without a chance to access any of the three platforms, which resulted in a mass migration to other social media platforms. For example, Telegram reported a record increase in user registration and activity, welcoming over 70 million "refugees" from other platforms in one day. Facebook itself had to apologize for the issue using their Twitter account.
The outage caused Facebook stock to drop lower, but it wasn't the only reason. On Sunday night, Frances Haugen, a former Facebook employee, revealed herself to be the whistleblower who provided key data and internal information to the Wall Street Journal.
Haugen stated that while working at Facebook, she observed a constant conflict of interest between what is good for society and what is good for the company itself. "And each time Facebook chooses the most profitable solution for its own interests in order to make more money," she said. According to her, the social network deliberately distributes a huge number of publications that cause such strong emotions as anger and hatred, as they attract and retain users, making them spend more time on the site, which ultimately leads to an increase in the company's profits.
The Journal used this data in a series of incriminating articles. One of them said that the social network was developing ideas for attracting children to social networks. That on top of the outage caused Facebook shares to fall 4.9% to the level of $323 per share.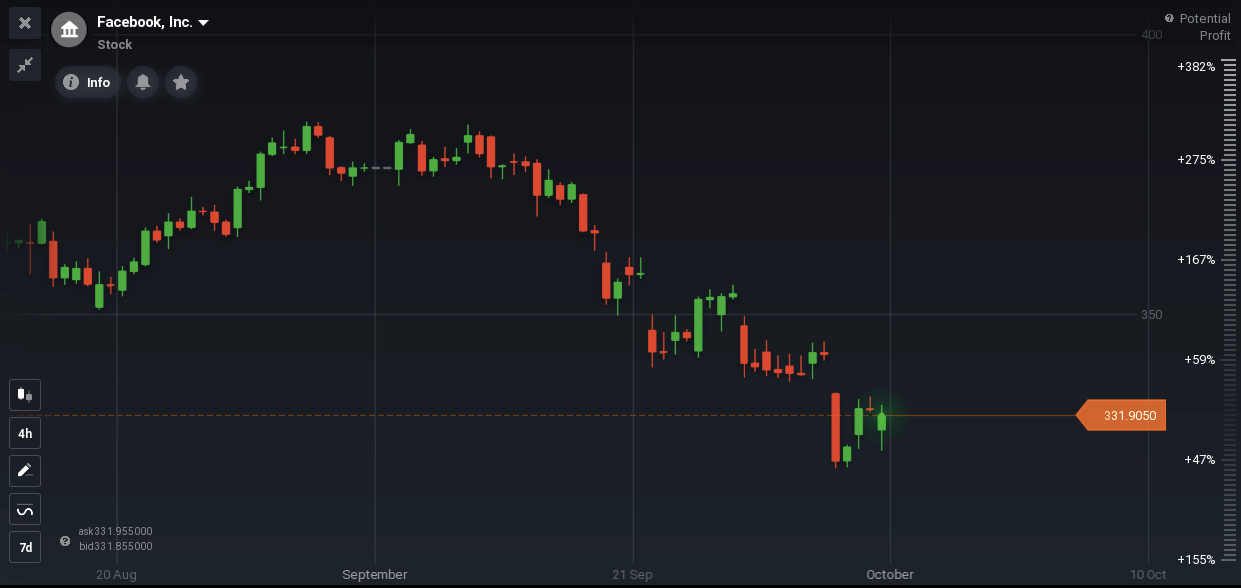 Twitter and Reddit users had enough time during the outage to make numerous memes regarding Facebook's mistake.
Facebook is currently traded at $331 per share, as it is making a slow recovery from the sharp drop. But can the stock fully recover and reach new heights with the latest news? So far it has gained +21.63% YTD and the outage might have been just a hiccup on the way to new gains. Still, some traders think that it will take Facebook longer to bounce back this time.
Is Facebook a buy or sell? Let us know your thoughts in the comments below!