3 min read 
Like many tokens, Ethereum Classic also had a great week. Even though the token was created with an unplanned fork on the Ethereum network, the coin has attracted a lot of traders' attention. After reaching a market cap of over 2 billion in August'17, the value of the coin gradually depreciated. But since the past two weeks, ETC is again performing very well on the exchanges. This took the market cap of the coin from below a billion to almost $1.7 billion.
Key Highlights:
Against USD, ETC value stabilized around $17 after reaching a weekly high at $21
ETC/USD pair gained 26 percent week-on-week, and a bullish trend persists
ETC/BTC gained 31 percent over the past week and currently trading around 0.0025 BTC

The coin had a decent start the past week with a strong support level at $13.7. But then with a sudden boost, the value of the ETC/USD pair reached $21 from $13.6 in mere 36 hours. But the pair could not hold the value and took an instant nosedive. ETC soon found support at $14.4, and this also acted as a pivot. Since then a bullish trend took the value of ETC to $17.2 with the presence of a trend line support. With all the upward movement, ETH/USD gained 26 percent over the week.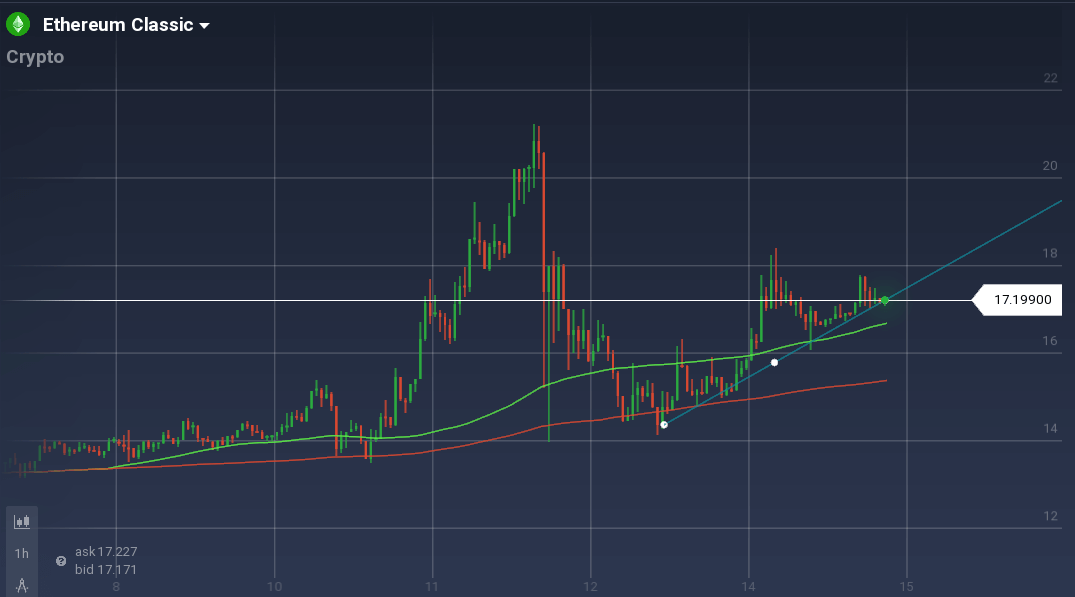 On the daily chart, the coin fluctuated back and forth the $17 line. The coin also had support at $16.6 which prevented any dip. The token gained 5.7 percent in the last 24 hours and currently trading around $17.2.
The technical indicators are not showing anything significant as the coin stabilized around $17. The 100 SMA is still above 200 SMA, and RSI is at 54 percent. MACD curves also stabilized after a significant bearish movement.

Against Bitcoin, ETC value dropped and stabilized around 0.0025 BTC after a mammoth surge from 0.0019 BTC to 0.0035 BTC. Overall the pair gained more than 31 percent this week.
Trade here