3 min read 
Dash is a leading gainer in the soaring crypto market. The past week was also very eventful for the coin, and now it is the 7th largest coin in the market regarding market cap and is also holding above $7 billion in market cap. Due to the high volatility, the trading volume skyrocketed in the last 24 hours with nearly $369 million.
Key Highlights
DASH/USD crossed the $900 mark and touched a new all-time high at $925
In the daily chart, DASH/USD is soaring and gained over 20 percent
DASH/BTC appreciated 44 percent and currently trading around 0.052 BTC

Considering the weekly chart, the token was on a gradual downturn in the early week. DASH/USD pair dipped from $765 to $630 until it found support at the later. The $630 support level also acted as a pivot and initiated an upward movement. But the coin faced a stiff resistance at $741 which pushed the value downward. But the token again found support at $630, and it again acted as a pivot.
Only this time the rise was steep and DASH crossed $900 mark for the first time registering a new high at $925. Though the coin is facing resistance around $900, it is still testing the peak resistance. In the past 24 hours, the token appreciated more than 20 percent with the bullish rise.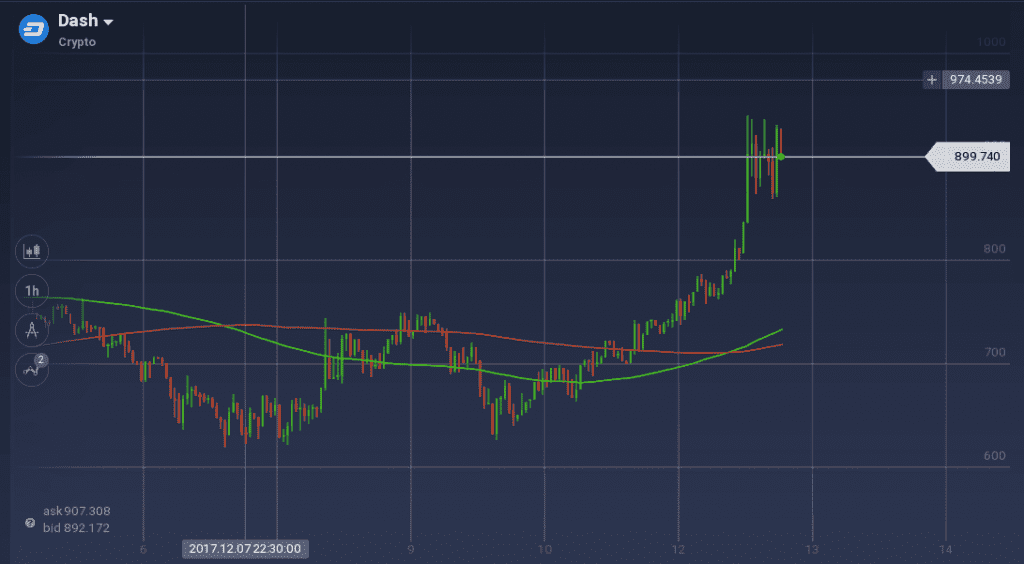 Because of the bullish run, the technical indicators are also soaring. MACD is strongly running bullish, and Stoch is wandering around and mostly above the overbuying mark. But because of the peak resistance, Stoch came down from the overbuying zone and is currently at 70 percent. RSI is also at 60 percent after taking a trip beyond the overbuying mark. With a recent crossover, 100 SMA also went above 200 SMA.

Against Bitcoin, DASH gained 44 percent this week as the pair's value went up from 0.036 BTC to 0.052 BTC.
Trade DASH/USD here