7 min read 
Bitcoin traded slightly lower as digital currency miners completed a split of the digital currency and worked to create more of the new, split-off coin called Bitcoin Cash. "A Bitcoin block was just mined that's invalid for Bitcoin Cash nodes! [That] means the chain has now forked. Bitcoin Cash is one block behind," the Ethereum founder wrote. Futures for the new "bitcoin cash," an alternative version promoted by a minority of developers, gave back all of an initial 48 percent jump to $422 to drop about 26 % and trade near $214.


Trading in bitcoin cash was available on some exchanges, but remained a fraction of bitcoin's price. "Bitcoin Cash will have to prove itself over time and gain trust from users," a lead developer behind bitcoin cash, told CNBC. "The current price may [seem] low but this is actually an amazing level of support." Ethereum gained nearly 12 % on this news to trade near $229.
Berlin Makes Last Effort Play to Save Diesel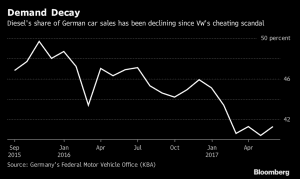 After nearly two years of constant crisis, the German car industry is looking to salvage its beleaguered diesel technology and draw a line under an emissions scandal that shows no signs of abating. At an emergency summit in Berlin called by the government, the chief executives of Volkswagen AG, Daimler AG and BMW AG will face off with ministers and state leaders to convince them that, despite the steady drumbeat of negative news, diesel has a future.
In return for political support to avoid driving bans, automakers are willing to further upgrade existing vehicles to lower their pollution. There's a lot at stake for all sides. German automakers need diesel as a stop-gap technology to buy time to catch up with the electric offerings of Tesla and Nissan. And with less than two months until a federal election, Chancellor Angela Merkel, whose ruling bloc runs the ministry overseeing carmakers, has to ward off criticism that the government is too lenient on carmakers while also not endangering the country's 800,000 industry jobs.
"The manufacturers will play their part to improve air quality in cities and make diesel fit for the future," said the head of German auto lobby VDA, proposing reduction in nitrogen oxide emissions of at least 25 percent on average. "Diesel is enormously important for climate protection as well as prosperity in Germany."
Oil price drops
Oil prices plunged back below $49 a barrel after more reports that OPEC's output rose last month despite the cartel's deal to slash production. A survey of analysts conducted by Bloomberg suggested OPEC's July output rose by 210,000 barrels a day. Separately, market-monitoring firm Petro-Logistics said the producer group's output was up by 145,000 barrels a day last month. On Monday, Reuters reported its own survey implied a jump of 90,000 barrels a day from OPEC members. U.S. West Texas Intermediate crude prices tumbled to a session low of $48.37 and ended Tuesday's session down $1.01, or 2 percent to $48.16. The contract hit a nearly 10-week high at $50.43 earlier in the session, after breaking above the key $50 level for the first time in two months on Monday.
Apple – One of the best quarters ahead of new iPhone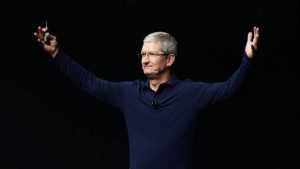 If consumers are holding out for the next iPhone, they've still been spending plenty of money at Apple Stores in the meantime. Apple reported fiscal third-quarter earnings on Tuesday that beat analysts' expectations, and revenue that topped estimates, as it sold more iPhones than expected. Despite expectations for a "lame duck" quarter ahead of the iPhone 8 launch, Apple sold 41 million iPhones during the quarter, surpassing 1.2 billion total iPhones sold. The company also hit a major goal, as the App Store drove Apple's Services division to a record high, the size of a Fortune 100 company.
Economic events
1.15 pm – ADP non-farm payrolls (July): Often refuted in relation to its correlation with Friday's NFP number, yet this is a major jobs number all the same. Estimated to rise to 179k from 158k. Markets to watch: US indices, dollar crosses
3.30 pm – US EIA crude inventories (w/e 28 July): stockpiles expected to fall by 1.4 million barrels, after a much bigger than expected drop of 7.2 million a week earlier. Markets to watch: Brent, WTI, CAD crosses
Trade now