9 min read 
One of the oldest digital currency exchanges, known as BTC-e, remained off-line following a punch by law enforcement over a series of allegedly criminal acts by the site and its owner. On Wednesday, the U.S. Treasury's Financial Crimes Enforcement Network nnounced a $110 million fine against BTC-e for facilitating crimes like drug sales and ransomware attacks along with a separate $12 million fine against its owner, Alexander Vinnik.
BTC-e is headquartered in Russia and has long served as a forum where users can exchange traditional currencies for bitcoin or other digital monies like Ethereum or Dash. Meanwhile on Wednesday, the U.S. Justice Department also filed a series of criminal charges, including conspiracy and money laundering, against Vinnik after snatching him up in Greece. So expect volatility in the cryptocurrency market!
Bezos Tops Gates as the World's Richest Person
A surge in Amazon.com Inc. shares Thursday morning in advance of the online retailer's earnings report briefly propelled founder Jeff Bezos past Bill Gates as the world's richest person for a short time.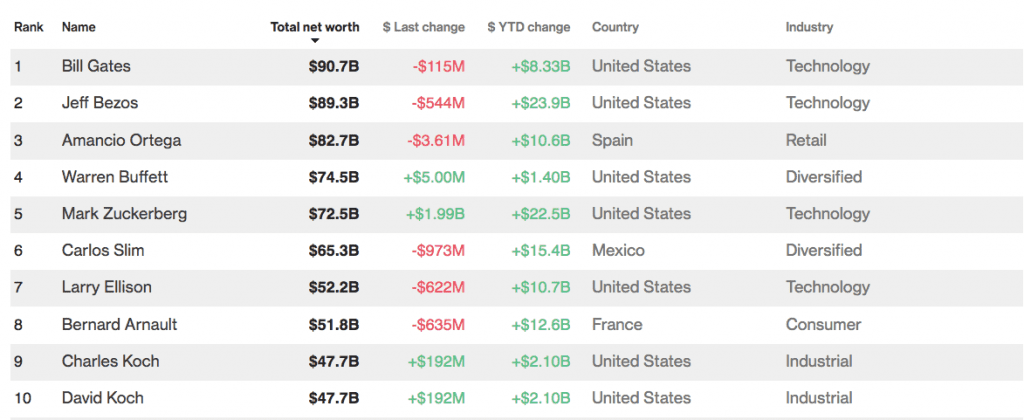 Shares of the online retailer fell 0.7 percent to $1,046 at 4 p.m. in New York, after climbing as high as $1,083.31 four hours earlier, which gave Bezos a net worth of $92.3 billion. Gates had a net worth of $90.8 billion as of the Wednesday close. Bezos remains ranked second on the Bloomberg Billionaires Index, behind the Microsoft Corp. co-founder. Gates, 61, has held the top spot since May 2013.
New Sanctions on Russia – Putin Calls for Retaliation
The US Senate yesterday approved sweeping sanctions against Russia, forcing President Trump to decide whether to accept a tougher line against Moscow or issue a politically explosive veto amid investigations into ties between his presidential campaign and Russian officials. The Senate vote, 98 to 2, followed the passage of a House bill this week to punish Russia, Iran and North Korea for various violations by each of the three American adversaries. In effect, the measure would sharply limit Mr.
Trump's ability to suspend or lift sanctions on Russia — handcuffing a sitting president just six months into his term with the nearly unanimous support of a Republican-led Congress. The Trump administration has opposed the sanctions against Russia, arguing that it needs flexibility to pursue a more collaborative diplomacy with a country that, by American intelligence consensus, interfered in last year's presidential election. But now the president faces a decision he had hoped to avoid, even though the administration supports sanctions against Iran and North Korea. Vladimir Putin has accused US lawmakers of "insolence", and promised Russia will retaliate if the latest round of US sanctions against Russia are signed into law.
Further pressure on Trump: Senate Blocks new Health Bill
The US-Senate rejected a new, scaled-down Republican plan to repeal parts of the Affordable Care Act, seemingly derailing the Republicans' seven-year campaign to dismantle the health care law. Senator John McCain, Republican of Arizona, cast a decisive vote to defeat the proposal, joining two other Republicans, Susan Collins of Maine and Lisa Murkowski of Alaska, in opposing it. The 49-51 vote was a huge setback for the majority leader, Mitch McConnell of Kentucky, who has spent the last three months trying to devise a repeal bill that could win support from members of his conference.
It was also a blow to President Trump, who lashed out. The truncated Republican plan was far less than what Republicans once envisioned. Republican leaders, unable to overcome complaints from both moderate and conservative members of their caucus, said the skeletal plan was just a vehicle to permit negotiations with the House, which passed a much more ambitious repeal bill in early May. The so-called "skinny" repeal bill, as it became known at the Capitol this week, would still have broad effects on health care.
The bill would increase the number of people who are uninsured by 15 million next year compared with current law, according to the nonpartisan Congressional Budget Office. Premiums for people buying insurance on their own would increase by roughly 20 percent, the budget office said.
Bull market for natural gas?
In the U.S., the number of drilled but uncompleted wells (DUC) is growing as producers wait for higher oil prices, the shale gas plays have seen the number of DUCs decline as drillers take advantage of higher natural gas prices this year compared to last year's lows.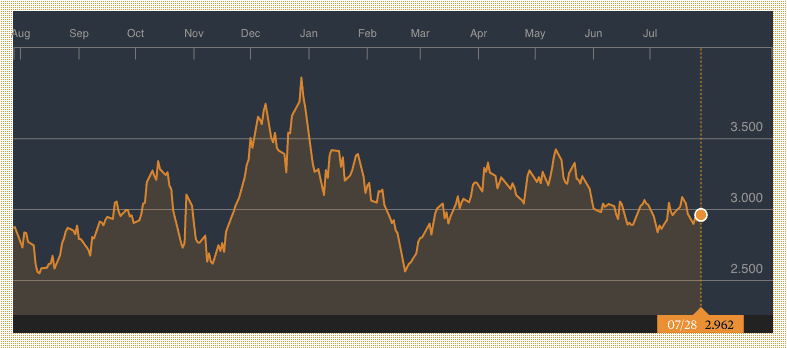 Expectations of additional takeaway capacity coming online—as well as the rebound in natural gas prices—are making drillers more confident that they will be able to sell their production at higher prices.
The companies are still cautious after the downturn, but the economics of drilling an oil well and a gas well have diverged since the 2015-2016 price rout. Gas prices have almost doubled since March 2016, and drillers are hoping that a bull market is coming, analysts reckon. However, higher production could also depress natural gas prices once again.
Important economic events today
12.30am – Japan CPI, unemployment rate (June): CPI expected to be 0.3% YoY and 0% MoM, from 0.4% and 0% respectively, while unemployment falls to 3%. Markets to watch: Nikkei, JPY crosses
10am – Eurozone business confidence (July): expected to remain at 1.15. Market to watch: EUR crosses
1pm – German CPI (July, preliminary): forecast to be 9% YoY, in line with June. Market to watch: EUR crosses
1.30pm – US GDP (Q2, preliminary): forecast to be 1.7% QoQ from 1.4%. Markets to watch: US indices, USD crosses
3pm – US Michigan confidence index (July, final): expected to be 95 from 95.1. Markets to watch: US indices, USD crosses
Trade now