5 min read 
Trading on IQ Option platform is really accessible and mobile as we offer apps for a variety of devices and operating systems: Windows, MacOS, Android and iOS. You do not have to be near your laptop (or even have a laptop) to have the opportunity to trade. Let's have a closer look at the IQ Option Broker application and see how it works.
Practice account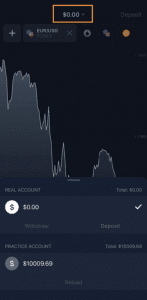 Total portfolio and pending orders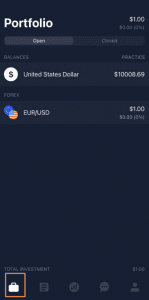 You can check your open deals or pending orders by clicking on the portfolio sign. Your trading history is also located there, in the "Closed" tab. You can click on each deal to see settings that were applied, as well as the open and close quotes.
Chart type and indicators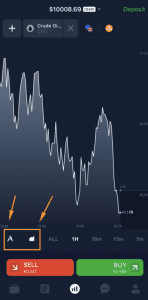 On the mobile phone app you can change the chart type and apply indicators, just like you would do in the web version. To do that, click on the corresponding icons at the bottom of the app. To set the chart type, choose the one you prefer from the list.
You can choose between a line chart, bars, candles or Heikin-ashi. Here you may also set the timeframe of the candles and turn auto-scaling on or off. To set the indicators, click on the icon right next to it.
Here you will also find all the indicators and graphical tools you are used to, as well as several additions, like the Fibonacci Arc Lines or the Fibonacci Spiral. In the tab "Other settings" you may find such options like "Trader's Sentiment", "Live deals", "Volume" etc.
Opening a deal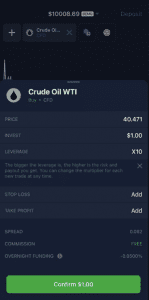 Now that you have adjusted all the main settings, you are ready to open a deal. To do that, you need to make several short steps. First, choose the asset by clicking on the plus sign in the left upper corner of the app. You will be able to choose from the list of all assets. Once you have it chosen, you can set the investment amount, leverage and choose the direction of the price. After you click Buy or Sell, you will be able to set the Stop Loss and Take Profit limits.
After you check all the settings, click "Confirm" to open the deal. Once your deal is open, you will be able to check it, edit the settings or close it in the "Portfolio" tab.
Additional features
Do not forget that there are other features that you can check out on the app. You can explore the menu on the left, where you will find personal settings, market analysis, video tutorials and public chats (as well as the Support chat).
The IQ Option Broker app is your opportunity to explore the world of trading and enjoy the convenience and mobility of the application at the same time.
To the platform