Is it possible to make trading a little bit easier? Not really, as it is a complex business and involves learning and practice. But the practice part of it can be convenient and straightforward. The IQOption platform is fairly intuitive, traders don't need to spend a long time figuring out how to use it, however, there are certain features that only experienced traders know about and use. 
The following features are meant to make your trading more effective, so that you could focus on the market instead. You may use them to customize the platform according to your unique approach and strategy. You may try them all out with the possibility of making your trading life just a bit more convenient!
Calculator
This one may not be a groundbreaking discovery, but isn't it convenient when you can calculate your investment amount right there, on the platform? No need to go anywhere or search for your phone, simply click on the investment amount and find the calculator icon.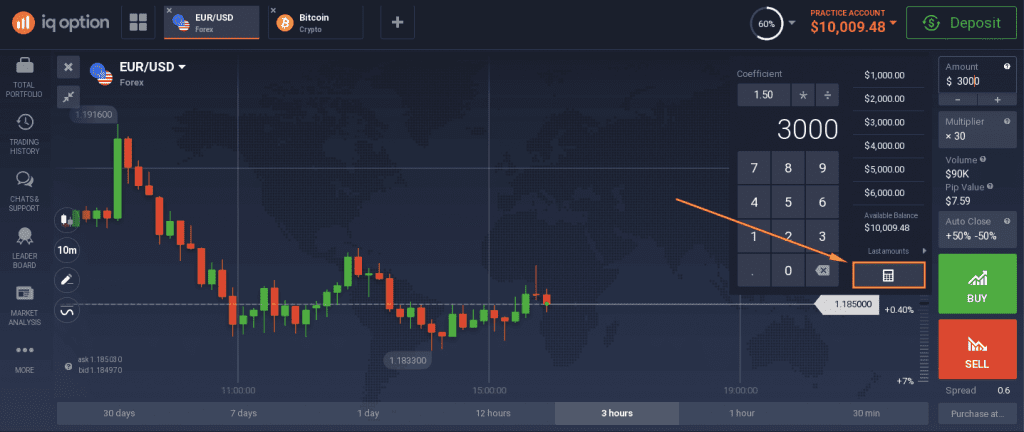 This feature may be useful for traders that prefer the Martingale strategy and need to recalculate the investment amount constantly. It may also be handy for those who stand by the 2% rule and want to be precise in their calculations.  
"Last amounts"
Another great feature in the investment amount section is the Last amounts option. There are presets of investment amounts on the platform for your convenience, however, if you always use the same investment amounts, you may find this feature useful.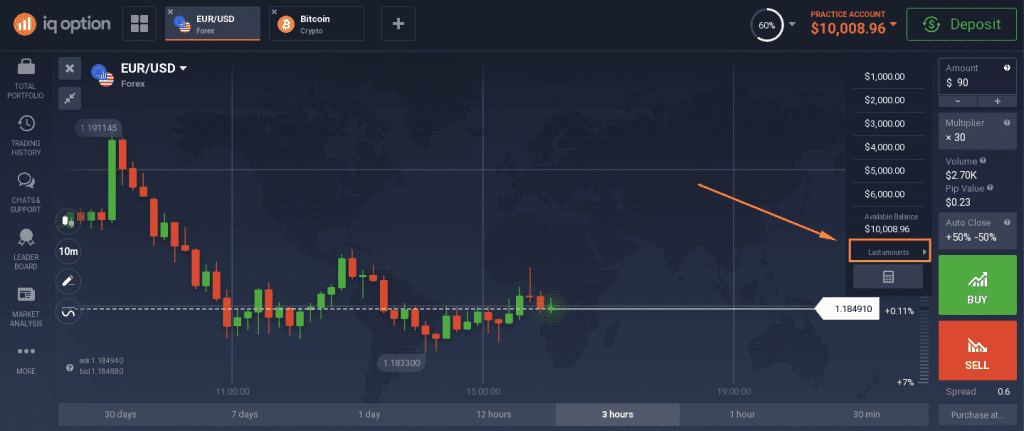 Click on the Last amounts button and you will see the last 6 investment amounts that you have used in deals. You may use it to save time and always choose the investment amount that you need.
Indicator templates
Let's say, you have one specific indicator combo that you like to use pretty much every time you trade. A lot of traders do, so this feature is specifically designed to help you apply the same indicators quickly, without spending time on finding them in the menu and changing their settings. To do that, it is necessary to save an indicator template. It can be easily done in just 3 steps:
Open the indicator menu and choose the indicators you wish to save;

After you applied them to the chart, find them in Added;
Click on the Save Indicator Template button and give the template a name.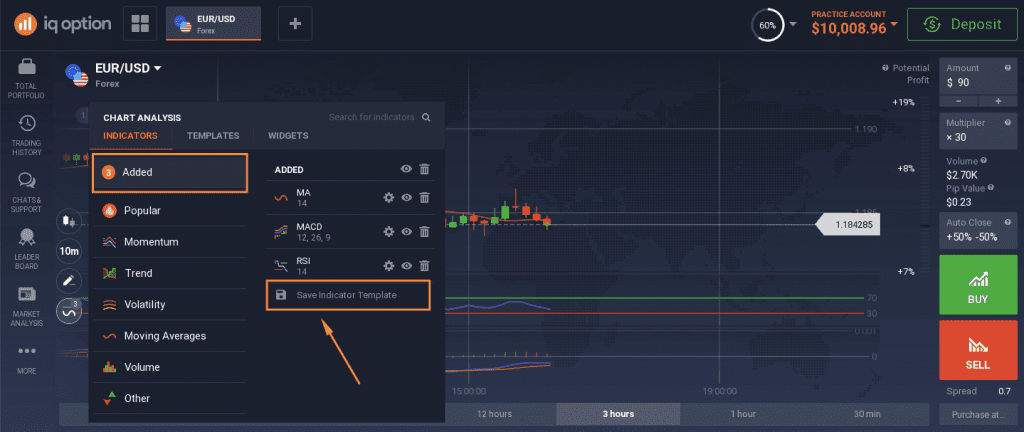 Once the template is saved, you can quickly find it in the Templates tab. It will be possible to access it on any asset. Now you can use your favorite indicators in seconds, without losing precious time.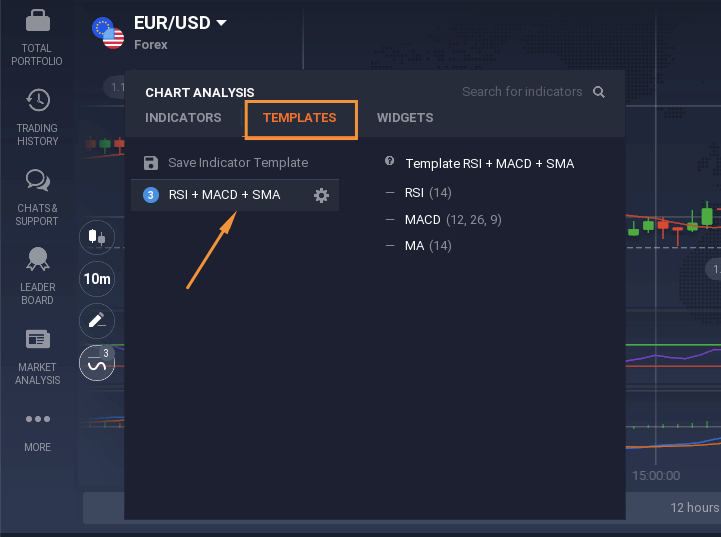 Alerts
Did you know that you can receive notifications when the price reaches a certain level? It is possible to create alerts in two ways. First way to do it, is to simply find a price point on the chart, for which you wish to receive an alert. As it is shown in the example below, simply click on the plus sign and then on Create Alert.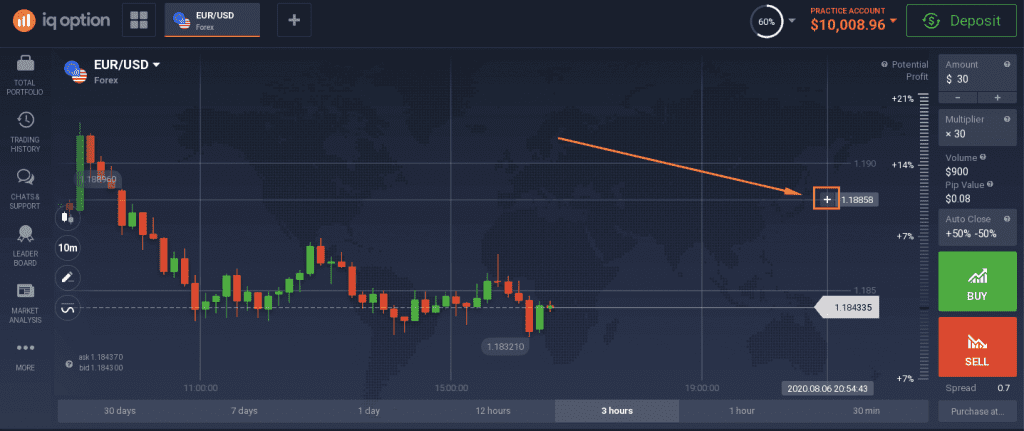 Another way to do it is in the Alerts tab, just click on the Create Alert button and choose the necessary settings.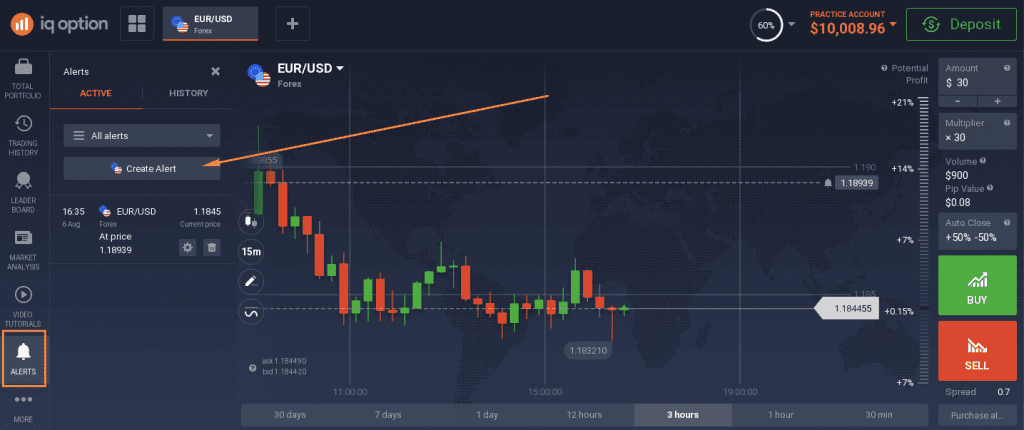 Alerts may help a trader not to miss an important price change and enter or exit deals on time. It could be quite an important and helpful tool in anyone's strategy.
Customize the left menu
The icons on the left side can be changed, switched places or removed! For instance, if you always use the Alerts tab, you can enable it in the settings and remove another, less important for you, icon.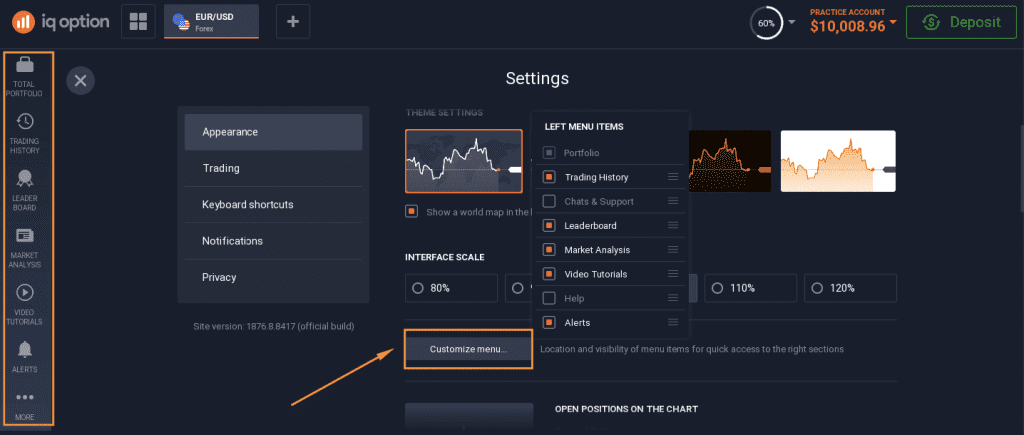 To do it, go to settings (click the settings wheel in the right bottom corner) and find the Customize menu button in the Appearance section. You can remove tabs or add those that you use daily for faster access.
As you can see, the platform offers a lot of different features to customize its appearance and make it fit your particular needs and wants. Do you use any of these options? Check them out if you haven't already!