7 min read 
Tech is breaking to new highs on the heels of Netflix earnings, how should you be trading the market now?
Trading Techniques For Earnings Season
Earnings season is a great time to trade as I discussed in a recent post. In that post I suggested an earnings report from one company could be used as an indication of results for another. This week I'm going to take a little closer look with some real time ideas based on this technique.
"Surprise!" by Netflix
The first thing to do is look for the hot sector. Over the past few weeks and months the tech sector has been on a tear. The sector has led the broader market to set new all time highs again and again, and has done so this week once more. The drive to new highs has been supported by earnings outlook, an outlook that was confirmed by Netflix on Monday. The company reported 32% revenue growth, double digit earnings growth and provided positive forward guidance. This combination, a strongly trending index/sector supported by above expectation results from Netflix, leads me to think that tech stocks are a good place to look for great trades.
Netflix produced a solid gap higher following its release, a move of nearly 10% and one suited for IQOptions Classic Option style. The Classic Option is a ladder style option with in, at and out of the money option contracts to fit a variety of trading styles. The out of the money strikes carry a higher risk with a higher return and require larger moves like this in order to profit.
Now, Netflix is its own company as are each of the ones I am going to list below. That being said they are all tech based businesses who make their money over the Internet and as such are all at the top of their vertical and in position to produce sound results. Each is also expected to release earnings reports over the next few days starting Thursday with EBAY and Microsoft making them solid targets for short term Classic Options with an end of week or end of next week expiry.
Ebay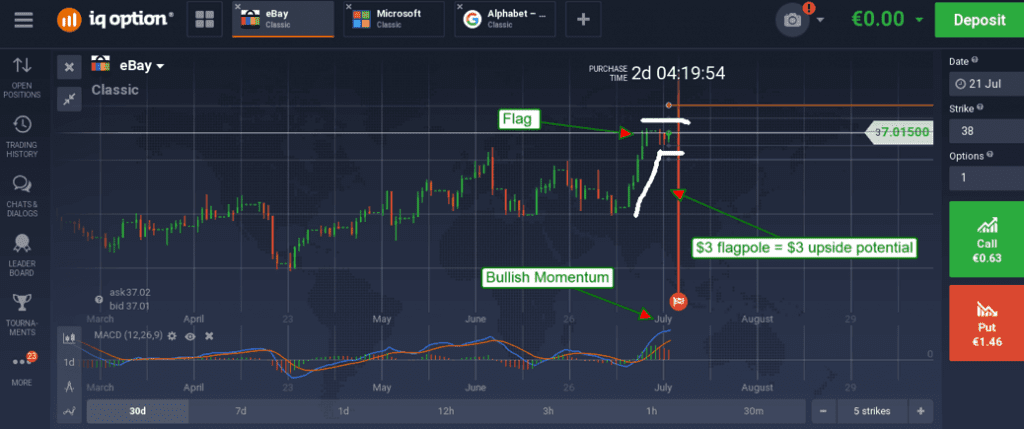 EBAY is expected to report a 5% increase in revenue and earnings in their report Thursday. Looking at the chart it seems as if the market is expecting to see at least that amount. The stock has been trending higher in the near term and forming a nice bullish flag. The flag pattern is of course a continuation signal within a near term trend and bullish in this instance. MACD momentum has subsided a bit during the recent consolidation but it remains strongly bullish. A positive report could send this one shooting higher by as much as $3 or 8%. Because earnings are so near an end of week expiration and an out of the money strike can be used to enhance potential returns. Upside target is $40 so a strike in the range of $37.50 to $39 would be appropriate.
Microsoft
Microsoft is expected to grow earnings by 5% to 6% over last year. Credit Suisse thinks that estimate may be too low, their research shows the number of users who prefer Azure has doubled since last check. Regardless the company is poised to grow earnings with positive outlook for the sector. The stock has formed a small flag similar to the one formed by EBAY with the exception that MSFT is already breaking to the upside. The stock began the move just one day ahead of earnings and is supported by bullish momentum. Based on the size of the flagpole we can assume a move of up to $3.50 in the near term putting upside target at $79. End of week expiry would be appropriate, if the stock doesn't make the expected move following the release it isn't going to.
Alphabet

Google (Alphabet) reports earnings next Monday so end of next week expiry is the right choice for this one. The company is expected to report earnings slightly below last year at this time but those estimates are likely low. For one, the company continues to produce double digit earnings growth as ecommerce takes over the world. Based on price action it looks like the market is expecting the results to be good. The stock has trended upward and approaching recently set all time highs. Momentum is strongly bullish and also on the rise suggesting that resistance will be tested with a high likelihood of being broken. A break to new highs would be very bullish and carry a price target $80 higher in the near term.
Trade here