The Bitcoin rally has crushed many of the smaller alt-coins. Even coins like DASH or Litecoin, which generally follow Bitcoin, have fallen because people have been pulling their money and putting it into Bitcoin. But traders should be worried as they are getting an incredible discount on these smaller coins. Coins always stabilize, and I think we are finally at an opportunity to jump back in.
Key Highlights:
A bullish trend followed a bearish pattern, and the price is currently struggling to gain an upward momentum
DSH/USD price dropped 10.6 percent in the past 48 hours and is currently trading around $284
When looking at the historic price action of DASH, it is clear that situations like this have happened before. The price takes a hit and then starts consolidating at the current price. Once it stabilizes, it starts to bounce back toward a higher price. In the past 6 months, DSH gained 521 percent in its value. Yes, that's right. It went up from $46 to $285.
Dash started well against USD in the past week, but it could not hold the bullish trend. A sudden surge in selling dipped the price from $319 to $292 in just 12 hours and that again followed by another dip.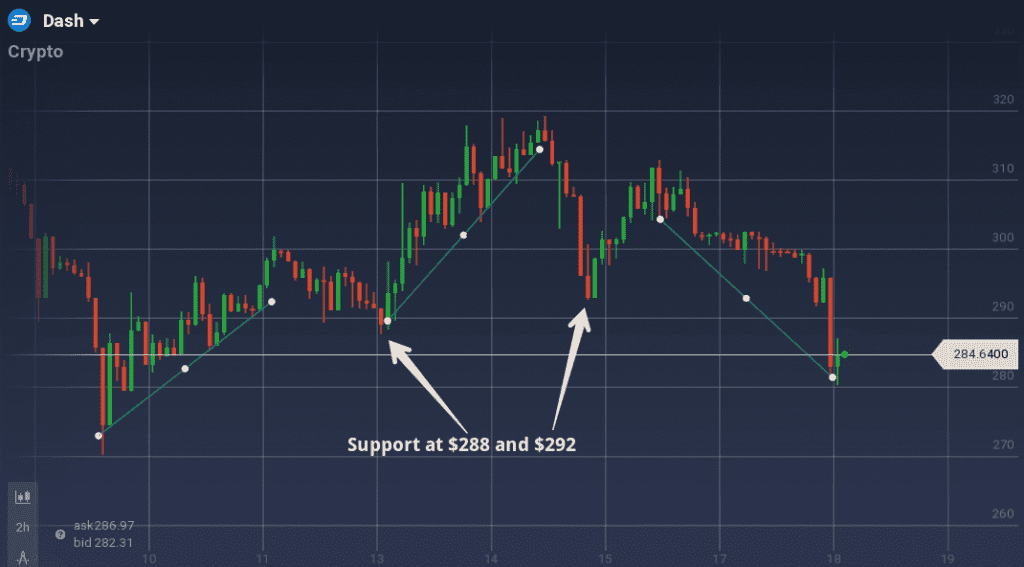 Support around the $288 and $292 mark helped the coin to maintain an upward trend, but then a downward trend took the price to $281. Though a support can be seen around that mark, and the DSH/USD value is reviving and currently trading around $284.6.
The bearish trend in the value can be clearly observed with the Alligator tool and MACD graphs. The current RSI is also at 23.7 percent.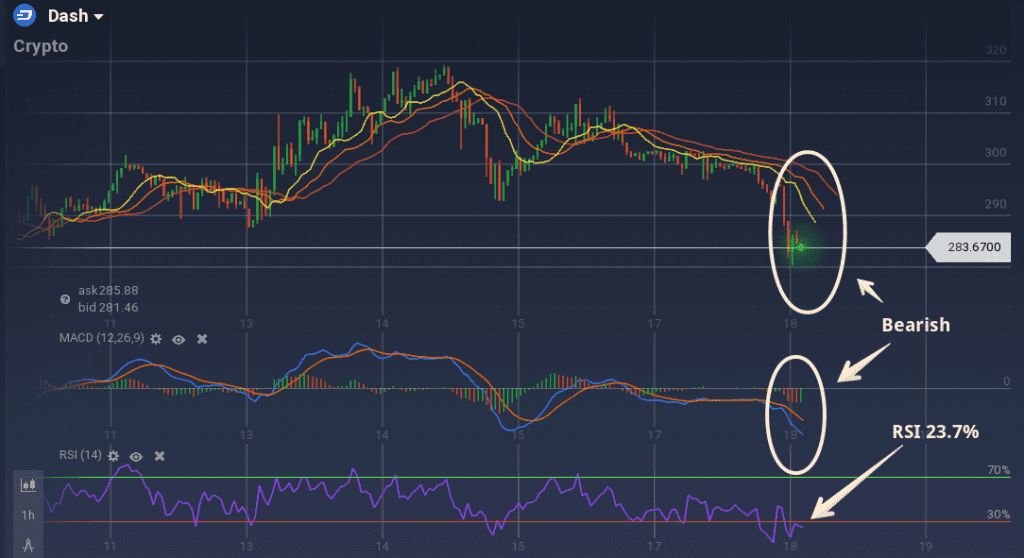 Against Bitcoin, DSH fluctuated around 0.05BTC mark the entire week and is currently trading at 0.053BTC.
There is a limit to the price that Bitcoin can get to (in a short time period). With that in mind, an intelligent trader is going to hedge some of his funds into smaller coins like Dash that can produce higher returns.
[cta_en link="http://bit.ly/2vAd71Y" name="Trade here"][/cta_en]