tags
6 min read 
Basically, binary options trading involves making predictions on whether an underlying asset is going to go up or down. In this trading, there are only two outcomes: you either win or lose.
As a trader, it helps to understand binary options trading before you begin trading. Binary trading is different from traditional options, and you will find that it has different fees, risks, and payouts.
If you are looking to hedge or speculate, binary options are a great alternative for making predictions on assets. In this post, we want to get binary options trading explained to help you carry out the right moves.
Let's get straight to it.
Key Features of Binary Options Trading
In all different contracts, there are three key features traders need to learn and understand.
Expiry time: This is the period between buying the option contract to the time it finally closes. The period can vary from one minute to a month. Most traders usually opt for short term options that last from 60 seconds to 30 minutes.
Strike price: This simply means the price at which a call or put option can be exercised. For example, the current price of gold can be $1,500, and the winning trade gets 80% return. You place an "up" bid with let's say $100. When the contract closes, and the gold price goes up, you get back your $100 plus 80% of your placed amount. In this case, you will have $180 at the end. In case your prediction was not correct, you lose the $100 you have put in the option.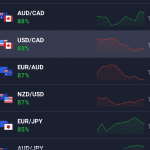 Payout offer: A payout offer is a return, usually in percentage, that the broker offers to traders. In the gold example above, the offer is 80% for a successful trade. The maximum potential loss is limited to the amount invested in the option. However, some traders can give an offer of up to 10% for a loss. As a trader, you will know these percentages before placing your bid.
Types of binary Options Trading
In the past, there was only one trading option for binary options traders. This is the high/low option, also known as up/down or call/put. The increased public interest in this binary trading led to the introduction of new options.
High/low: This is the most basic and common option where you choose whether the price of a stock asset will go up or down by the expiry time.
Turbo:  The same as high/low, but the expiration time starts from 30 seconds. The maximum expiration period on turbo options – 5 minutes. This type of trading is not legal in European countries and USA, because it seems to be very risky, while traders like it for the opportunity to fet high profit in short period of time.
Trading Strategies
With binary options, your risk is limited to the traded amount, which can be as little as $1. When you lose, the traded value is lost, or a percentage of it depending on the broker's offers.
So, before trading, invest ample time in understanding the risks and always use the price action in making sound decisions. Technical analysis indicators are also popular among traders.
There are different strategies you can apply, and your choice depends on the situation you have. The straddle trading strategy is one available method for managing risks, and it's ideal for experienced traders who can identify short-term market trends.
Also, take the time to understand the candlestick chart patterns to help you in judging the state of market prices and the direction they are likely to take.
Binary Options Trading Explained – The Bottom Line
As with any kind of investment, there are risks and rewards, so it helps to understand binary options before making your moves.
With binary options trading explained, you have a somewhat clear understanding of how they work. When you start out, use demo accounts to practice, understand your trading market, use analysis tools to make decisions, and keep track of your trades.
If you have any question, don't hesitate to get in touch with us.
Try for free