Is Bitcoin rebirthing? Virtual coins prices are up more than 17% against the dollar in just one day. Early this morning, Bitcoin climbed back up above $8,000 for the first time in two weeks.
The causes of the cryptocurrency's fortunes are not very clear, but some experts reckon it might have something to do with the approach of April 17, the deadline for filing taxes in the U.S.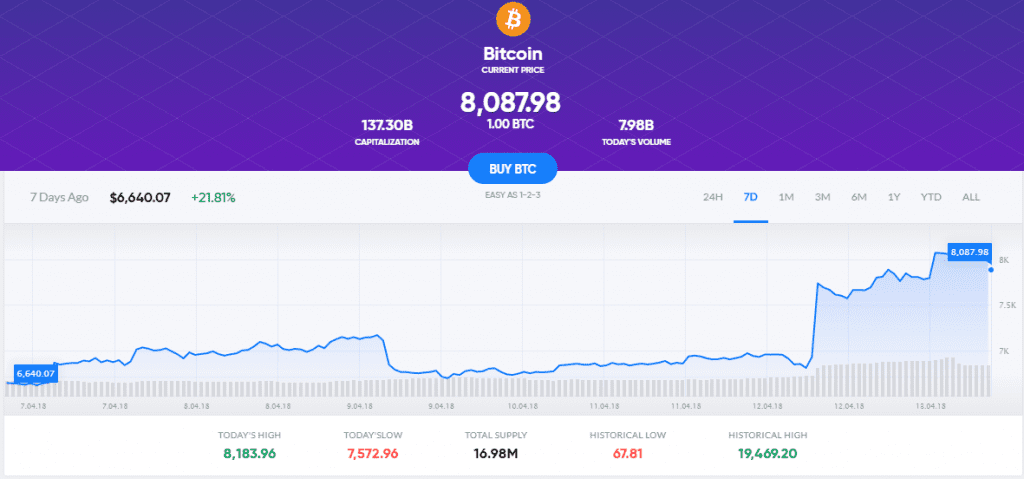 The Tax Day theory says that people needed to liquidate their bitcoin assets before the deadline in order to have enough dollars to pay their taxes; most have done this now, so goodbye sell-off.
"The selling pressure associated with Tax Day has subsided right now," Ryan Taylor, the CEO of cryptocurrency software firm Dash Core, said. "As people get their tax returns, there may be new money entering the market."
However, when Bitcoin suddenly started going up on Thursday, the online conversations were mostly about the White House's military threats against Russia in Syria, its sanctions on Russia and its tariffs on China, with people speculating that Russians and Chinese might be buying into Bitcoin to quietly get their money out of those countries.
Despite the reasons why, reality shows Bitcoin recovering.
[cta_en link="https://iqoption.com/lp/ultimate-trading/en/?aff=88&afftrack=bitcoin1304″ name="Buy Bitcoin now"][/cta_en]