6 min read 
Wells Fargo (WFC: NYQ), is expected to report Q2 2017 earnings on July 14th2017. Headquartered in San Francisco, Wells Fargo & Company, is an American banking and financial services holding company that operates across an international reach. The banking company has "hubquarters" located across the US and operates as a diversified financial services company with three core operating segments: Community Banking, Wholesale Banking, and Wealth and Investment Management.
1) Share Price – Upwardly Volatile
Over the past twelve months Wells Fargo shares have moved with significant volatility with a modest upwards trend such that the share price is currently over 14% higher than that of a year ago.  Further to this the share price is flat YTD – overall presenting a choppy trajectory, albeit drifting higher on aggregate.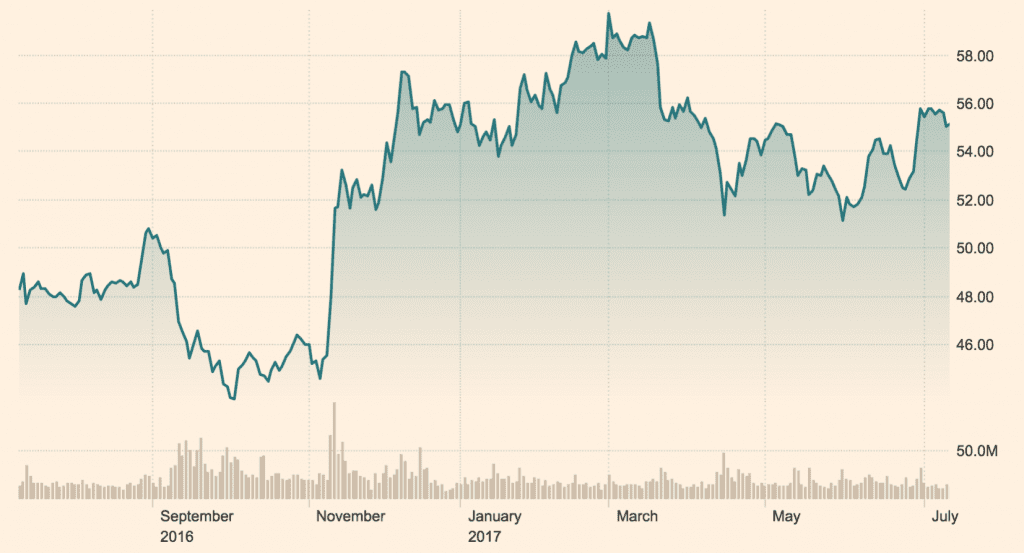 2) Earnings Expectations
Despite a number of reputational setbacks through the second half of 2016, Wells Fargo was able to deliver earnings estimate beating performance figures for three of the trailing four quarters. Specifically, over the past 3 quarters the average positive earnings surprise from the financial services company was 1.52%.  For the upcoming results Wall Street analysts expect an earnings per share (EPS) figure of 1.01USD – up 1% from the previous quarter and flat year on year for Q2. The previous reported earnings were released in April 2017 with Q1 2017 EPS of 1.00USD.
3) Repairing Reputation
Wells Fargo suffered a significant blow to its reputation in September 2016 when the news of a giant sales scam came to light. The bank has been dealing with strong political questioning as well as public outrage whilst navigating a range of lawsuits and investigations since this time.  In an effort to the repair the reputational damage Wells Fargo has taken steps to settle lawsuits as quickly and cleanly as possible – for example, in the Northern District of California they have agreed a settlement of a class-action lawsuit for 142USD million against the claim the bank opened over 2 million credit and deposit accounts since 2009, for customers without gaining permission. A number of other lawsuits remain pending at this time and could spell a significant blow to bottom line for the remainder of 2017 as settlement payments are made.
4) Increased Franchise Activity
A further to dent in bottom line for the remainder of 2017 may arise from growing costs which have stemmed from increased franchise investments. This includes investment activity in a range of areas – examples include digital lending and mobile banking technology. However, these costs should be recuperated back when the franchise activity begins to draw in larger profits – driving growth potential higher for 2018 onwards.
5) Mortgage Business
Wells Fargo operates as one of the largest mortgage lenders across the United States. The company leadership has indicated they expect to experience an increase in mortgage banking revenues over the short to medium term. They have indicated they expect higher origination volumes despite the fact that management has tightened credit underwriting standards in meeting tougher regulation requirements.
Overall the outlook is moderately positive for Wells Fargo shares over the short to long term. They have had some setbacks through 2016 and have shown resilience in overcoming these challenges and delivering shareholder value in 2017 to date. There will be some further damage to profits as lawsuits are settled. The ideal outcome is that they are settled affordably and quickly, so as not to add any more negative PR to the banking brand. Given the strategic vision of management and their aggressive approach to expanding franchise activity the company is likely to perform well over the medium to long term.
Sources:
https://www.wellsfargo.com/about/investor-relations/quarterly-earnings/
https://markets.ft.com/data/equities/tearsheet/summary?s=WFC:NYQ
http://www.nasdaq.com/symbol/wfc
Trade here