2 min read 
Monero is having an excellent week. Against USD, Monero jumped from $87 to $128. That is a gain of 47 percent in just a week. With this, XMR also had a massive leap in the market cap and crossed $2 billion.
Key Highlights:
Against USD, Monero had a week-long bullish streak and gained 47 percent over the week
XMR/USD pair is supported by a strong trend line and currently trading around 128
XMR/BTC gained over 67 percent and currently trading at 0.021 BTC
XMR/USD had a bullish trend since the start of the week. Though the pair faced resistance at $121 in the mid-week and started to drop, it found a support level at $100. This support also acted as a pivot point and started the bull again. With a strong trend support, XMR/USD gained 31 percent in the last 48 hours.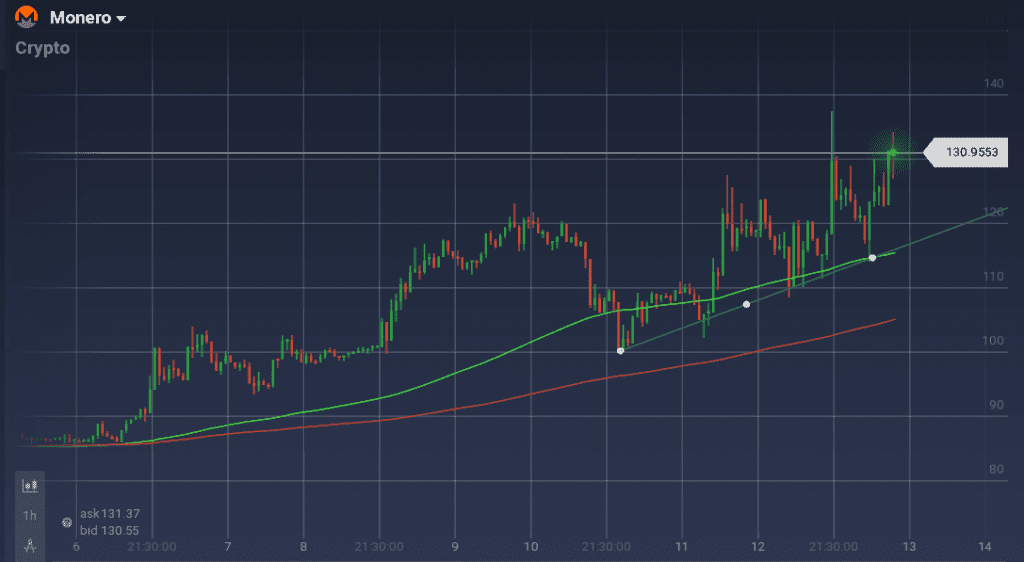 In the daily chart, XMR/USD pair is testing the resistance above $131 with a support level near the $117 mark. With the bullish trend, the pair gained 13 percent in the last 24 hours.
All the indicators are showing strong bullish signs. Stoch is going up and is way below the overbuying level, and RSI is also at 66 percent. MACD is also moving bullish with strong signs of recent bull.

Against Bitcoin, XMR took a huge leap and appreciated more than 67 percent. XMR/BTC value went up from 0.013 BTC to 0.021 BTC.
Trade here