3 min read 
The US Dollar (USD) inched higher against the Canadian Dollar (USD) on Thursday, increasing the price of USD/CAD to more than 1.3350 ahead of the Canada's Gross Domestic Product (GDP) news release. The technical bias remains bearish because of a lower low in the recent downside move.
Technical Analysis
As of this writing, the pair is being traded around 1.3349. A support may be seen near 1.3300, the trendline support area as demonstrated in the given below daily chart with brown color. A break and daily closing below the 1.3300 trendline support shall incite renewed selling interest, validating a move towards the 1.3067 support zone which is another critical support zone.
On the upside, the pair is expected to face a hurdle near 1.3357, the intraday high of yesterday ahead of 1.3387, the high of last major upside rally and then 1.3600, the high of 28th December, 2016 as marked with red color in our chart. The technical bias shall remain bearish as long as the 1.3600 resistance zone is intact.
Canada's GDP News
Statistics Canada is due to release the Canada's Gross Domestic Product (GDP) data today at 13:30 GMT during New York trading session. According to the average forecast of different economists, the Canadian GDP remained 2% in January as compared to 3.5% in the same month of the year before. Generally speaking, higher GDP figure is considered good for the economy and vice versa.
How USD/CAD Reacted to Past GDP Release?
Last time when the GDP data was released by the Statistics Canada, the actual reading came out to be 0.4% as compared to the forecast of 0.3%, up beating the average forecast of economists. As expected, the USD/CAD plunged nearly 20 pips before and 20 pips soon after the release.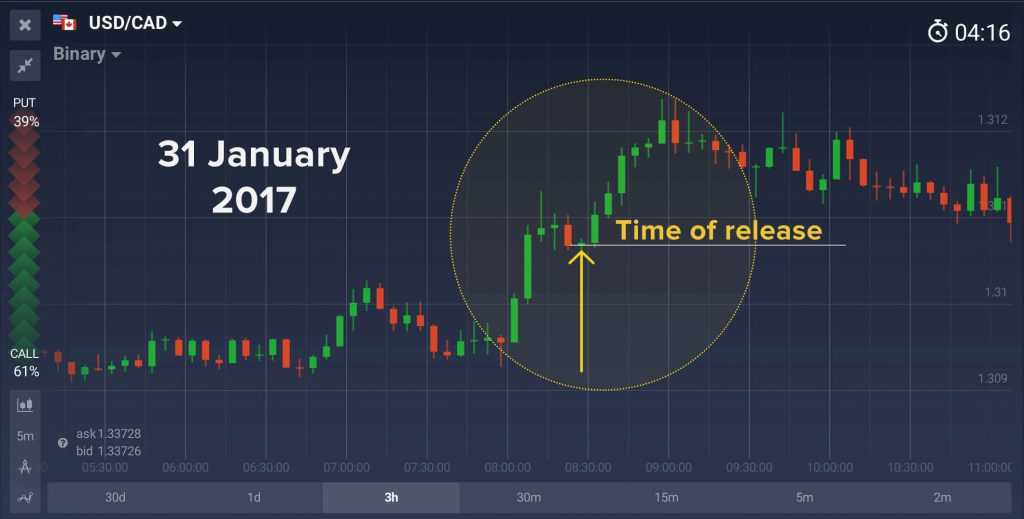 How to Trade today's New Home Sales Data?
Today if the GDP data comes better than forecast, then USDCAD is likely to appear near support line:
Alternatively, if the actual figure comes worse than forecast, then buying call options close to the support level can be a good strategy:
Trade on USD/CAD now