The Double Bottom is one of the strongest reversal patterns in the market, and there is one forming in several forex pairs right now.
There is a high probability for profits with this pattern
Among the many candlestick chart patterns are a few that are very strong, come with a high probability for profiting but take patience to trade. One of these is the Double Bottom or Double Top. The reason why they are so strong and have such a high probability for profits is because they are what I call "grand patterns", patterns that take more than a few candles to form and reveal a longer-term outlook as compared to 1,2 and 3 candle patterns.
This is what I mean: A Bullish Engulfing Pattern (a two-candle pattern) that forms in a downtrend may indicates a reversal in the near term, as in a quick pull back or correction. Two Bullish Engulfing Patterns confirming a Double Bottom (at least 4 candles, usually may more) means a major change in fundamentals and full reversal of prices.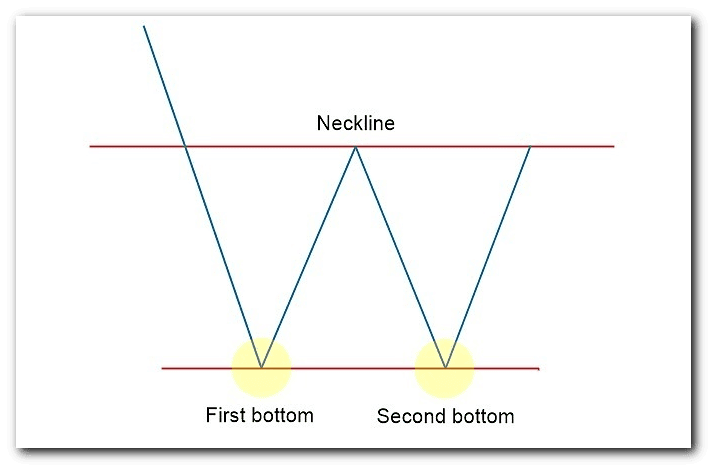 What is a Double Bottom
A Double Bottom is when prices move down to a support level and bounce higher, then retreat to the same support level and bounce again. The pattern is not complete however until confirmed and confirmation in this pattern occurs when the pattern is broken. Just FYI, all candle patterns are unconfirmed until they are broken, it is the final move outside the pattern that gives it its name. A pattern may look like a double bottom but could easily become a flat-bottomed triangle if not confirmed, this is why patience is key when trading this reversal. The good news is that once confirmed the double bottom can lead to significant, long term moves in prices.
There are four key points of a double bottom. The first is the first bottom and bounce from support. The second is the second bottom and bounce from support. The third is what we call the baseline, this is where prices bounce to before falling back to the second bottom, it is also the point at which we would look for the break out, the fourth part of the double bottom formation.
A practical look at two Double Bottoms
The chart below is daily candlesticks of the EUR/USD. The pair was in downtrend leading up to a bounce from support that has since failed and left price to retreat to that same support. At this time, we are in the early stages of what may become a double bottom, or not, so patience is still warranted. Price action is showing signs of bouncing from support again, this is a tradable event, but not yet confirming the reversal. The neckline is at 1.1800, a break of which would confirm. Once confirmation is seen trades can be made with the expectation prices will continue upward at least as high as the magnitude of the original pattern. In this case support is near 1.15750, the baseline at 1.1800, which gives a magnitude of 0.0225 and a target of 1.2105. A breach of support would negate this outlook.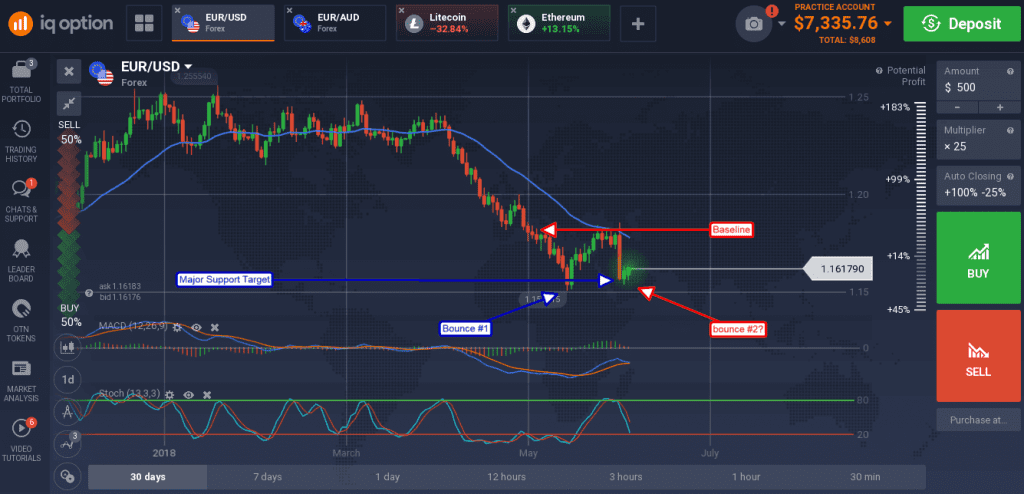 In the next chart we see daily candles of the GBP/USD. The pair has bounced once from the long-term support target of 1.3250 and is now sitting on support again. The baseline of the pair is near 1.34500, a break of which would be bullish. Looking to this week's data there is a major BOE policy decision due out on Thursday that could move this pair higher.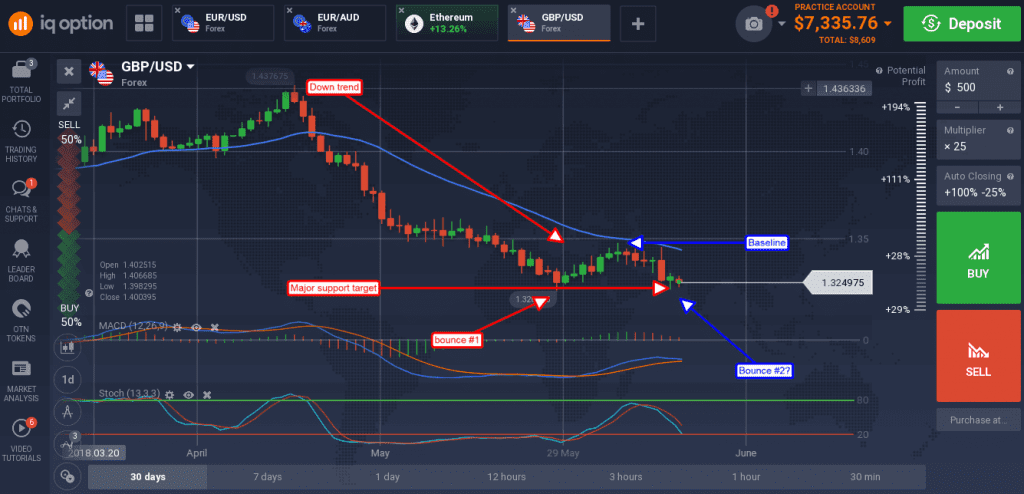 There is no (very little and less important) US data to counteract the BOE should they sound hawkish.
[cta_en link="http://bit.ly/2w6LBL6″ name="Trade now"][/cta_en]