6 min read 
The multinational entertainment and mass media giant, the Walt Disney Company (DIS: NYQ) (commonly referred to as Disney) reports Q3 2017 results on August 8th 2017 after the closing bell.
Headquartered in Disney studios, California, the company was founded in 1923 and has grown to become the second largest media company in the world, second only to Comcast.
Disney has been a component of the Dow Jones Industrial Average index since May 1991. Initially founded on animation based production and services the company has grown massively to encompass a far wider range of services, products and segments – including media networks, theme parks and resorts, studio entertainment, interactive media and consumer products.
Disney owns and operates numerous television networks – including ABC broadcasting, the Disney Channel, ESPN, A+E Networks and Freeform.
1) Share Price – A Mixed Picture
Disney shares are up over 13 percent over the past twelve months – currently trading at 107.69USD per share.  However, the shares experienced a significant peak in March 2017 (not quite reaching the all-time high) from which the price drifted down almost 10 percent into the start of July. There has been some retracement upwards since early July but overall the share price shows a choppy outlook for the remainder of 2017 – albeit with an overall upward drift in price.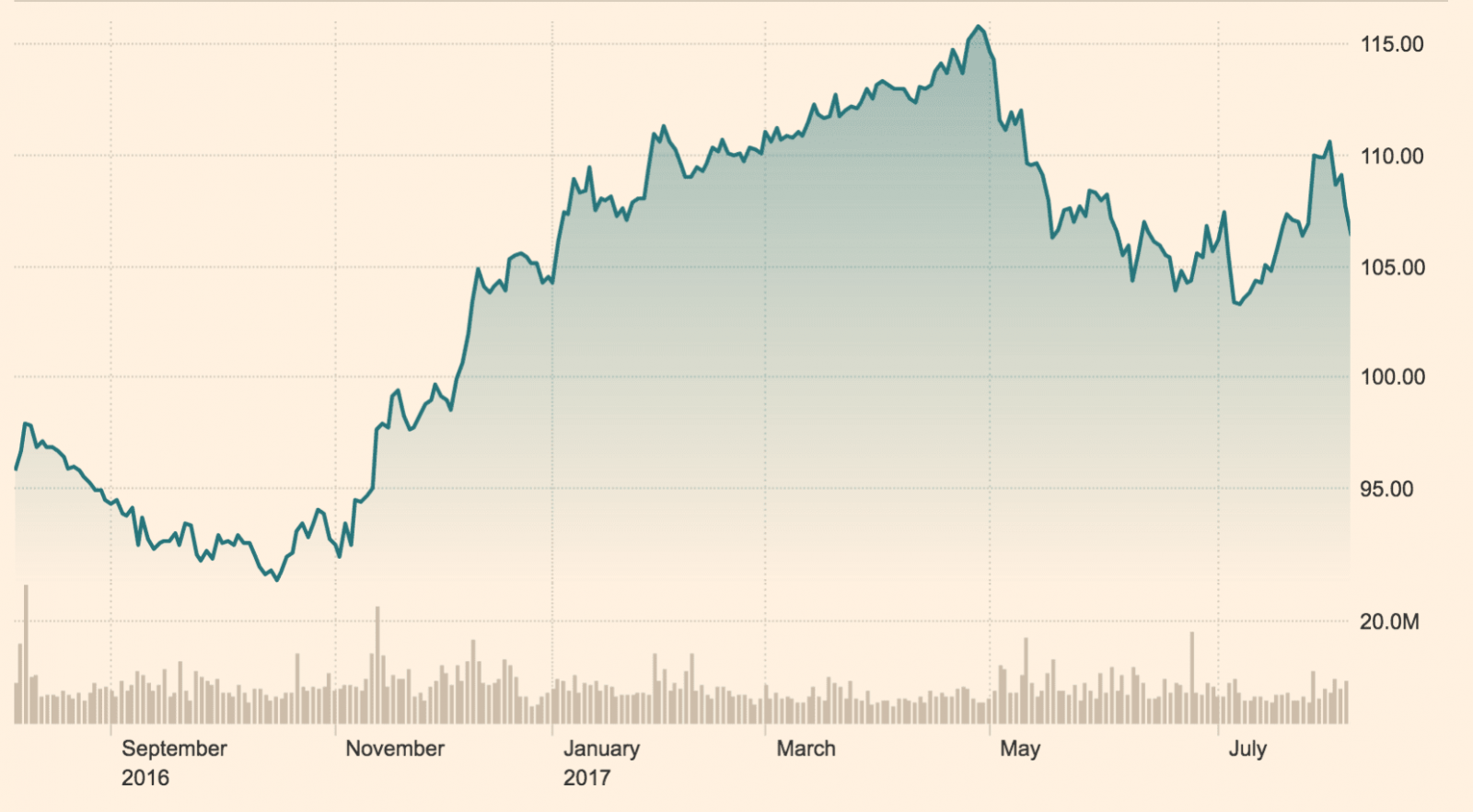 2) Earnings Expectations
The previous earnings announcement from Disney came on May 9th 2017 when the company reported Q2 2017 earnings of 1.50 per share (EPS) – a positive earnings surprise of 3.5%.
Disney does not provide guidance on upcoming earnings announcements.  However, Wall Street analysts polled by the Financial Times have forecast an EPS for Q3 2017 at 1.56USD – which would deliver a 3.7% deterioration compared to Q3 2016 for which EPS was reported as 1.62USD.
3) Trailing the Competition
Disney's share price has underperformed the industry average over the past three months – declining by 2.5% while the wider industry has seen a 0.7% fall. The industry is becoming increasingly competitive as online media outlets widen their reach and product range – adding to competition for audience figures.

4) Media Networks – In Focus
A key driver of potentially reduced performance figures this quarter is due to contracted numbers in media network subscribers. The ESPN network has been very profitable for Disney historically. However, subscriber numbers have been falling in 2017 as they have been drawn into video streaming services from alternative providers that are growing at a rapid pace.
Specifically, for Q2 2017, the operating income from the Disney cable network department fell by 3%, due to increased programming costs and a falling number of subscribers. This looks likely to continue into Q3 2017 and into the remainder of the year at the least. 
5) Key Growth Drivers
Disney is taking measures to counteract this trend in the consumer media segment – for example, by acquiring a 33% stake in video streaming leader BAMTech in autumn 2016. Furthermore, there are rumours of an upcoming ESPN-branded multisport subscription streaming service – this is something investors will be looking out for in the earnings announcement. 
In addition, the theme park and resort segment is the second biggest revenue maker for the company and has been growing significantly due to the opening of the Shanghai Disney Park and resort in June 2016.  Specifically in Q2 2017 revenue and operating income in this segment grew 9.4% and 20.2%, respectively.
Looking ahead, the outlook is flat for Disney shares over the short term. Over the longer term the outlook is positive as the company is taking measures to fight off competition and both expand and diversify revenue streams globally.
Sources:
https://markets.ft.com/

http://money.cnn.com/

https://finance.yahoo.com/

https://thewaltdisneycompany.com/
Trade here