3 min read 
Today President-elect Donald Trump will be sworn-in as the 45th President of the United States and the world is poised in the anticipation over the future trajectory of the nation.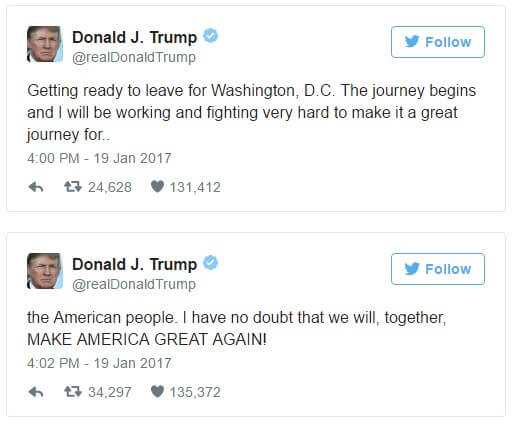 With the presidential inauguration looming, stocks have slightly receded, the Dow being down 0.2% for the month, as of Thursday's close. * The S&P 500 and Nasdaq are showing signs of slow movement, with gains of 1.1%, and 2.9%, respectively *, which suggests that the so-called Trump rally hasn't entirely unraveled. A loss of momentum has forced investors to contemplate the future, though.
Goldman Sachs Group CEO Lloyd Blankfein, whose bank's shares have enjoyed the biggest portion of growth after the Trump's election says he isn't sure what happens after Trump officially takes office.
"I'm dying to look back at this and like the outcome," Blankfein said on Wednesday during an interview on CNBC at the World Economics Forum in Davos, Switzerland.
Trump's Promises and their Market Effects
This report has combined some of the major promises made by Donald Trump with their following effect on the market.
Trump spokesman Sean Spicer told reporters to expect activity on Friday, during the weekend and early next week: "He is committed to not just Day 1, but Day 2, Day 3 of enacting an agenda of real change, and I think that you're going to see that in the days and weeks to come."
Clearly, the extended Trump Rally recently seen in stocks and the dollar has been caused by expectations of a business-friendly, pro-growth president in Donald Trump. While these expectations may ultimately be fulfilled, many near-term challenges and obstacles stand in the way of their fulfillment.
Sources:
www.forex.com
www.reuters.com
* Past performance is not a reliable indicator of future performance.
Note: information provided is based on the market research.
Trade here
NOTE: This article is not an investment advice. Any references to historical price movements or levels is informational and based on external analysis and we do not warranty that any such movements or levels are likely to reoccur in the future.
In accordance with European Securities and Markets Authority's (ESMA) requirements, binary and digital options trading is only available to clients categorized as professional clients.
GENERAL RISK WARNING
CFDs are complex instruments and come with a high risk of losing money rapidly due to leverage.
77% of retail investor accounts lose money when trading CFDs with this provider.
You should consider whether you understand how CFDs work and whether you can afford to take the high risk of losing your money.