11 min read 
The U.S. stock market slipped on Monday as investors dialed back their technology holdings with just a few days left in the third quarter. Naturally, the tech-heavy Nasdaq was the weakest major average, but found support at its 50-day simple moving average. Meanwhile, the S&P 500 and the Dow lost 0.2% apiece. Wall Street rotated out of the S&P 500's technology sector, which has led the stock market's 2017 campaign, in favour of some groups that have struggled so far this year, such as energy, consumer staples, telecom services, and real estate. In addition to a sector rotation, there was a market-cap rotation on Monday, evidenced by the S&P MidCap 400 and the small-cap Russell 2000, both of which finished ahead of the broader market. The Russell 2000 also settled at a new all-time high.
Facebook was one of the weakest technology components, dropping 4.5% to settle below its 50-day simple moving average for the first time since July 6. Fellow mega-cap tech names like Apple, Microsoft and Alphabet also struggled, losing between 0.9% and 1.6%.
Chipmakers also tumbled on Monday, sending the PHLX Semiconductor Index lower by 2.0%. NVIDIA and Micron Technology exhibited particular weakness, losing 4.5% and 3.3%, respectively. Micron will release its latest earnings report on Tuesday afternoon. Tech stocks were weak from the jump, but the sell off intensified after North Korea's foreign minister said that U.S. President Donald Trump has effectively declared war on his country and, therefore, Pyongyang has the right to take countermeasures against the U.S., including shooting down U.S. strategic bombers even if they're not in North Korean airspace.
The White House responded by saying the allegation is "absurd." U.S. Treasuries held gains in the early morning and then advanced to new session highs following the North Korea comments. The benchmark 10-yr yield, which moves inversely to the price of the 10-yr Treasury note, slipped four basis points to 2.22%, settling near its session low. The 2-yr yield held up a bit better, finishing just one basis point below its flat line at 1.42%.  In Europe, Angela Merkel won a fourth term as Germany's chancellor on Sunday, but the far-right Alternative for Germany (AfD) party did better than expected, effectively weakening Ms. Merkel's CDU/CSU alliance. The euro dropped 0.9% to 1.1849 against the U.S. dollar on Monday while the German bund yield tumbled five basis points to 0.40%. Investors did not receive any economic data on Monday.
Get Ready for an Oil Squeeze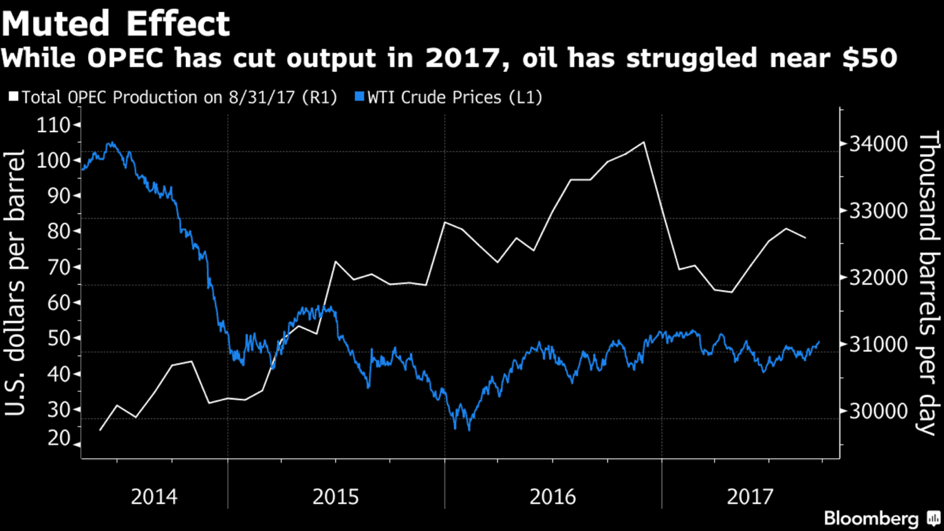 Those in the oil market fearing a flood of OPEC supply next year will probably be better off preparing for a shortage. Five countries in the group — Libya, Nigeria, Venezuela, Iran and Iraq – may already be pumping at their maximum capacity this year. Rather than a surge in output, there's a risk of a market squeeze emerging as early as 2018, driven by those nations because of weaker investment in exploration and development. "Fear in the market has been that OPEC production will rise dramatically," said a Citibank Analyst. However, "there could be a supply gap emerging, which could point to a tighter market," he said in Singapore on the sidelines of the S&P Conference. Crude is still trading more than 50 percent below mid-2014 levels amid concern over whether output curbs by the Organization of Petroleum Exporting Countries will be enough to eliminate a global glut. A gathering in Vienna last week between OPEC and its allies ended with no decision on an extension or deepening of the cuts beyond the first quarter of 2018, while the potential revival of U.S. shale production is also weighing on the outlook for prices. In Iran, investors may be vulnerable to U.S. sanctions on dealing with companies owned by the Middle East nation's Revolutionary Guards, the premier security force that dominates the domestic services sector. The OPEC producer is shipping a combined 2.6 million barrels a day of crude and the ultra-light oil known as condensate, and expects to export more at the end of 2017, according to the National Iranian Oil Co. If the output reductions are prolonged, that would only hasten the prospect of a tighter market, adding that the source of the supply squeeze will probably be OPEC rather than producers outside the group. "There's no room for them to do more," he said, referring to the five nations. "We're seeing more and more evidence that it's not the international oil companies, it's not the independent oil companies that are lagging new investments, but it's OPEC countries lagging, particularly those five," he said.
Musk Isn't Worried about Mercedes's $1 Billion Electric Car Investment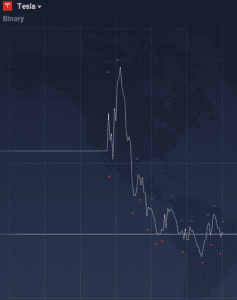 Whereas iconic CEOs like Steve Jobs and Bill Gates famously abhorred competition and did everything in their respective powers to squash it — sometimes using questionable tactics in the process — Elon Musk pro-actively welcomes competition in the EV space. So while Musk naturally wants Tesla to succeed and do well, Musk also wants to convince the world's largest automakers to invest heavily in electric vehicles. In short, Musk's overarching goal doesn't necessarily rest on having Tesla dominate the automotive world. Rather, Musk arguably seems more concerned with using Tesla to kick-start an EV revolution.
Case in point: Musk recently scoffed at Mercedes' recent pledge to invest $1 billion into EV development not because he thinks they can't compete, but because he thinks they should be investing a lot more. In case you missed it, Mercedes-Benz last week said it plans to allocate upwards of $1 billion to produce EVs in the United States. The announcement was made just two short weeks after the company relayed its intention to have electric versions of all its car models by 2022.  Now by all accounts, Mercedes is taking its EV initiative very seriously and is clearly willing to throw some serious money around. At the same time, $1 billion in the automotive industry, while not a drop in the bucket, isn't necessarily a jaw-dropping figure. That being the case, Musk, in typical Musk fashion, took to Twitter to throw some shade at Mercedes' planned investment in the EV space. "That's not a lot of money for a giant like Daimler/Mercedes," Musk tweeted yesterday afternoon. "I wish they'd do more." And driving the point home, Musk added that he wishes Mercedes would have promised to invest $10 billion.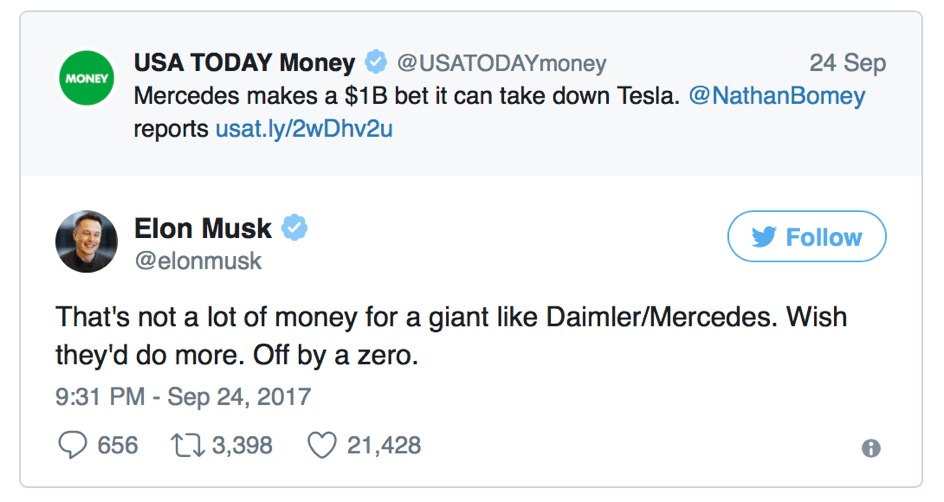 To be fair, the $1 billion figure Mercedes mentioned is earmarked just for their U.S. operations, but as Tesla followers can attest, Musk never misses an opportunity to chime in with a timely and pointed tweet.
Important events today:
3pm – US consumer confidence (September), new home sales (August): confidence expected to fall to 121 from 123, while new home sales rise to an annual rate of 580K from 571K. Markets to watch: US indices, USD crosses
Trade here