2 min read 
In the soaring cryptocurrency market, Santiment is one of the leading gainers. Its performance on the exchanges is even outperforming the soaring market leader Bitcoin in terms of profit percentage. The market cap of the token has reached above $229 million compared to mere 12 million in the early November. The trading volume of the token also increased drastically, and in the last 24 hours, over $55 million SAN has been traded.
Key Highlights
SAN/USD pair touched another all-time high again above $4.2 this week
Currently, the pair is testing the peak resistance with strong support at $3.6
SAN/BTC pair appreciated 50 percent week-on-week and presently trading around 0.000234 BTC

In the early and midweek, SAN/USD pair had faced a stiff resistance above $3 which checked any further growth. The pair tested this resistance level again and again which ultimately pushed the price down until it found support around $2.5. This support also acted as a pivot, and a sudden steep bullish run took over. With this bull, the token touched a new all-time high at $4.2. Though the peak resistance pushed the price down, the pair found support around $3.6. This support level is very strong and acted as pivot multiple times.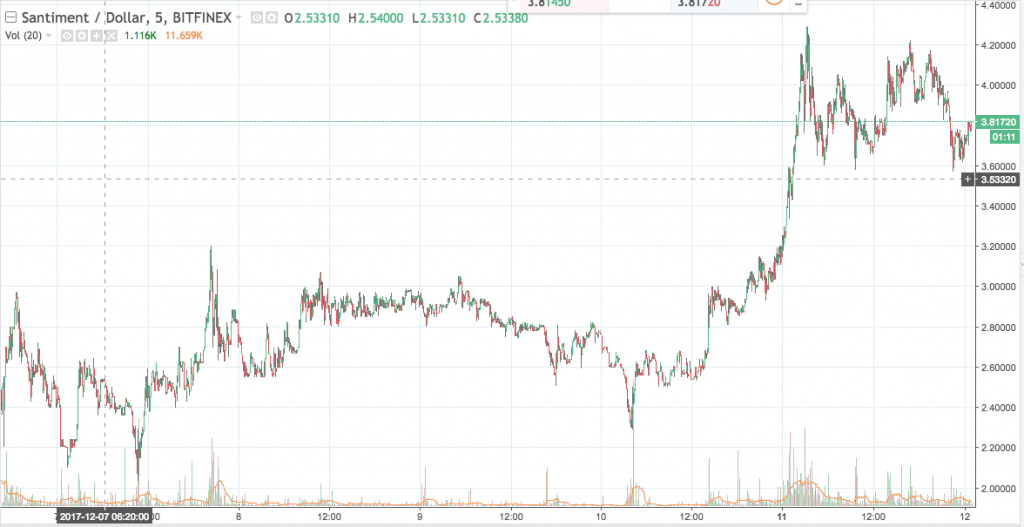 Due to the bullish movement, the indicators are also on the rise. MACD is moving up after the recent shallow dip. Stoch is also moving upward, but it has reached above the overbuying mark. RSI is at 64 percent.

Against Bitcoin, SAN followed a similar trend like SAN/USD pair. SAN/BTC pair gained 50 percent over the week as the value went up from 0.000155 BTC to 0.000234 BTC.
Trade on SAN