3 min read 
Santiment is a platform for crypto-financial market data and content. The model of the platform is more or less freemium as some information will be free, other information can be purchased by staking the Santiment token (SAN). Users can also monitor crypto-markets in real-time, access a transparent database and look at objective data feeds. Their goal is to be the Bloomberg of crypto-space.
Key Highlights:
SAN had a bearish trend throughout the week, but there are strong signs of trend reversal
SAN gained 21% in the past 12 hours and is trading around $0.23
ICO Results
SAN had its ICO while it was in alpha phase but still the potential of the platform attracted lot of investors.
Santiment had a two-round ICO, and both of them were very successful. With the closing of the ICO on 5th July, they raised more than $12 million worth of ETH. The current market cap of SAN reached above $13 million.
Exchange Performance
The exchange performance of Santiment in the past week was not so well. On a week-on-week, SAN's value dropped 26% against USD, but since the past 12 hours, the bearish trend is reversing strongly from the support level at $0.19. In the last 12 hours, SAN gained 21%.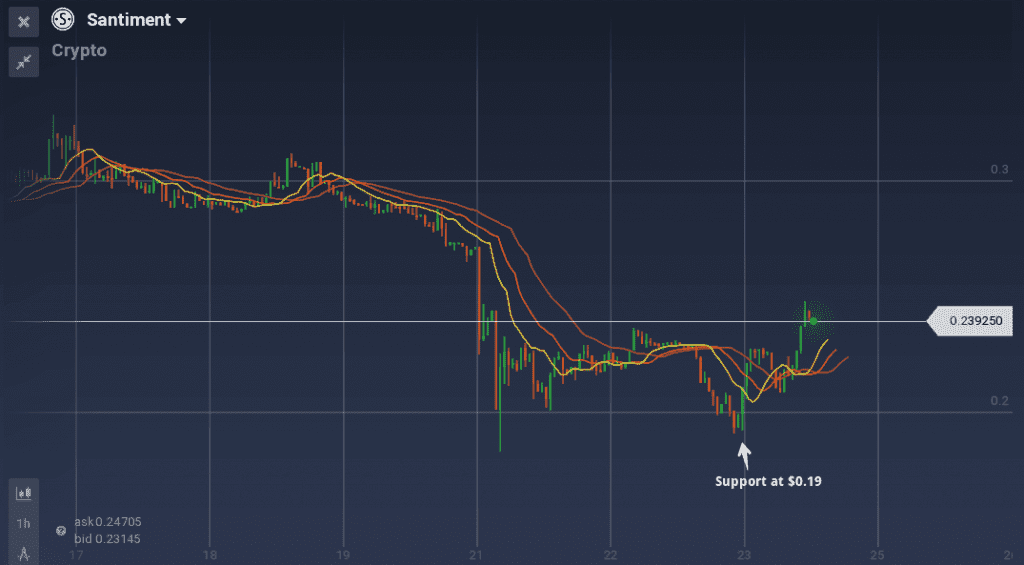 A glance at Stoch indicates a short-term downward movement as there are clear signs of over buying. RSI is also at the border point with 69%. But MACD and Alligator curves are clearly indicating a bullish trend.

Against ETH, SAN the performance of SAN was quite poor throughout the week. The value dropped from 0.00098 ETH and is currently trading at 0.0008 ETH. That is above 18% decline in the value.
Overall, as the business model of the firm is quite promising, and any big announcement or activity can encourage an upward rally.
Trade now