After the introduction Santiment Network's token in July 2017, the coin received a warm welcome as its value tripled in just a month. This provided the investors a huge return. But soon like most of the coins, the bullish streak wore off, and since then a gradual downward movement dominated the coin until it stabilized. Now with over 60 million SAN token in circulation, the coin has a market cap of more than $15.7 million.
Key Highlights:
Against USD, SAN appreciated 30 percent over the week and more than 8 percent in the last 24-hours
SAN/BTC gained 5.5 percent week-on-week with current trading value at 0.000039 BTC


Last week SAN had an excellent performance on the exchanges with its bullish movement. The week started with a steep rise which took the SAN/USD's value from $0.20 to $0.27 in less than 12 hours. This is a gain of 30 percent. But a significant resistance at $0.28 checked any further growth.
Even though this resistance level was tested for a while, it could not be breached and ultimately resulted in a downward movement. But the token found a strong support level at $0.238. A new resistance level also formed at $0.258 and for most of the mid-week, the token was traded within this new found band of support and resistance.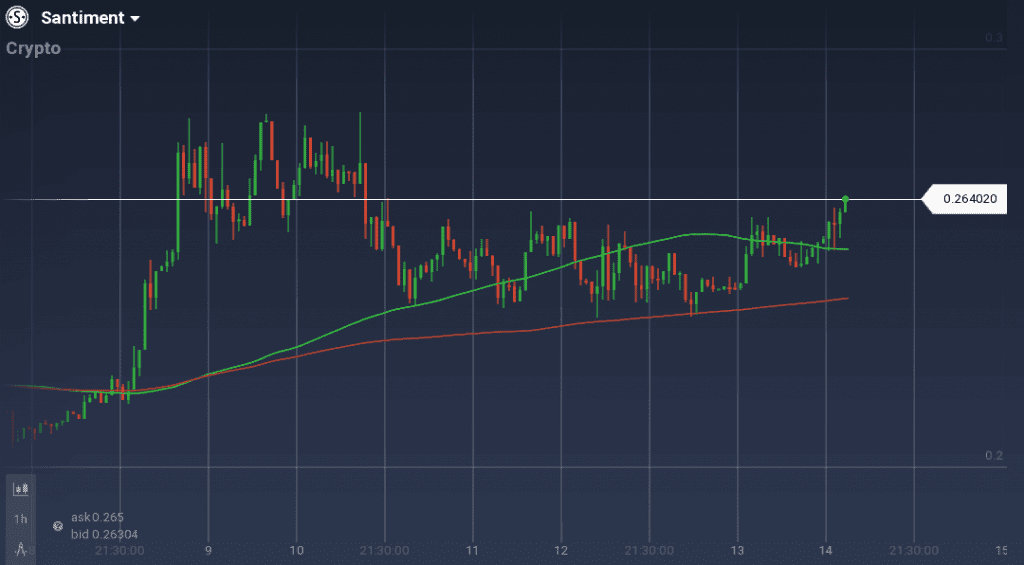 In the 24-hour chart, SAN had a strong upward movement and also breached the resistance at $0.258. With a daily appreciation of more than 8 percent, the token SAN/USD pair is currently trading around $0.26.
Even though the technical indicators are running bullish, both Stoch and RSI are way above the overbuying line. So there may be a dip in SAN/USD value soon. MACD is running almost flat as the coin mostly stabilized, but there is a small sign of bull.



Against Bitcoin, SAN had a lot of ups and downs, but ultimately there is an appreciation of about 5.5 percent over the week. Currently, SAN/BTC is trading at 0.000039 BTC.
[cta_en link="http://bit.ly/2ybAE8Q" name="Trade on SAN"][/cta_en]