The Ethereum based South-Asian blockchain firm Omise is aiming high to disrupt the existing financial system. This coin issued by Omise, OmiseGo, is also doing very well on the exchanges. Since December, the coin gained around 1600 percent and is still soaring high. Even in the last 7 days, it appreciated 24 percent. Currently, the coin is holding a market cap of above $2.4 billion.
Key Highlights
Against USD, OMG gained a new all-time high as it crossed $27, and the pair also gained 24 percent week-on-week
OMG/BTC appreciated 15 percent throughout the week and is currently trading at 0.00161 BTC


For OMG, the week started slow because of the resistance barrier at $20.5 to $21. Though initially, OMG/USD pair had some support at $19, it could not hold the prices for long and it dropped to $18. But this acted as a pivot and initiated a steep upward rally.
The coin broke all of its previous records and reached $27.6 until it started to pullback. Though the coin dropped to around $21, it quickly recovered, but now is facing a new resistance at $25. The pair is testing this resistance level with some support between $23 and $24.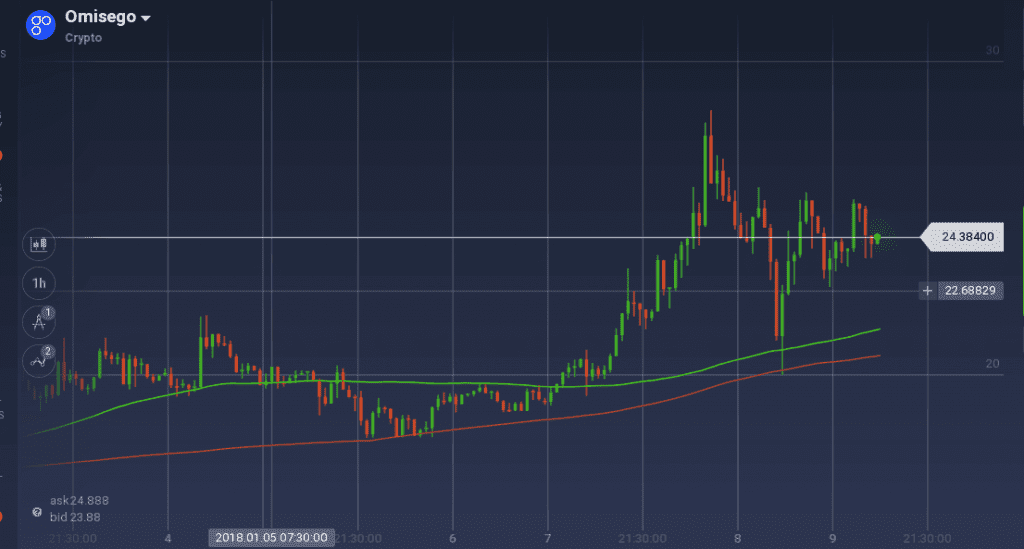 With the recent resistance and also the pair's bullish nature, the technical indicators are giving mixed signals. Stoch is going down after touching the overbuying mark. RSI is around 48 percent and is almost neutral.
Because of the storing bull, 100 SMA went over 200 SMA, indicating a possibility of the continuation of the upward run. Fibonacci retracement is also approaching 38.2 percent.




Against Bitcoin, though OMG dropped in the midweek, the prices recovered soon and overall the pair gained 15 percent around the week. OMG/BTC is currently trading at 0.00161 BTC.
[cta_en link="http://bit.ly/2jtW4ur" name="Trade on OMG/USD"][/cta_en]