2 min read 
Omisego was hovering around the peak for a while after its long bullish run. But now the coin is finding it hard to gain anymore and is more focused on stabilizing. OMG is holding $2.1 billion in market cap.
Key Highlights
OMG/USD depreciated 13 percent in along the week and 12 percent in the last 24 hours
Without any substantial gain or loss, OMG/BTC is currently trading at 0.0015 BTC

In the daily chart, the coin started with a downward momentum. Though it tried to find support, finally, it plummeted to $19.5, which acted as a pivot. The coin recovered for a short while, but the resistance at $23.2 pushed the price down again. This time, the coin soon found support at $20.8, which also initiated a bullish rally. With a strong trend support, the coin continued the rally for almost 48 hours, until the peak resistance at $25.9 resulted in a pullback.
OMG/USD pair soon dived to $22.08 but was adamant enough to recover again. But the new resistance at $24.4 pushed it down again and currently, after taking another dive, the coin is trying to recover again as it found support at $20.5.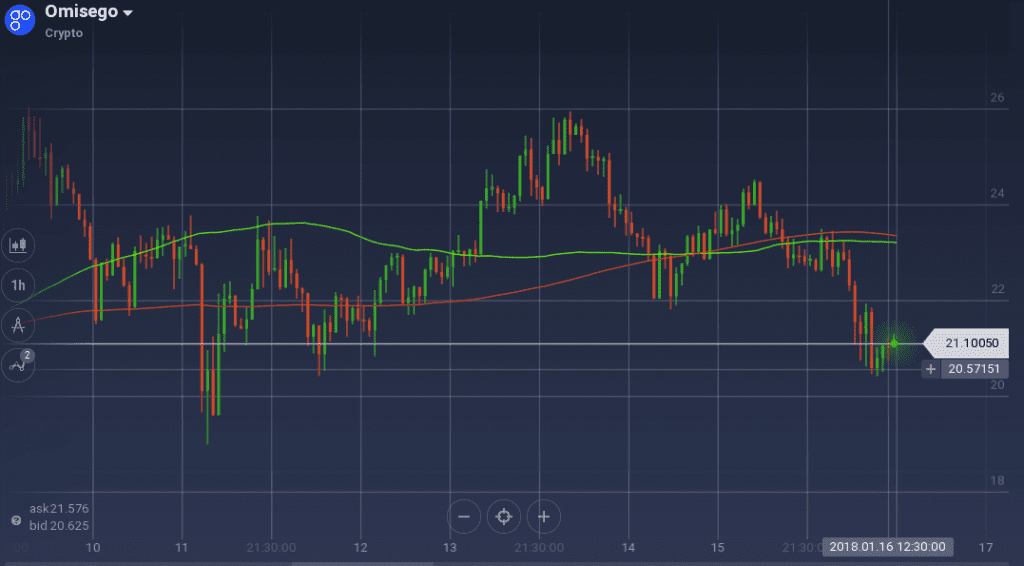 Because of the recent dive due to the resistance, the oscillators are also hovering at the bottom of the chart. For a while, Stoch is running in the overbuying zone and RSI is also currently at 33 percent. This exhaustion among the sellers might boost the prices up.

Against Bitcoin, OMG ended up without any substantial gain or loss over the week. Though the pair reached the weekly peek at 0.0018 BTC, it is currently trading at 0.0015 BTC.
Trade on OMG/USD